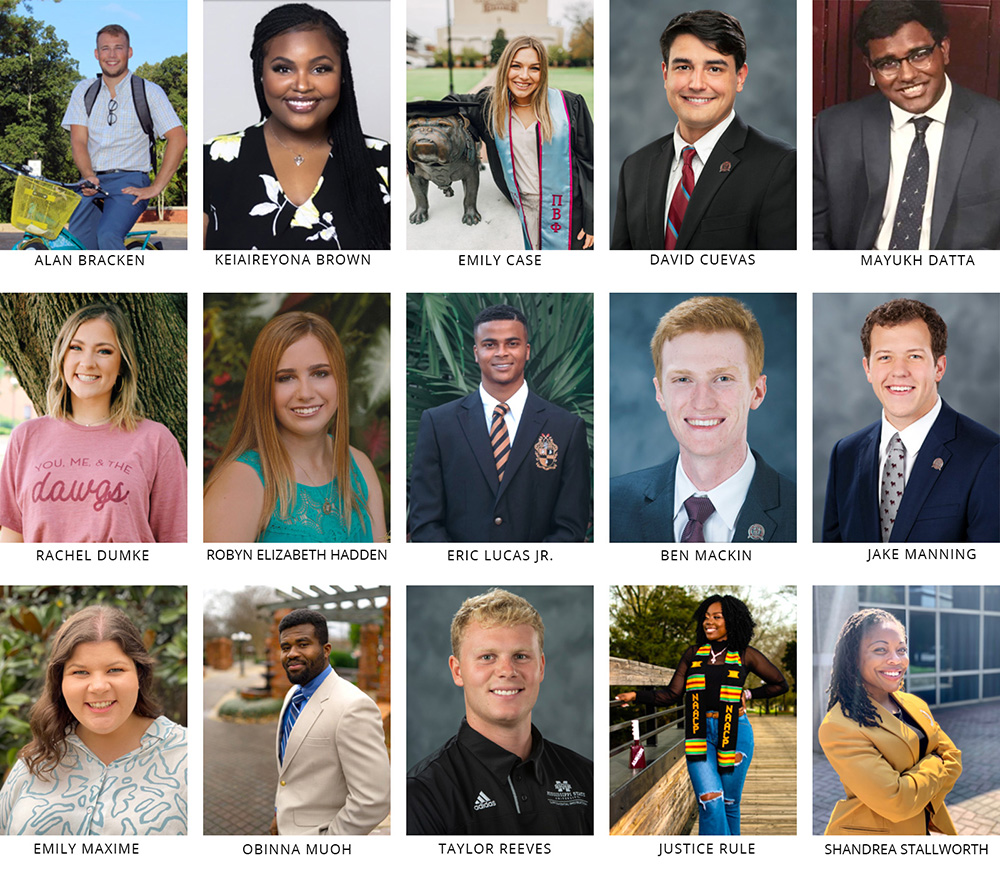 Contact: Sasha Steinberg
STARKVILLE, Miss.—Fifteen Mississippi State students from Mississippi, Alabama, Illinois, Tennessee, Virginia and Nigeria recently were honored with the Spirit of State Award, the university's premier student recognition for exceptional personal contributions to campus life.
"We congratulate our 2020 Spirit of State recipients on all of their many accomplishments and thank them for their service to Mississippi State," MSU Vice President for Student Affairs Regina Hyatt said in a Spirit of State recognition video on Facebook. The university typically honors Spirit of State recipients during a springtime campus ceremony, but decided to host an online recognition program due to the COVID-19 pandemic. MSU mailed each honoree a commemorative certificate and watch, and encouraged the students to take selfies with their mementos—a way to share their Bulldog spirit at a time when it is needed most.
"We are excited to not only recognize these well-deserving students, but also to show how MSU is marching on with these types of recognition events in light of these challenging times, demonstrating the true 'Spirit of State,'" said Andrew Rendon, assessment office director in MSU's Division of Student Affairs.
For 15 years, the annual Spirit of State Awards program, organized by the university's Division of Student Affairs, formally has honored those who have made a positive impact on peers and the broader campus community through organizational involvement, service to the institution and personal actions promoting school spirit and tradition.
Those selected have been nominated either by faculty and staff members or fellow students. A minimum 2.25 grade point average and good academic and disciplinary standing within the university are among the eligibility criteria.
"I feel so lucky to attend a university that embraces our differences and doesn't shy away from them," said Spirit of State recipient Emily Case of Richmond, Virginia. "This quality alone makes it possible for anyone to make Mississippi State University a place where they feel like they belong."
Fellow Spirit of State recipient Obinna Muoh of Nigeria praised MSU for "blessing me with wonderful friends and mentors."
"These people have added a special layer of gratitude in my heart toward life. The world may be filled with brokenness, but together makes up a beautiful mosaic," he said. "I cherish my fellow Bulldogs."
The new Spirit of State Award recipients include (by hometown):
BILOXI—Shandrea D. Stallworth, a plant and soil sciences/weed science doctoral student.
BYRAM—Justice A. Rule, a senior psychology major.
CHICAGO, Illinois—Keiaireyona A. Brown, a senior political science and philosophy double-major.
FRANKLIN, Tennessee—Rachel L. Dumke, a senior kinesiology/clinical exercise physiology major.
GAUTIER—Taylor M. Reeves, a senior business administration major.
JACKSON—Robyn Elizabeth Hadden, a senior biochemistry/science and foreign language/Spanish double-major.
KOSCIUSKO—Mayukh K. Datta, a senior chemical engineering major.
MERIDIAN—Alan Bracken, a senior psychology major.
MOBILE, Alabama—Emily L. Maxime, a senior educational psychology major.
NIGERIA—Obinna D. Muoh, a senior chemical engineering major.
OCEAN SPRINGS—Eric Darnell Lucas Jr., a senior biological engineering/biomedical engineering major.
RICHMOND, Virginia—Emily B. Case, a senior political science/pre-law major.
RIDGELAND—Jacob S. "Jake" Manning, a senior biomedical engineering and software engineering double-major.
STARKVILLE—David N. Cuevas, a senior biomedical engineering and biochemistry/bioinformatics double-major; and Ben K. Mackin, a senior sociology major.
For more on MSU's Division of Student Affairs, visit www.saffairs.msstate.edu.
MSU is Mississippi's leading university, available online at www.msstate.edu.