Contact: Allison Matthews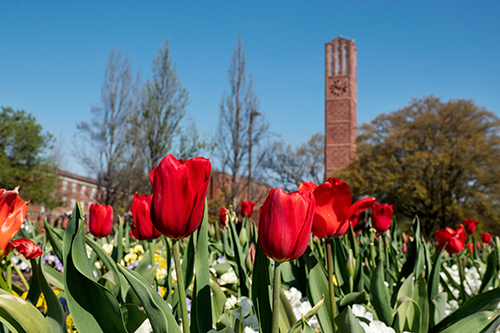 STARKVILLE, Miss.—Despite the hardships caused by the COVID-19 pandemic, there has never been a better time for many students and professionals to enroll at Mississippi State in summer or fall courses, a new graduate program, or teacher training.
MSU leaders have been adding more enrollment incentives to existing ones to help ease burdens and stress brought on by the ongoing crisis and help continue students' academic success. The university has made funds available for a "gap" scholarship to cover summer expenses, applied after Pell Grant awards, for eligible students, with the land-grant institution also ensuring availability of support services such as counseling, health care, technology and more.
Additionally, Mississippi State is temporarily waiving GMAT and GRE testing requirements for students applying to the university's graduate programs.
"In an effort to reduce the stress level that current and prospective students may be experiencing during the COVID-19 pandemic, our Graduate School, in conjunction with the academic colleges, made the decision to waive the GRE and GMAT test score requirements for summer 2020 and fall 2020 applicants," said Peter Ryan, dean of MSU's Graduate School and executive vice provost.
The GMAT and GRE waivers apply to all of MSU's more than 200 on-campus and online graduate programs. All other requirements still must be met for admission. Graduate School staff are available to answer questions via telephone at 662-325-7400 or email at gradapps@grad.msstate.edu. Program coordinators also can answer questions specific to colleges and departments.
Visit https://www.grad.msstate.edu/students/graduate-programs to find specific coordinators for each program. More information on MSU's distance and on-campus graduate degree programs is available at www.grad.msstate.edu.  
Also, the Mississippi Department of Education is temporarily waiving some requirements for students applying to enter MSU's teacher education and administration preparation programs, as well as waiving licensure exams for certification through December 31, 2021.
The MDE waivers include both traditional (undergraduate) and non-traditional (graduate) teacher education programs and approved traditional or non-traditional educator or administrator preparation programs as defined by the Mississippi State Board of Education. The licensure exams for the following MSU programs have been waived: Elementary Education, Secondary Education, Special Education, Music Education, Physical Education, School Administration, School Counseling, School Psychology, Master of Arts in Teaching-Secondary, and Master of Arts in Teaching-Special Education. 
The educator preparation program admission testing requirement for teacher education, which includes the ACT/SAT requirement or the Praxis Core Academic Skills for Educators examinations, have been waived. Grade Point Average (GPA) and all other criteria for MSU program admission remain in effect.
For more information on education program waivers, contact Donna Shea, director of MSU's Office of Curriculum and Field-Based Instruction, at dshea@colled.msstate.edu or 662-325-7684.
For a complete list of MDE's new admissions and licensure requirements, visit https://www.mdek12.org/COVID19.
MSU is Mississippi's leading university, available online at www.msstate.edu.