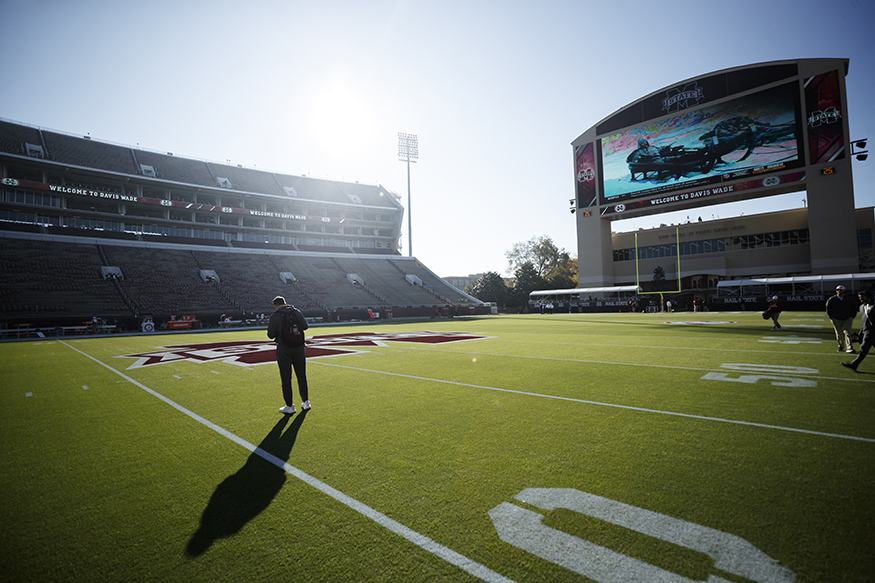 Contact: Sasha Steinberg
STARKVILLE, Miss.—Mississippi State's award-winning Scott Field at Davis Wade Stadium is gracing the July 2020 cover of SportsField Management, the official publication of the national Sports Turf Managers Association.
Receiving its third College Football Field of the Year distinction in 2019, Scott Field has "always been recognized for its outstanding turf quality and maintenance while withstanding the demands of NCAA athletics," according to MSU Sports Turf Superintendent Brandon Hardin.
"The demands have increased yearly with more events, media exposure and recruiting importance. In a time where other schools around us perform 'a complete field resodding' on a yearly basis, we still practice sound agronomics, sod the very minimal amount possible, and grow-in the rest," Hardin explained in an STMA article featuring vivid images of Scott Field captured by MSU Athletics photographers.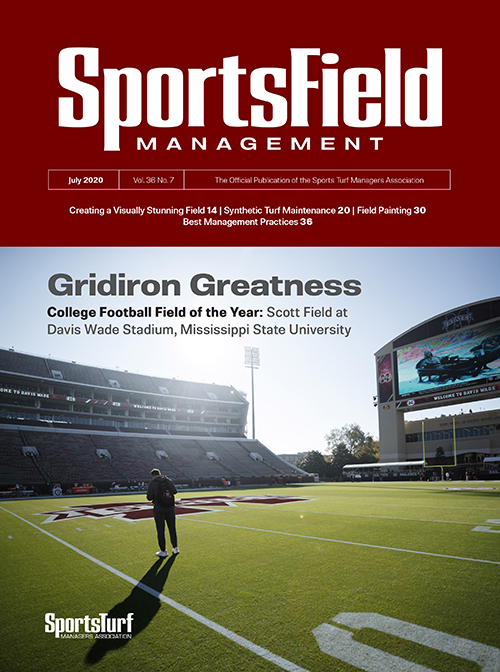 "After seeing the Latitude36 [bermudagrass] perform so well on our brand new state-of-the-art baseball field (Dudy Noble Field) for the last two years, I decided it was time to transition football over as well. This has been a great agronomic year for us — the methods we used to transition Scott Field from Tifway 419 to Latitude36 were financially advantageous for the university with the entire project totaling less than $20,000," Hardin said. "That is one stat I am extremely proud of!"
Hardin earned a Bachelor of Science in agronomy from MSU's nationally recognized sports turf management program in 2006. Including Hardin, the sports turf staff currently has four full-time employees and six students who manage approximately 21.75 acres of natural grass athletic fields, one synthetic football practice field, and one indoor multipurpose synthetic field, plus another 10 acres of "common areas."
"I am extremely proud of (Sports Turf Specialist) Feliciano Grimaldo and the entire staff for all their help with the in-house portion of the renovation last year. I believe the cost-effective renovation methods we used stood out the most," Hardin said. "Last season saw a very rare schedule where we were tasked with three home games in a row to start the season, as well as to finish the season out. My staff is the reason we were successful."
STMA advances professionalism in sports field management and safety through education, awareness programs and industry development. For more, visit www.stma.org.
Stay up to date on all things MSU Athletics at www.hailstate.com and on social media at @HailState.
MSU is Mississippi's leading university, available online at www.msstate.edu.