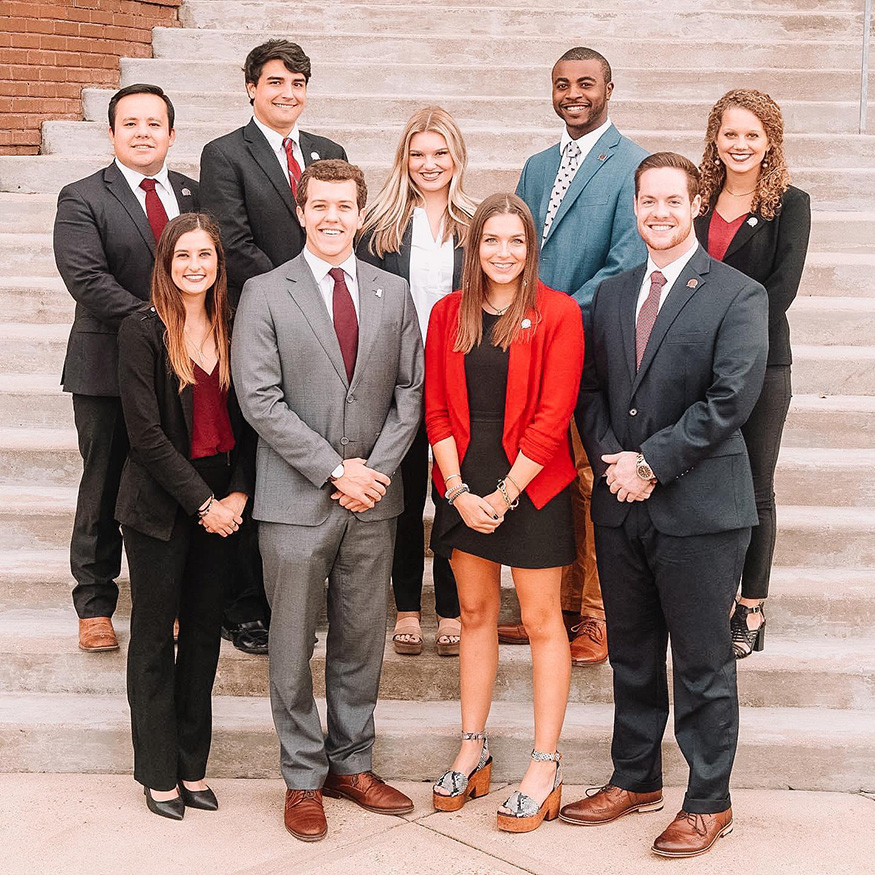 Contact: Sasha Steinberg
STARKVILLE, Miss.—Leadership, inclusion and service to others are cornerstones of Mississippi State's campus culture, and the university's Student Association recently was honored for ringing true on its commitment to all three.
Named 2020 Southeastern Conference Student Government of the Year, MSU's Student Association was recognized for the development and implementation of innovative, sustainable programs and services supporting student needs within a diverse campus community. Due to the coronavirus pandemic, the award was presented virtually during a Friday [July 24] summit hosted by the University of Tennessee. An in-person SEC Exchange is anticipated for the spring.
The 2019-20 MSU Student Association was led by President Jacob S. "Jake" Manning, a spring 2020 cum laude graduate with bachelor's degrees in software engineering and biomedical engineering.
SA-led initiatives for the 2019-20 academic year included the 20th annual Bulldog Bash, the state's largest, free outdoor concert that raised $70,000 in sponsorships and drew more than 43,000 attendees in 2019. Other notable efforts include SA's support of MSU's Open Educational Resources (OER) initiative to make student learning more affordable and lessen the cost of course materials; and collaboration with the MSU Division of Student Affairs on Bully's Closet and Pantry to offer nutritious food, professional clothing, toiletries and other basic items free of charge to MSU students in need.
Additionally, MSU's SA took home a Commitment to Community Award recognizing the contributions of Freshman Edge, an SA-led program that promotes leadership and service through community-focused projects. This past year, Freshman Edge members hosted a "Have a Heart" program that generated student donations used to provide heart treatments for local shelter animals. Freshman Edge also partnered with MSU's ACCESS program to host friendship-building events for students with intellectual or developmental disabilities.
In addition to volunteering at local food drives and contributing to beautification projects at the Sam D. Hamilton Noxubee National Wildlife Refuge, Freshman Edge members were among those who participated in "Love from All Ages," a Valentine's Day cardmaking activity with children in the after-school programs at Emerson Family School in Starkville. The cards were delivered to residents at the Carrington Nursing Center in Starkville.
MSU Vice President for Student Affairs Regina Hyatt said she is "extraordinarily proud" to see the Student Association recognized by Southeastern Conference peers for advocating for the needs of the MSU student body, as well as providing outreach to the local community.
"Every day, I am grateful for the incredible students we have at MSU," she said. "The students involved with our Student Association continually impress me with their willingness to work hard, listen to their constituents and bring forward thoughtful and important programs, policies and activities that support a robust student experience."
Headquartered at the Center for Student Activities in Colvard Student Union's Suite 314, the Student Association offers a wide variety of opportunities for students to get involved, gain valuable experience and make a difference on campus and beyond. Learn more at www.sa.msstate.edu.
MSU is Mississippi's leading university, available online at www.msstate.edu.