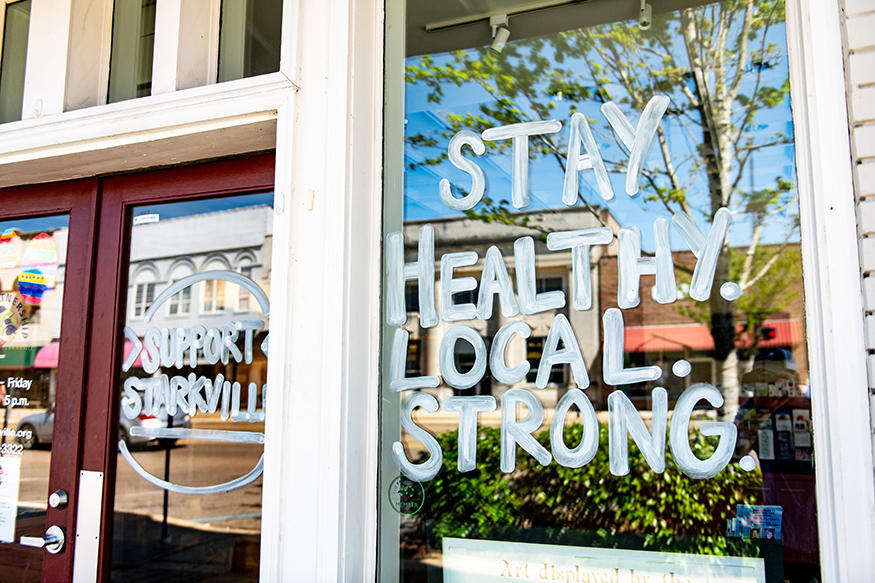 Contact: Sasha Steinberg
STARKVILLE, Miss.—Great things can happen when great minds work together, and Mississippi State and the City of Starkville are proving this concept rings true with their acceptance of two awards from the Mississippi Main Street Association.
During the association's annual recognition program held virtually this week, MMSA presented its Outstanding Economic Impact Award to "Orientation Dine Around Downtown." The project is a collaboration between MSU's Office of Admissions and Scholarships and its Office of Orientation and Events, along with the Starkville Convention and Visitors Bureau and the Starkville Main Street Association.
Developed and implemented as part of MSU's summer 2018 orientation program, "Orientation Dine Around Downtown" introduces thousands of incoming freshmen and transfer students and their families to local dine-in restaurants in the Starkville community.
Paige Watson, an MSU alumna serving as GSDP's special events and projects coordinator, said the 2018 and 2019 events saw a 40 percent increase in the two-percent food and beverage tax with over $45,000 going back into the local restaurants. Sales tax also increased during this event, she said.
"A large majority (86%) of Orientation attendees and their families also redeemed vouchers at local restaurants that went back into the local economy. 'Orientation Dine Around Downtown' provides the first taste of culinary experiences in Starkville and has proven to be very successful," Watson said.
John Dickerson, MSU assistant vice president for enrollment, said the event is "a great opportunity for our incoming students and their parents to experience the Starkville community and learn more about their new home and the opportunities it provides."
"Helping students make the transition to the university and Starkville community is the goal of Orientation," Dickerson said, "and we feel Dine Around Downtown is a successful part of our Orientation program."
The event also received the GSDP's Crystal Pineapple Starkville Tourism Award in 2018.
"Director Kylie Forrester and her team in MSU Orientation and Events spent a lot of time working on this program with the Partnership staff and the City of Starkville. They were tremendous partners in making this happen," Dickerson said. "Hopefully, we will be able to have this as a part of our 2021 Orientation program."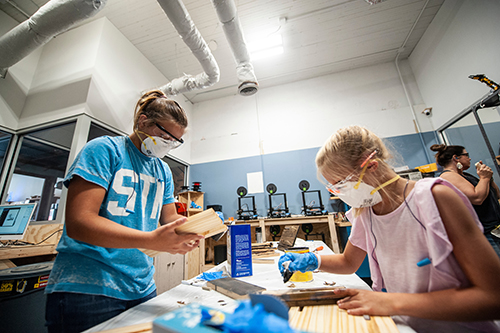 Additionally, MMSA's Outstanding Entrepreneurial Endeavor Award went to the MSU Idea Shop, a 2,000-square-foot downtown makerspace and retail storefront that opened in March 2019.
Part of the MSU Center for Entrepreneurship and Outreach, the Idea Shop was made possible through private support and the USDA Rural Business Development Program. In addition to the MSU Retail Product Accelerator, the innovative space features the Turner A. Wingo Maker Studio that provides a comprehensive assortment of design workstations, 3D printers, electronics, workbenches and advanced woodworking tools. The Idea Shop is operated by MSU's College of Business and the School of Human Sciences in the College of Agriculture and Life Sciences.
Makerspace membership is available to the public, and the shop hosts workshops to encourage newcomers to join the "maker movement." Watson said the shop, which received the Starkville Main Street Association's Partner of the Year Award in 2019, recently joined efforts to design uniformed sidewalk signs for Chamber businesses.
"The Idea Shop is a shining example of an innovative business that is helping to create an everlasting entrepreneurial spirit in Mississippi's College Town," she said.
Sharon Oswald, dean of MSU's College of Business and professor of management, said the Idea Shop enhances the university's community presence by providing students and others with a welcoming place for creative exploration.
"It's exciting to see the Starkville and MSU community embracing the limitless potential of the Idea Shop, and the recognition it has received this year makes me extremely proud," she said.
For more on the Greater Starkville Development Partnership, visit www.starkville.org; Mississippi Main Street Association, www.msmainstreet.com.
MSU is Mississippi's leading university, available online at www.msstate.edu.