Contact: Sasha Steinberg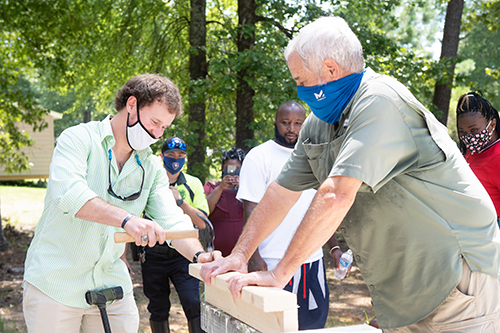 STARKVILLE, Miss.—Mississippi State and Starkville Area Habitat for Humanity broke ground Monday [Aug. 3] on the 12th annual Maroon Edition home.
Being built this fall by MSU and Habitat for Humanity volunteers, the home that Starkville residents Santana Turnipseed and Chadrick Robinson and their five children will call their own also has special meaning for another local family.
Located in Sunset subdivision, the home honors Matt Savage, a Starkville native who is continuing to recover from severe injuries sustained in a motorcycle accident. A graduate of the U.S. Military Academy at West Point, he retired in April at the rank of Army captain after seven years of service. Savage drove the ceremonial first nail during Monday's event.
His attorney Wayne Rogers of Birmingham, Alabama, made a contribution to Habitat for Humanity that the organization is in turn using to honor Savage through construction of the home, which will be Habitat's 70th home in Oktibbeha County. Rogers is a former partner of DeGaris and Rogers LLC law firm now serving as executive assistant for the Jefferson County Sheriff's Office in Birmingham, Alabama.
"We are grateful for our Maroon Edition partnership with Habitat for Humanity and proud that for the 12th consecutive year, our students, faculty and staff are working together to help a deserving family realize the dream of home ownership," said MSU President Mark E. Keenum. "We want our students to develop a lifelong commitment to service and to appreciate the timeless values of integrity, hard work and respect, and that's what this building project is all about."
Turnipseed works for Sitel Corp. in Starkville, and Robinson is a plumber for Brislin Inc. in Columbus. Their children are Harmony, 15; Kimora, 10; Rolando, 8; and twins Caitlyn and Chadstyn, 1.
"I have prayed for so long and can't wait for the house to be ready. This is a dream come true," Turnipseed said. "Our kids are so excited to decorate their own rooms, and we're going to have our first holiday at home. I love to cook, so I'm going to be cooking up some stuff in that new kitchen," she said with a laugh.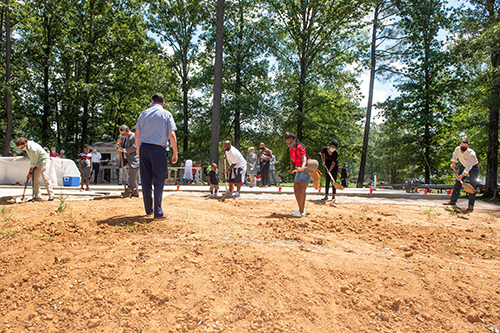 Turnipseed said she is thankful for the MSU and Habitat volunteers who will be dedicating their time and energy to the home construction. She plans to pay it forward as she has with previous Habitat home builds.
"I'm looking forward to being out there working hands-on with the volunteers and getting to know them," she said. "Helping each other is what it's all about."
The Habitat home is part of the service-learning component of the Maroon Edition First-Year Reading Experience, which provides incoming freshmen and transfer students with a free copy of a common book. In addition to reading the book annually selected by MSU's Center for Teaching and Learning, the program encourages students at all class levels, as well as interested administrators, faculty and staff members, to participate in Maroon Edition activities held throughout the year.
"Little Princes: One Man's Promise to Bring Home the Lost Children of Nepal," an international best-selling and award-winning memoir by Conor Grennan, is the 2020 Maroon Edition book. Grennan was originally scheduled to speak this month at the university's Fall Convocation, but the event has been canceled due to the coronavirus pandemic.
Students, faculty and staff interested in volunteering to build the Maroon Edition home are encouraged to visit the Maroon Volunteer Center's website at www.mvc.msstate.edu.
Learn more about MSU's Maroon Edition program at www.maroonedition.msstate.edu.
For more on Starkville Area Habitat for Humanity, visit www.starkvillehabitat.com.
MSU is Mississippi's leading university, available online at www.msstate.edu.