Contact: Karen Crow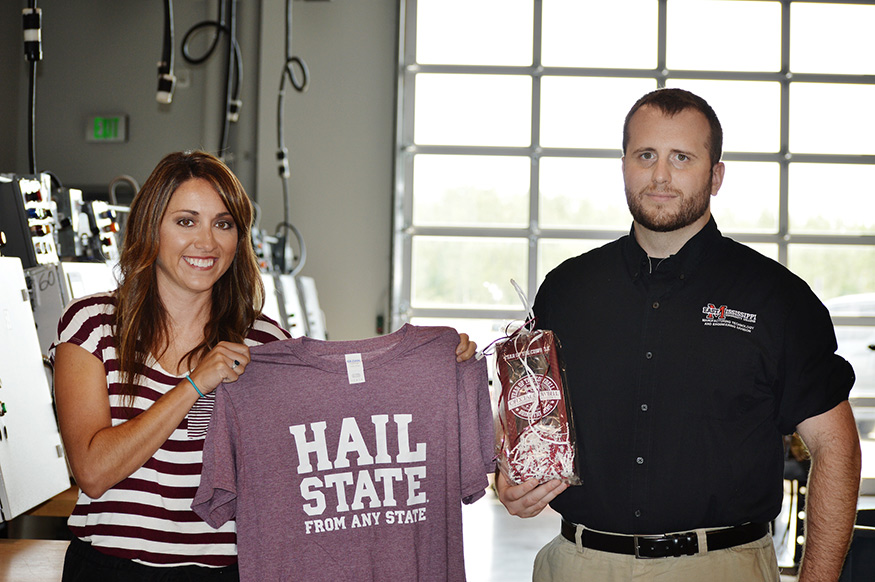 STARKVILLE, Miss.—Mississippi State's first graduate of the university's new Bachelor of Applied Science program is praising the degree path as "a great opportunity for students who want to go into management without having to start over with a four-year degree."
MSU and the university's Center for Distance Education are announcing that Kyle Pierce is the first to graduate from the program that launched a year ago, significantly expanding the university's acceptance of technical credit from community colleges and military training. The BAS is intended to serve the needs of adults who have completed a technical associate's degree program through a community college or the military and need additional education to advance their careers. MSU announced new emphasis areas for the BAS program this spring.
Pierce is an industrial maintenance instructor at East Mississippi Community College who completed the BAS coursework quickly after applying his numerous credits from two associate degrees, previous MSU coursework, and other credits earned as a member of the U.S. Marine Corps.
"It is remarkable to think that we have our very first Bachelor of Applied Science graduate less than a year after announcing this innovative program last August," said MSU President Mark E. Keenum. "I appreciate the hard work and commitment of our faculty and staff to develop an exceptional BAS curriculum, and I congratulate Kyle on his wonderful achievement. A college degree opens so many doors that lead to outstanding opportunities. The BAS at Mississippi State is preparing Mississippians for the jobs of the future, and we look forward to seeing many more BAS graduates in the years to come."
Credits in the degree program can be earned online or in person at MSU's Starkville or Meridian campuses. The BAS allows community college graduates to transfer up to 60 credit hours, 45 of which can be technical credits.
Pierce said he will continue teaching fulltime at EMCC while he next pursues an MSU master's degree through the workforce education leadership program. He also aspires to complete a doctoral degree through MSU's community college leadership program to position him for future leadership roles. He hopes to work with K-12 education and industry to prepare more students with skills to meet workforce demands. Specifically, he is interested in integrating technologies like virtual reality into lab experiences to enhance classroom teaching at all levels.
"I want to change the world and make it a better place. That has a trickle-down effect to help one person, which then can impact a community and grow even further," Pierce said. He explained that he has had excellent advisors as a student at both the community college and university levels, and he found MSU's Montgomery Center for America's Veterans at Nusz Hall also to be a helpful resource.
Kali Dunlap, MSU Center for Distance Education academic coordinator and Pierce's online advisor, said she has enjoyed working with Pierce and others in the BAS program to fulfill their academic goals.
"It has been a pleasure working with Kyle to obtain his BAS degree online while he also juggled other responsibilities such as a full-time job. He now is well on his way to pursuing a master's degree, and I could not be prouder of Kyle and all our students on their academic journey to success. It is my sincere hope that Kyle's story will encourage others to reach out, take that next step, and allow us the opportunity to help," Dunlap said. 
For more information related to the Bachelor of Applied Science program and other MSU online programs, visit www.msstate.edu/bas and online.msstate.edu.