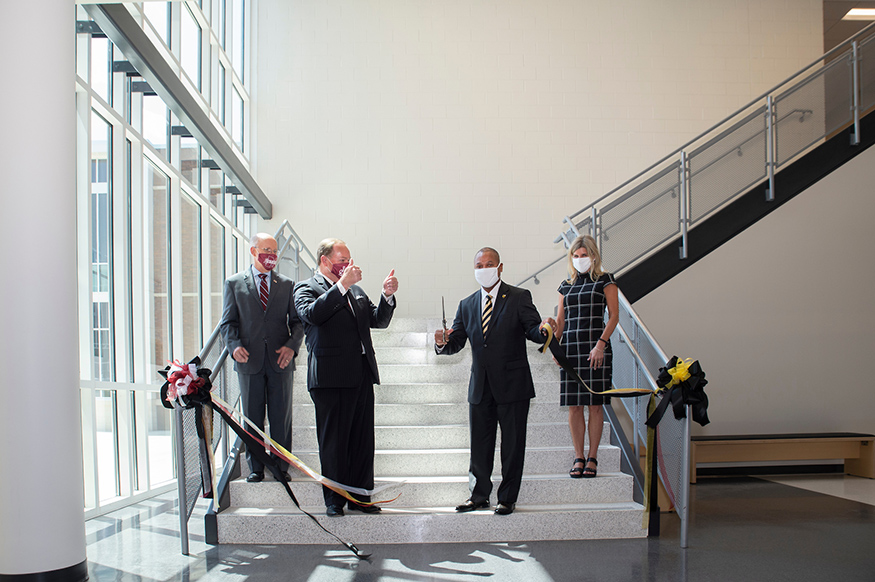 Contact: James Carskadon
STARKVILLE, Miss.—Mississippi State University and the Starkville Oktibbeha School District are marking the beginning of a new era in education locally and in Mississippi with the completion of the Partnership Middle School at MSU.
MSU and SOSD officials held a ribbon-cutting ceremony Tuesday [Aug. 4] for the 128,000-square-foot facility that will serve all sixth and seventh grade students in the school district. With additional classrooms for MSU students, the school will be used to provide a hands-on learning environment for students in MSU's College of Education as they train to become teachers.
"When citizens in a community can come together for a common good, great things can happen, and that's what we're experiencing today," said MSU President Mark E. Keenum. "I want to thank the state legislature for investing in this facility, along with the current and former legislators from our area that supported us in this effort. I also want to thank Gov. Tate Reeves, who as lieutenant governor was extremely influential in helping us get a $10 million bond for this project passed through the legislature."
"We are so proud to lead this innovative learning opportunity for our students as they continue to pursue excellence every day, and also an innovative training opportunity for future teachers pursuing a career in the most important profession in the world—in an amazing facility," said SOSD Superintendent Eddie Peasant.
The $30 million school was built using state and local bond funds, as well as generous private support. Speakers at Tuesday's ceremony thanked the many state and local elected officials, including those on the Starkville Board of Aldermen and Oktibbeha County Board of Supervisors, school board members, donors and citizens of Oktibbeha County that worked to make the Partnership Middle School a reality over the course of approximately seven years.
MSU donated 43 acres of land for the school site, which is just north of Highway 182 and east of George Perry Street on the MSU campus. JH&H Architects of Flowood served as the lead architecture firm for the project, with Columbus-based West Brothers Construction serving as the contractor.
Students will learn core subjects in a five-classroom pod designed to foster collaboration among students. Each pod includes common spaces for observation, which will help showcase innovative practices for future and current educators from across the state. In addition to the classroom pods, students will utilize spaces for fine arts, a multi-media center, gymnasium and cafeteria. Supported by a $900,000 grant from the Blue Cross and Blue Shield of Mississippi Foundation, shared classroom gardens are incorporated into each pod to foster health and wellness through hands-on planting, growing, harvesting and nutrition.
"With collaborative learning spaces designed to encourage creativity and communication, there are eight state-of-the-art science labs, a 21st century media center and library, a fine arts hall and future outdoor garden," said the new school's principal, Julie Kennedy. "I cannot wait to open these doors and welcome our students and our teachers into this beautiful, state-of-the-art school."
By locating the school on MSU's campus, students will gain exposure to higher education at an important stage of development. MSU professors will be able to share their expertise and fields of study with students, who will also be within close proximity to resources such as the Ulysses S. Grant Presidential Library and the Mississippi Entomological Museum, among others.
The Partnership Middle School will inform education across the state and country by serving as a center for research in curriculum, teaching and learning to address real-world education problems with a focus on the specific challenges of rural schools.
"This is a dream that goes back to 2013," said MSU Provost and Executive Vice President David Shaw, who served on the consolidation commission that was formed following the Mississippi Legislature's vote to consolidate the Starkville and Oktibbeha County school districts. "To be able to be standing here together and talking about the opening of a partnership school is an incredible day for this community, Oktibbeha County, Mississippi State University and the entire state of Mississippi. It really is a shining beacon of what can happen when people work together.
"It makes me incredibly proud to be part of the community that came up with this 21st-century, world-class idea."
For more on the Starkville Oktibbeha School District, visit www.starkvillesd.com.
MSU is Mississippi's leading university, available online at www.msstate.edu.