Contact: Landon Gibson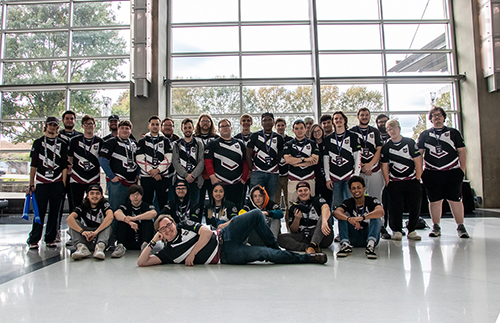 STARKVILLE, Miss.—Mississippi State's Esports Club is looking for another victory against the University of Mississippi in a best-of-nine video game competition series on Saturday and Sunday [Oct. 24-25].
The "Esports Egg Bowl," originally set to take place at The Pavilion on the University of Mississippi campus, is now a virtual event due to COVID-19 restrictions. Students, faculty and members of the general public can stream the 10 a.m-8 p.m. competition live on MSU's Esports Twitch channel.
During the two-day contest, esports players will compete for their respective school to win video games, including two new titles—Madden and Valorant. Other games include Call of Duty, Rocket League, Rainbow Six Siege, League of Legends, Super Smash Bros. Ultimate, Melee and Hearthstone.
The series record between MSU Esports and Ole Miss Esports is tied 1-1 in the competition that launched in 2018.
According to MSU Esports President Josh Chumney, a senior software engineering major from Long Beach, the Bulldogs feel confident they can regain the lead this weekend, while comparing the rivalry to that of siblings.
"Whenever something positive happens to Ole Miss Esports, we are very supportive, but at the same time, we want to beat them," said Chumney. "Personally, I believe we are better and have shown this in the past."
Although MSU dropped last year's Esports Bowl, Chumney said that the decision came down to the last possible game and player, and in no way defines the club moving forward.
"When we won in our opening year, it was a blowout. I think the matchups this year will be close, but I am confident that we will win again," he said.
For more on MSU Esports, visit https://msstate.campuslabs.com/engage/organization/msu-esports or follow on Facebook, Twitter and Instagram. To join, visit https://discordapp.com/invite/esportsmsu.
MSU is Mississippi's leading university, available online at www.msstate.edu.