Contact: Sarah Nicholas
EDITOR'S NOTE: This play was originally scheduled for performances Oct. 21-24 but is moving to Nov. 10-13. Patrons with existing reservations will be contacted to reschedule their performance dates. Tickets, including for the digital performance, may be rescheduled or reserved at events.msstate.edu.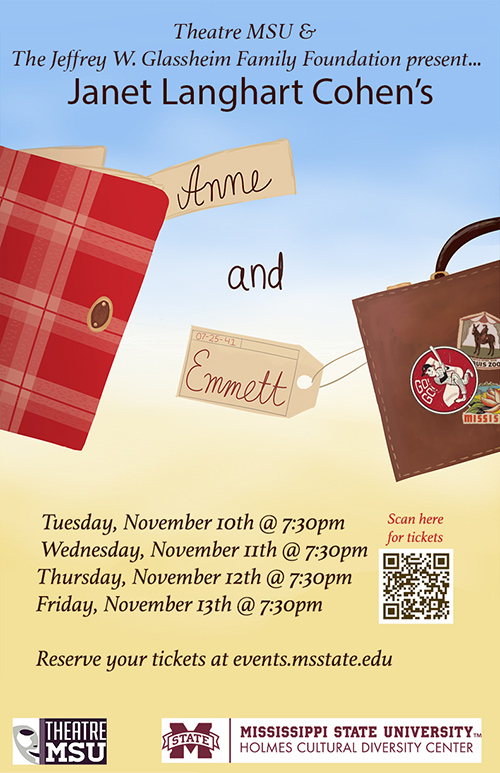 STARKVILLE, Miss.—Mississippi State's Theatre MSU soon will debut the play "Anne and Emmett," featuring an imaginary conversation between Holocaust martyr Anne Frank and 1950s murder victim Emmett Till.
The Janet Langhart Cohen drama highlights Frank, a 13-year-old Jewish girl whose diary provided insight into the Holocaust, and Till, a 14-year-old African American youth whose murder in Mississippi sparked the American Civil Rights Movement.
"Anne and Emmett" will be presented on the main stage of McComas Hall Nov. 10-13, at 7:30 p.m. each evening. A livestream will be available on Nov. 11, followed by a virtual conversation with playwright Cohen, with the recording shared with civil rights organizations as well as synagogues throughout the state.
Tonya Hays, play director and assistant professor of theater performance in the communication department, said Theatre MSU—the Department of Communication's production division—wants to alert attendees in advance that "Anne and Emmett" contains derogatory racial language and imagery that could be disturbing but reflects the realities of the lives and deaths of these hate crime victims. She said the intended audience is junior high school and older.
For tickets for the livestream or main stage theater, visit www.events.msstate.edu. Payment options range from free, $5 or $10. Ticket registration is mandatory, even for free tickets. Limited seating will be available to incorporate safety regulations mandated by the university's response to COVID-19.
The reduced ticket prices are available this year with support from MSU's Holmes Cultural Diversity Center and a grant from Wisconsin's Jeffrey W. Glassheim Family Fund of the Oshkosh Area Community Foundation.
"Theatre MSU is grateful for this support which enables us to make the show accessible to all," Hays said.
"The play is an opportunity to promote healing and understanding," Hays said. "Theatre MSU students want to have voice in the social unrest of our time. 'Anne and Emmett' provides an opportunity for social discourse and discussion of racism. It engages us in the complicated history of Mississippi and challenges us to 'tikkun olam,' Hebrew for 'repair the world,'" Hays said.
For this production, Theatre MSU is collaborating with the Starkville Community Theatre, whose actors are unable to perform this season in their venue because of COVID limitations. Two cast members in "Anne and Emmett" are Paul Ruff and Brittany Page of SCT.
Local blues guitarist Drew Dickerson and MSU business administration major Taylor Barr of Marietta, Georgia, are working together to perform music that celebrates the "rich tradition of Mississippi Blues and historic Jewish music," Hays said. "Projections and immersive sound design are also exciting components of this production. Faculty and students are working diligently to create a memorable performance of this beautiful moving piece."   
Theatre MSU is producing "Anne and Emmett" simultaneously with another cast at William Carey University in Hattiesburg. "Actors and directors from both casts are meeting each other virtually and working with the playwright as they create their respective productions," Hays said.
For COVID-19 safety measures, the McComas auditorium will be limited to one-third seating capacity. Masks are required and audience members will have assigned seats. Actors will perform in clear masks.
"The only difference between a problem and an opportunity is your state of mind and Theatre MSU has embraced this motto for our theatre season," Hays said. "Each role in 'Anne and Emmett' has an understudy, which has given more students opportunities to participate in spite of the small cast size. The cast has enjoyed working together and have embraced this powerful, beautiful play wholeheartedly. All actors will have a performance opportunity."
MSU's Department of Communication is available online at www.comm.msstate.edu. Follow Theatre MSU on Facebook, Twitter, and Instagram @TheatreMSU.
MSU's College of Arts and Sciences includes more than 5,200 students, 325 full-time faculty members, nine doctoral programs, 14 master's programs, and 27 undergraduate academic majors offered in 14 departments. It also is home to the most diverse units for research and scholarly activities, including natural and physical sciences, social and behavioral sciences, and the humanities. For more details about the College of Arts and Sciences, visit www.cas.msstate.edu.
MSU is Mississippi's leading university, available online at www.msstate.edu.