Contact: Harriet Laird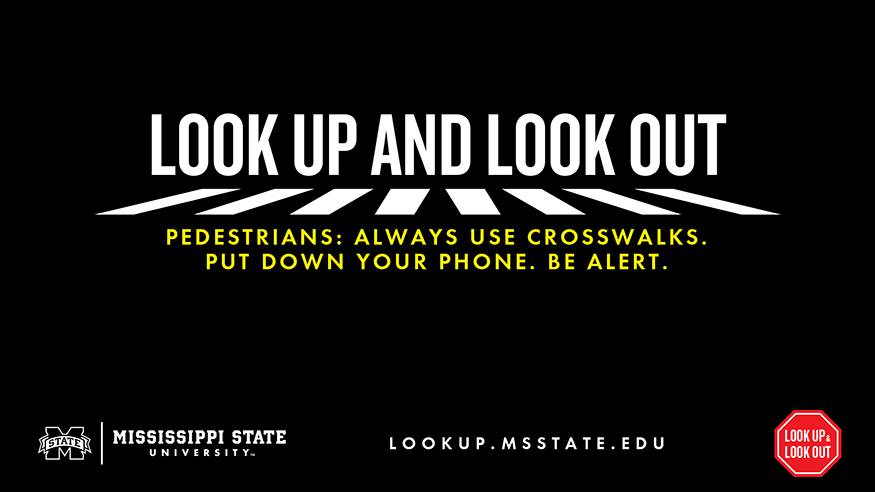 STARKVILLE, Miss.—"Look Up and Look Out" is a new pedestrian safety awareness campaign at Mississippi State aimed to show students that being more attentive when crossing campus roads can be a life-saving part of their day.
The social media campaign, posted by the MSU Division of Student Affairs, begins Nov. 5 and runs throughout the month.
"As we transition out of Daylight Saving Time this month, we're at a good point to bring this campaign forward as the days get shorter in hopes it resonates with student pedestrians—and also drivers and cyclists—and causes all of us to be more careful and aware," said Regina Hyatt, MSU's vice president for Student Affairs.
Injuries, and even fatalities, are caused by three main violations on campuses across the nation. These are failing to use marked crosswalks, not looking up from cell phones and not looking out for cars, motorcycles and bicycles.
Jeremiah Dumas, executive director of Transportation, said that whenever students step into the street, off a bus or out of a car, or dismount from a bicycle, they instantly become a pedestrian.
"Three easy ways to stay safe are to pick your head up, put your phone down and pay attention to your surroundings. And, the same goes for drivers and cyclists," he said. "Pedestrian safety is the responsibility of each individual—walkers, drivers and cyclists—and through this campaign we hope to educate everyone on campus and ultimately decrease accidents and injuries."
Dumas said the Starkville campus currently has a total of 154 crosswalks and continually evaluates the safety of each crossing. Several of them include signs with flashing lights, bringing even more mindfulness that crosswalks definitely serve the specific purpose of safe street-crossing.
"Look Up and Look Out" also includes the placement of campaign signs at campus crosswalks during November, social media videos and graphics, and a new website, www.lookup.msstate.edu, that spells out safety tips to follow.
MSU is Mississippi's leading university, available online at www.msstate.edu.