Contact: Chris Bryant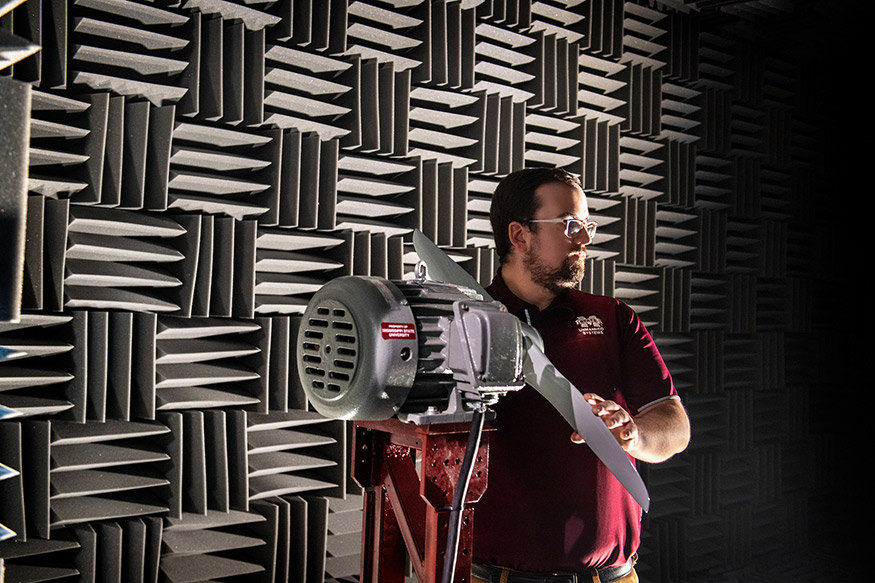 STARKVILLE, Miss.—Quietness and Mississippi State's Raspet Flight Research Laboratory might seem an odd pairing since the lab sits adjacent to a local airport runway.
However, a newly constructed interior room at the flight lab has been labeled the university's quietest. Known as an acoustic anechoic chamber, the room, designed and built by Raspet's engineers in consultation with expert faculty within MSU's Bagley College of Engineering, absorbs reflections of sound waves.
The room was built as part of a collaborative research venture seeking to quiet unmanned aircraft systems. Sponsored by the U.S. Department of Defense, the research could enable U.S. Army UAS to one day fly cooler, quieter and with more efficiency than ever.
"This young engineering team has done a fantastic job, creating a capability the university has not had in the past," said Raspet Interim Director Tom Brooks.  
Dozens of eight-inch deep polyurethane foam wedges cover every inch of the 10-by-18-by-10 room's interior, including its floor. Designed to absorb sound waves emanating from within, the chamber halts the waves from bouncing within the room while also providing insulation from exterior noise. This enables researchers to accurately measure the precise sounds on which they are focused. 
In static tests done inside the chamber and later in actual test flights, the Raspet team will measure noise produced by propellers reconfigured for the project. The new propellers, with four or five blades rather than the standard two, rotate at fewer revolutions per minute to reduce noise.
"Our objective is to see which propellers create the same, or acceptably equivalent, thrusts at a potentially lower RPM," Brooks said.
Propeller modifications, along with other changes considered by researchers, could lead to significantly quieter flights.
Lessons learned from the research could also have non-military applications, such as allowing UAS, for example, to survey crops more quietly, resulting in fewer disturbances for those on the ground.
Designed and built to international standards, the Raspet chamber's ambient noise floor measures 16.5 dBA, which is quieter than a whisper and barely more audible than a person breathing normally. This degree of silence anechoic rooms create has been known to cause some to express feelings of disorientation upon entering.
Though the project remains in its early stages, Brooks said the chamber's completion by the lab's team is already a win.
Hunter Vesa, a Raspet research engineer, and Todd Mabry, a recent alumnus and former graduate research assistant with the lab, spearheaded the effort with the project's entire engineering team contributing, Brooks said. 
Adrian Sescu, an MSU associate professor in Bagley's Department of Aerospace Engineering, consulted on the project. As an MSU student, Vesa studied under Sescu.
"Hunter has grown into a subject matter expert after his assistantship and access to our research projects," Brooks said. "He is lead engineer at Raspet for all things acoustic. This is a great learning environment for engineering students."
MSU's Raspet Flight Research Laboratory is the nation's leading academic research center dedicated exclusively to the advancement of Unmanned Aircraft Systems. Raspet is the only institute in the world designated both as the FAA's UAS Safety Research Facility and as official UAS Test Sites for both the FAA and the U.S. Department of Homeland Security. Home to a fleet of the largest and most capable unmanned aircraft in academic use, Raspet conducts UAS research on behalf of federal agencies and commercial industry alike, and it remains a world leader in composite materials research.
MSU is Mississippi's leading university, available online at msstate.edu.