Contact: Landon Gibson
STARKVILLE, Miss.—Mississippi State is recognizing four outreach projects with the university's third annual Community Engagement Awards.
Two awards—winner and honorable mention—are given in four categories. These include community-engaged research; community-engaged teaching and learning; community-engaged service; and scholarship of engagement.
Winning projects receive $3,000, and honorable mention projects receive $750 to further community-engagement activities. Recipients are selected by MSU's Center for Community-Engaged Learning, Office of the Provost and Executive Vice President, Office of Research and Economic Development, and the Division of Student Affairs.
Honorees include (by category):
COMMUNITY-ENGAGED RESEARCH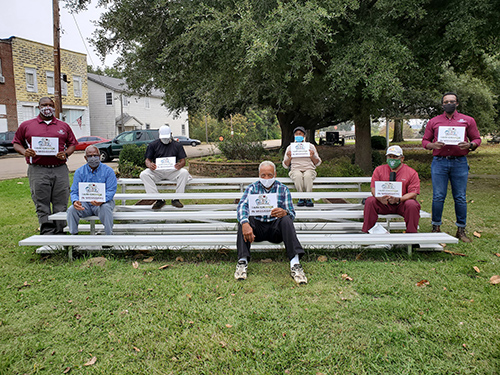 Winner—"AIM for CHangE," or Advancing, Inspiring, Motivating for Community Health through Extension, submitted by Masey Smith, project manager for the Department of Food Science, Nutrition and Health Promotion, and Associate Professor David Buys. FSNHP students, faculty and staff partnered with local medical facilities and food networks to reduce and prevent obesity in Mississippi through promotion of healthy nutrition standards, physical activity, food service guidelines and active living. The project led to the development of a food pantry in the state's most food-insecure area, Holmes County, where more than 269,800 pounds of food have been distributed to 13,490 households since May 2020.
Honorable Mention—"Economic Planning and Analysis for Mississippi Communities," submitted by MSU Extension Professor of Agricultural Economics Alan Barefield. This project allowed undergraduate students, guided by MSU Extension faculty, to provide analyses of individual issues for stakeholders in Mississippi. With assistance from the Mississippi Development Authority, elected officials and other community leaders, the project aimed to provide unbiased, research-based analyses using appropriate methodologies to communities; presented MSU as an unbiased, research-based source to assist communities in addressing current issues; and provided undergraduate students with exposure to research and outreach methodologies and issues, while also giving students the experience to interact with community leaders.
COMMUNITY-ENGAGED TEACHING AND LEARNING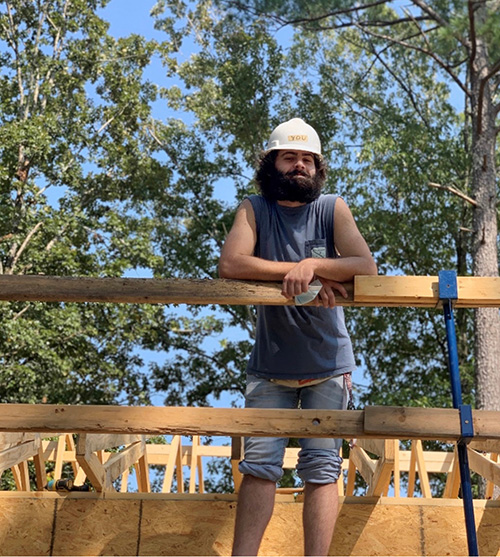 Winner—"Hammers and Homework," submitted by MSU Assistant Professor of Agriculture and Biological Engineering John Linhoss. Since Linhoss began teaching ABE 4383 Building Construction in 2015, the course has collaborated with Starkville's Habitat for Humanity. In the past, students in the course volunteered to gain hands-on experience in building construction working alongside a community partner. This fall, the course became designated in community-engaged learning and available to more than 200 students campuswide. Students continue volunteering with Habitat for Humanity, but now are developing content for a "How Your House Works" booklet for new homeowners and introducing them to tips on maintenance and more. Students also created a calendar with monthly home maintenance reminders.
Honorable Mention—"ECE Toy Adaptation Program," submitted by MSU Assistant Professor of Electrical and Computer Engineering Jean Mohammadi-Aragh. Partnering with MSU's T.K. Martin Center for Technology and Disability, the project provides hands-on, community-focused learning opportunities through modification of electronic toys. ECE students, faculty and staff create interactive toys that enable children with developmental disabilities to learn concepts such as letters and numbers and gain fundamental experiences such as cause-and-effect from pushing a modified button or switch to operate a toy. These toys help develop motor skills, communication skills and independence in children. The electronically modified toys are donated to the T.K. Martin Center and are used in therapy sessions by speech pathologists and occupational therapists, as well as given to some families during home visits.
COMMUNITY-ENGAGED SERVICE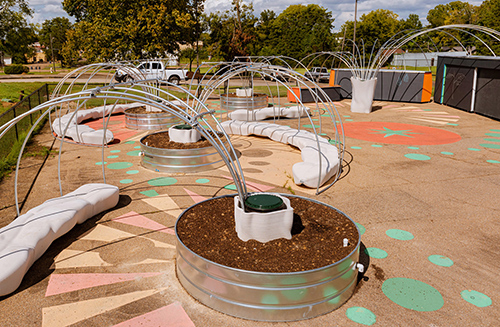 Winner—"The Living Room Learning Garden," submitted by Associate Professor of Landscape Architecture Cory Gallo. Teaming with Fertile Ground of Jackson, the project aimed to develop a learning garden for Galloway Elementary School in Jackson. At Galloway, MSU students and faculty worked alongside a coalition of community members, partners, school administrators, educators and experts to develop the garden. The team met monthly to conduct workshops with school children to help engage them with the garden's design. Faculty also worked with MSU's Office of Research and Economic Development and Starkville Oktibbeha School District to create a new learning garden for the district's Partnership School. This garden is currently under development with plans to open this year.
Honorable Mention—"The Emmett Till Memorial: CE Studio," submitted by Assistant Professor of Architecture Silvina Lopez Barrera. MSU students and faculty partnered with the Emmett Till Memorial Commission, which works to tell the story of Emmett Till, a 14-year-old Black boy lynched in Mississippi in 1955, and explores ways to facilitate racial healing. The project goal was to design a memorial in honor of Till at the Graball Landing site at the Tallahatchie River's confluence with the Black Bayou where Till's body was found. The commission has attempted to commemorate the nationally recognized site since 2008, but it has been repeatedly vandalized. During the project, the class visited sites related to Till's history and engaged discussion with students and community members regarding how the project's design will contribute to future site development. Nearly 40 student design proposals were shown at the Emmett Till Interpretative Center in Sumner.
SCHOLARSHIP OF ENGAGEMENT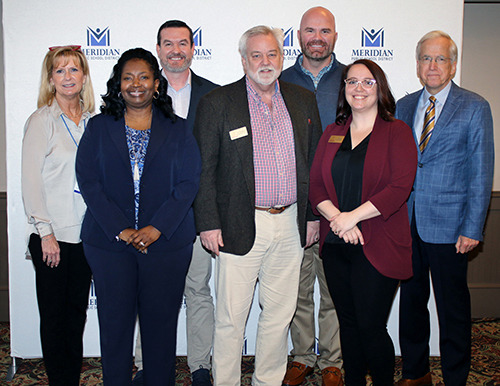 Winner—"Any Given Child Meridian," submitted by Assistant Professor Jeffrey Leffler, who also serves as interim graduate coordinator of MSU-Meridian's Division of Education. The project began in 2016 when Meridian was chosen by the national John F. Kennedy Center for the Performing Arts to locally begin Any Given Child, a Pre-K through 8th grade arts integration partnership. The project strived to ensure equity of access to the arts for any child in the city. MSU students, faculty and staff aimed to complete five goals: expand and sustain arts education for all students; ensure active parental and community understanding and support of arts education for all students; sequentially build integration of the arts through professional development of school personnel, artists and arts organizations; create a funding model and organizational structure to sustain arts education in the Meridian Public School District; and continually assess Any Given Child implementation and impacts through collaborative data analysis.
Honorable Mention—"Low Impact Development Gulf Coast: Sustainable Stormwater Management" submitted by Tracy Wyman, a landscape architect with MSU's Gulf Coast Community Design Center. An outreach and education initiative under the research arm of the College of Architecture, Art and Design, this project responded to the connection between upland management strategies and downstream impacts on low-lying areas and natural waterbodies. LID managed stormwater near the source and designed a series of treatment options that slow the flow of stormwater so it can better infiltrate the soil. MSU students, faculty and staff members worked to prevent pollutants from entering natural water bodies while building healthy soils and creating a pleasing aesthetic. The project engaged local planning and design professionals across the three coastal counties in the Gulf Coast region, engaged high school students in a hands-on education program, and exposed students to a variety of career choices in science, technology, engineering and math.
For more information on MSU's Community Engagement Awards or the Center for Community-Engaged Learning, visit www.ccel.msstate.edu.
MSU is Mississippi's leading university, available online at www.msstate.edu.