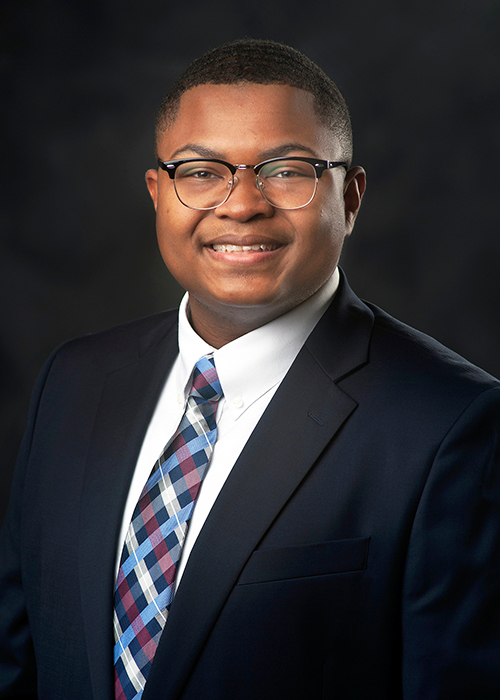 Contact: Sasha Steinberg
STARKVILLE, Miss.—Mississippi State University, its Judy and Bobby Shackouls Honors College, and the Magnolia State are being represented by a top student interviewing for the prestigious Harry S. Truman Scholarship.
Christopher B. Robinson of Brookhaven, a senior biological engineering major and honors college Presidential Scholar, participated Wednesday [March 17] in a virtual interview as the only finalist from a Mississippi institution of higher learning.
The biological engineering major is housed jointly in MSU's Bagley College of Engineering and the College of Agriculture and Life Sciences.
This year's Truman Scholarship program received a record 845 applications from 328 institutions, with 193 finalists from 129 institutions selected for virtual interviews.
"The overwhelming interest in public service from this year's applicants is inspiring," said Terry Babcock-Lumish, the Truman Foundation's executive secretary and a 1996 Truman Scholar from Pennsylvania. "While these are trying times, Americans can take solace that a generation of action-oriented young leaders are already tackling today's challenges with an eye toward bettering tomorrow's world."
Established by Congress in 1975, the Truman Scholarship carries the legacy of the nation's 33rd president by supporting and inspiring the next generation of public service leaders.
Truman Scholars demonstrate outstanding leadership potential, a commitment to a career in government or the nonprofit sector, and academic excellence. Each Truman Scholar receives funding for graduate studies, leadership training, career counseling, and special internship and fellowship opportunities within the federal government. For more, visit www.truman.gov.
MSU also recently announced Robinson as the sixth MSU honors student in seven years to receive a prestigious Public Policy and International Affairs Junior Summer Institute Fellowship.
A recipient of MSU's Lila and Hunter Henry Presidential Endowed Scholarship, Robinson said his post-graduation plans include earning a medical degree, working in the medical field and possibly running for an elected office.
David Hoffman, interim director of the honors college's Office of Prestigious External Scholarships, said Robinson is committed to applying his MSU education and leadership experience in a professional career where he can positively influence health outcomes for Mississippians and others.
"Christopher knows that to do this successfully, he will need a solid foundation in medical science and on-the-ground experience in combination with an ability to drive big policy changes at the state and national levels," said Hoffman, who also serves as an associate professor in the College of Arts and Sciences' Department of Anthropology and Middle Eastern Cultures. "As this past year's unfortunate events have proven, our collective future depends on precisely the type of leadership, service and expertise that Christopher will bring to the table."
Learn more about MSU's Shackouls Honors College at www.honors.msstate.edu.
MSU is Mississippi's leading university, available online at www.msstate.edu.