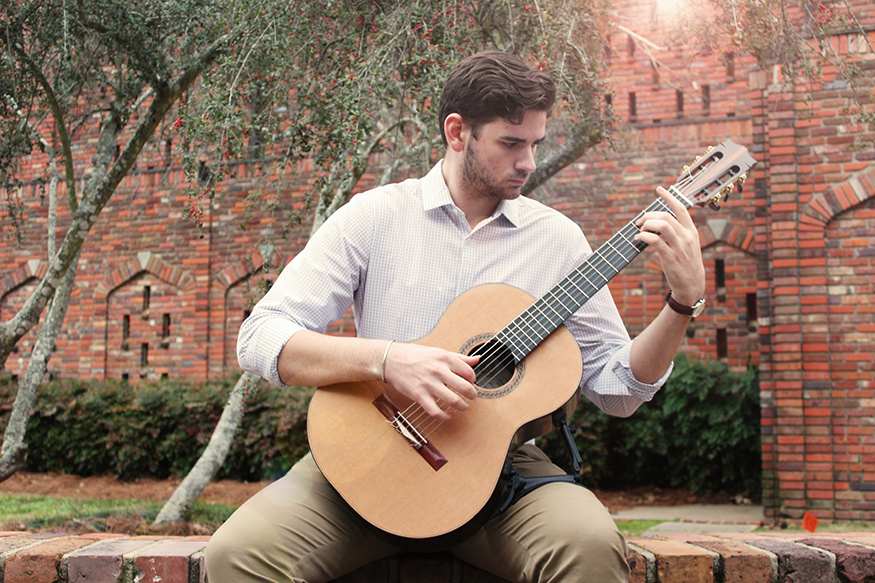 Contact: Sasha Steinberg
STARKVILLE, Miss.—A Mississippi State junior music education major from Decatur, Alabama, is the university's newest recipient of an award recognizing academic and musical excellence.
Eli N. Denson is being recognized as this year's recipient of the Keyone Docher Student Achievement Award, named for MSU music education major and Weir resident Keyone Docher who died in 2014 following a long battle with cancer.
Denson will perform virtually March 27 during the 7 p.m. show that is part of MSU's 15th annual Charles H. Templeton Ragtime and Jazz Festival. For viewing information, visit http://festival.library.msstate.edu.
With a focus on classical guitar, Denson also serves as the music theory and ear training tutor for the university's nationally accredited Department of Music. He has participated in the Chamber Singers and Men of State choirs, as well as the MSU jazz and guitar ensembles since his freshman year.
Denson got his start in composing for visual media when he was brought on by his sister Emma to compose and conduct music for "Frost: An Original Play with Music" that she directed and that was produced by Starkville theater company The Basket Cases.
The following spring, Denson teamed up with Theatre MSU to compose music for its production of Shakespeare's "The Tempest." In the spring of his sophomore year, Denson scored the last Basket Cases production "The Troll Prince," as well as the MSU Shackouls Honors College production of "Prometheus Bound."
In 2020, Denson expanded his work beyond the stage when he was commissioned to score an original short film created by a University of Alabama student.
This spring, MSU's Men of State choir will premiere Denson's most recent work "When Great Souls Die," which is based on Maya Angelou's text "When Great Trees Fall."
Following completion of his bachelor's degree, Denson plans to earn a master's in composition for visual media and aims to work in the film music industry.
In addition to Denson, previous Docher Award recipients include Daniel A. Rorabaugh of Long Beach; Quinlan X. Gray of De Kalb, Texas; Catherine N. Patriquin of Ocean Springs; Abby L. Weinstein of Marietta, Georgia; Tyler J. Stallings of Pontotoc; and Sarah G. Wallace of Brandon.
For more on MSU Libraries, visit www.library.msstate.edu; College of Education and its Department of Music, www.educ.msstate.edu and www.music.msstate.edu.
MSU is Mississippi's leading university, available online at www.msstate.edu.