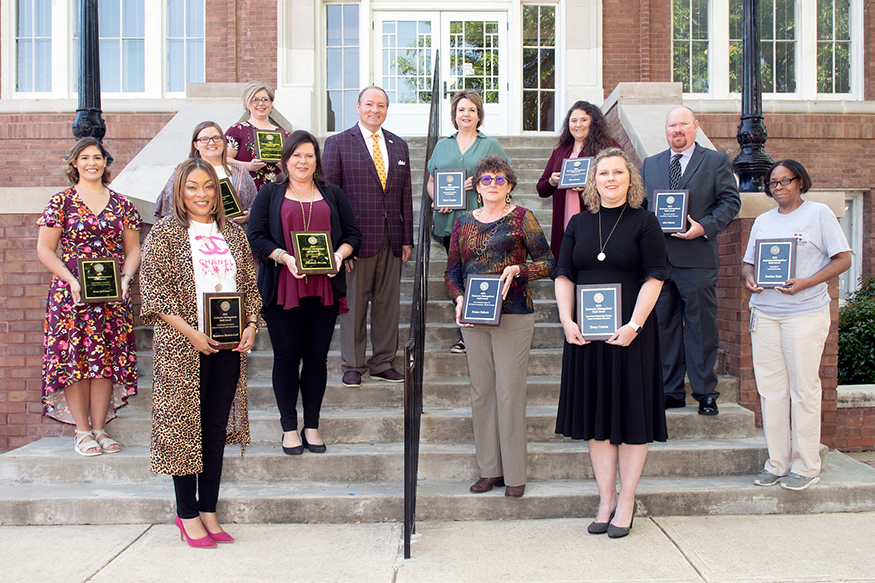 Contact: Sasha Steinberg
STARKVILLE, Miss.—Mississippi State employees are being recognized for outstanding service with this year's Donald W. Zacharias Distinguished Staff Awards.
Presented Friday [May 7] during the university's virtual Staff Appreciation Day, the honors are a memorial to the university's 15th president. The annual event is organized by MSU's Staff Council.
To be eligible, award nominees must be classified as a professional or support staff employee working at least half-time and with a minimum of three years of campus service, among other criteria.
During the online event, MSU President Mark E. Keenum congratulated and thanked this year's Zacharias honorees for "going above and beyond" to serve and excel.
"Mississippi State would not be the special place it is without you and your colleagues. Your efforts have kept our university growing, getting better, and making ever-greater contributions to our state and nation, and your hard work is deeply appreciated," Keenum said.
This year's Zacharias Distinguished Staff Award honorees include (alphabetically):
—Tim Allison, senior extension associate, Office of Agricultural Communications
—Donna Beliech, area extension agent IV, Rankin Co. Extension Service
—Kamicca Brown-Lott, administrative assistant I, Department of Political Science and Public Administration
—Darlene Bush, custodian II, Custodial Services
—Tracy Craven, technology manager, Center for Distance Education
—Kylie Crosland, undergraduate coordinator, Department of Electrical and Computer Engineering
—Tina Green, lead instructional technology specialist, Information Technology Services
—Elizabeth "Libbi" Havelin, administrative assistant II, National Strategic Planning and Analysis Research Center
—Myra Keasler, administrative assistant I, Department of Communication
—Kate Sawaya, administrative assistant I, College of Arts and Sciences
—Alex Shook, extension agent II-agriculture/4-H, Pearl River Co. Extension Service
—Bonner Whittington, administrative assistant I, University Academic Advising Center
For more about MSU Staff Council, visit www.staffcouncil.msstate.edu and follow on Facebook @MSUStaffCouncil.
MSU is Mississippi's leading university, available online at www.msstate.edu.