Contact: Sarah Nicholas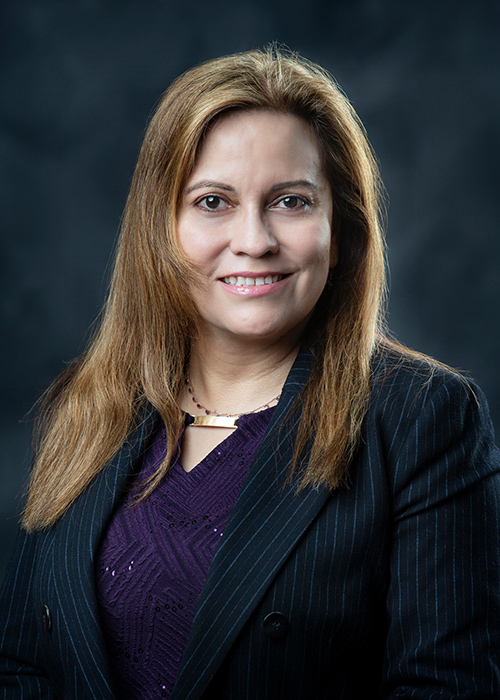 STARKVILLE, Miss.—A Mississippi State faculty member is the recipient of a National Science Foundation grant worth over $400,000 for research which could lead to improved pharmaceuticals for disease-fighting drugs, medical and dental implants, and everyday materials such as specialty plastics.
Vicky Montiel-Palma, an assistant professor of chemistry, received the three-year $411,200 grant from the NSF Division of Chemistry Chemical Catalysis Program to investigate catalysts that add silicon to hydrocarbons to form non-toxic building blocks for chemical synthesis.
"Although always a combination of fundamental and applied chemistry, catalyst research funded by this award supports the discovery of new molecular compounds which promote faster and cleaner reactions for existing chemical processes that the world depends upon today while also revealing new chemistry, which allows access to new products with designed benefits," said Dennis W. Smith Jr., head of MSU's Department of Chemistry.
Montiel-Palma is studying catalysts that add silicon to alkenes, unsaturated hydrocarbons, to generate non-toxic vinyl- and allylsilane compounds that serve as building blocks for the synthesis of pharmaceuticals; polymers used for pipework, sewage and gas; poly(arylenvinylene)—or PPV—for LEDs; polydimethylsiloxane—PDMS—for medical and dental implants; and fine chemicals for specialty applications.
"Translating catalysts from the research laboratory to the industry is a huge challenge," Montiel-Palma said. "Not only do catalysts often have to be immobilized onto a solid support, but the material needs to be robust and retain the desired properties. By studying how these catalysts work at the molecular level, we are applying this fundamental insight to design new improved catalysts that are more active and cost-efficient."
Montiel-Palma is assisted by her team of MSU chemistry graduate students Niroshani S. Abeynayake, Gaby Sanchez-Lecuona, and Luz J. Barrios-Vargas; senior biochemistry major Vish Ramkumar of Jacksonville, Florida, and postdoctoral fellow Saidulu Gorla. They have established a partnership with the Mississippi Migrant Education Service Center, anchored in MSU's College of Education.
Montiel-Palma is collaborating with MMESC director Starsha Jamerson and her team of educators to advance the NSF's mission to strengthen STEM education in K-12 students.
Working with students enrolled in the center—primarily children of migratory workers—the collaboration aims to motivate students to finish their secondary education, enrich their educational pathways and instill critical thinking skills through science.
Montiel-Palma joined MSU's faculty in 2018. She earned her Ph.D. from the University of York, England, and was a post-doctoral fellow at the Laboratory of Coordination Chemistry – French National Research Center in Toulouse, France. She earned her bachelor's degree from the National Autonomous University of Mexico.
Part of the College of Arts and Sciences, the Department of Chemistry is online at www.chemistry.msstate.edu.
MSU is Mississippi's leading university, available online at www.msstate.edu.