Contact: Reagan Poston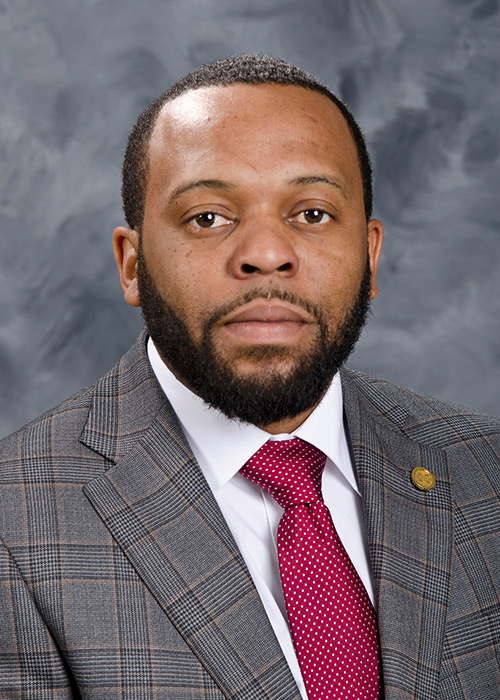 STARKVILLE, Miss.—A faculty member in Mississippi State's College of Agriculture and Life Sciences is a new officer of a national organization focused on expanding diversity in the fields of agriculture and natural resources.
Derris Devost-Burnett, assistant professor of muscle biology and meat science in MSU's Department of Animal and Dairy Sciences, will serve as national secretary for Minorities in Agriculture, Natural Resources and Related Sciences, or MANRRS, a society that focuses on promoting academic and professional advancement by empowering minorities in the field. Devost-Burnett will keep records and minutes of society meetings at the national level for the 2021-2022 elected term.
"During the heights of the pandemic, we saw MANRRS students and professionals answer the call to ensure food safety and security in the midst of shutdowns and supply chain disruptions. This reminded me that the work we do is not in vain," Devost-Burnett said. "Not only does MANRRS ensure that minorities continue to have a seat at the table as we meet with private industry leaders, academic collaborators, governmental dignitaries and other stakeholders in the agricultural pipeline, but our contributions are meaningful and impactful for the greater society."
Devost-Burnett has been a member of MANRRS for 20 years, and alongside this new role, he has devoted the last three years to serving as co-chair of the national MANRRS Alumni Committee.
At home, Devost-Burnett also has been a pivotal leader in Mississippi State's own chapter, serving as co-advisor since 2015 and helping the program develop into a widely recognized group.
"Our university has had a constant presence at the executive levels of MANRRS leadership for several years. Despite being a relatively small chapter, our students routinely serve in leadership roles and continue to win competitions year after year," he said.
Scott Willard, interim dean of the College of Agriculture and Life Sciences and an advisor of the university's MANRRS chapter, shared his excitement for Devost-Burnett's position of leadership.
"Dr. Devost-Burnett has been committed to MANRRS as an organization for most of his entire academic career, from undergraduate student to faculty member, at multiple institutions. Having him elected to this role is not only a testament to his leadership abilities but also gives our MSU MANRRS chapter, and the university as a whole, visibility and recognition. I have seen the time and energy he puts into our MANRRS students, and I expect he will bring this same energy and enthusiasm to the national level," Willard said.
In addition to his work with MANRRS, Devost-Burnett is also a researcher in the Mississippi Agricultural and Forestry Experiment Station, has published 22 manuscripts, taught seven individual courses and garnered nearly $1.5 million in research funds. He is on the committee of three graduate students and recently was awarded the Mississippi Institutions of Higher Learning award for Excellence in Diversity and Inclusion.
For more information about MSU's College of Agriculture and Life Sciences, visit www.cals.msstate.edu.
MSU is Mississippi's leading university, available online at www.msstate.edu.