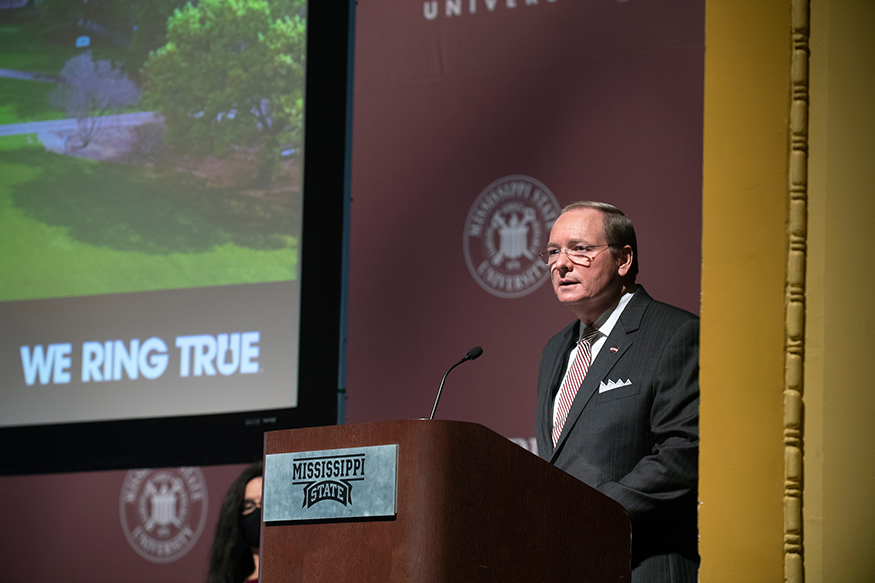 Contact: James Carskadon
STARKVILLE, Miss.—Mississippi State is entering the fall 2021 semester with strong momentum in its core missions of learning, service and research, President Mark E. Keenum told the university's faculty Tuesday [Aug. 31].
 During Tuesday's fall general faculty meeting, Keenum noted positive trends for the university in enrollment, research and private giving, all of which are at record levels. He also highlighted that the university's estimated $1.8 billion economic impact supports 29,000 jobs in Mississippi. As the new semester begins, MSU welcomes more than 100 new faculty members to campus.
"We have a lot of momentum on our campus and so much to be proud of," Keenum said. "I'm looking forward to another great year, and I'm excited to be back with you and our students."
MSU has several facility upgrades nearing completion or in the planning stages. A ribbon cutting is planned in October for the Rula Engineering and Science Complex at the corner of Morrill and Hardy Road. The new 500-space parking garage across from Humphrey Coliseum is expected to be finished this fall. Work also continues on the new $21 million music building and a $4 million renovation to Butler Hall. Planning is also underway for a new building to house the Department of Kinesiology and the Center for Student Support and Autism Services, as well as a facility for the College of Architecture, Art and Design.
Several parking lot and roadway projects are also underway or have been recently completed. Earlier this month, contractors finished paving the parking lot behind the Industrial Education Building. Famous Maroon Band Street now connects Hardy Road and Stone Boulevard. Construction is underway for Bulldog Way, a new road connecting Blackjack Road and East Lee Boulevard, with work expected to be finished in fall 2022.
MSU continues to lead Mississippi in research, ranking among the top 100 universities nationally and excelling in fields such as agriculture, engineering, social sciences and more. MSU also is home to the fastest supercomputer on any Southeastern Conference campus.  
"In addition to world-class research, our faculty are also preparing our students for the jobs of the future that will benefit our state by raising per capita income," Keenum said. "That's just one of the many other benefits that come with a better educated workforce."
The university recently marked another record year for fundraising, with more than $120 million received in Fiscal Year 2021. The accomplishment marks the eighth consecutive year MSU has raised more than $100 million, and the university's endowment has reached nearly $700 million. The private support is being used to endow new scholarships and faculty positions, enhance facilities and advance the research and creative discovery happening at MSU.
Keenum noted that while the delta variant is causing a surge in COVID-19 cases statewide and nationally, MSU remains in regular contact with the Mississippi State Department of Health and the Mississippi Institutions of Higher Learning leadership to receive guidance on mitigation protocols. He also encouraged all members of the MSU community to receive a COVID-19 vaccine if they have not already done so. MSU has partnered with Delta Health Alliance to motivate Mississippians to get vaccinated and provide incentives for students and employees.
"I am confident that if we all continue to do our part, and if we all continue to work together, we are going to get through the next few weeks and months — and before you know it — we are going to look up and we will have finished another very successful fall semester," Keenum said.
MSU is Mississippi's leading university, available online at www.msstate.edu.