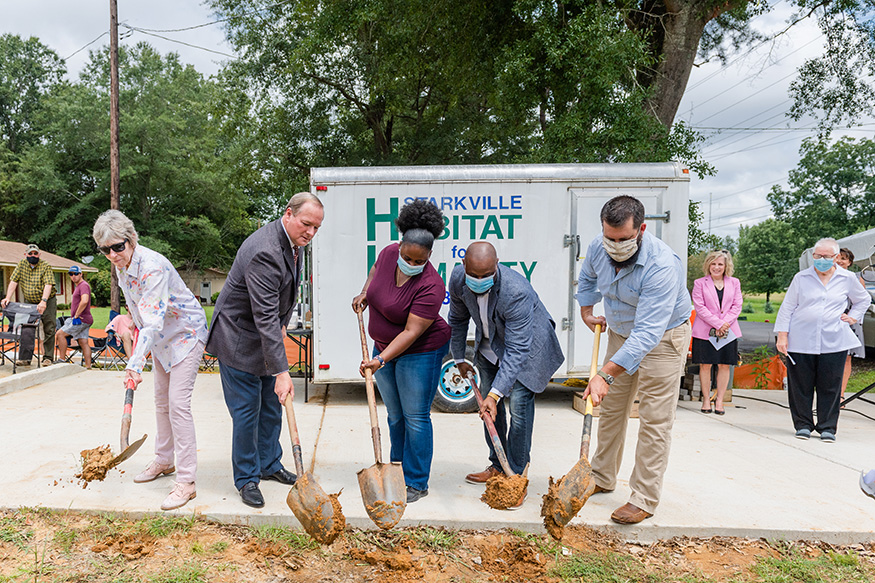 Contact: Sasha Steinberg
STARKVILLE, Miss.—Mississippi State and Starkville Area Habitat for Humanity broke ground Monday [Aug. 16] on the 13th annual Maroon Edition home.
MSU and Habitat for Humanity volunteers are building the home on Azalea Lane for Starkville resident Keva Robertson and her two children—Kaeli, 6, and Laquante, 2. The home will be Habitat's 71st in Oktibbeha County.
MSU President Mark E. Keenum presented Robertson with a ceremonial hammer and assisted in breaking ground.
"It's a pleasure for Mississippi State University to participate in building a home for a very deserving family. Keva and her children are recipients of a labor of love by so many in our community and from Mississippi State," Keenum said. "I thank the students, faculty, staff and others who are going to come out and volunteer to help, and I wish Keva and her family all the very best."
Robertson said this new home will be "a dream come true."
"This has been a long journey, and it wouldn't be happening without the volunteers and Mississippi State," she said. "I just want to say thank you. My kids and I, we're happy."
Students, faculty and staff interested in volunteering to build the Maroon Edition home are encouraged to visit the Maroon Volunteer Center's website at www.mvc.msstate.edu.
The Habitat home is part of the service-learning component of the Maroon Edition First-Year Reading Experience, which provides incoming freshmen and transfer students with a free copy of a common book.
"The 7 Habits of Highly Effective People," an international bestseller by renowned author Stephen R. Covey, is the 2021 Maroon Edition book.
In addition to reading the book annually selected by MSU's Center for Teaching and Learning, the Maroon Edition program encourages students at all class levels, as well as interested administrators, faculty and staff members, to participate in Maroon Edition activities held throughout the year.
Anthony L. Wilson, an MSU electrical engineering alumnus and current chairman, president and CEO of Mississippi Power, is quoted in "7 Habits," which was named the No. 1 Most Influential Business Book of the 20th Century, according to the book's publisher Simon and Schuster. It also is considered one of the top 10 most influential management books in history.
Wilson was originally scheduled to speak this month at the university's Fall Convocation, but the event has been postponed out of an abundance of caution due to current COVID-19 concerns.
For more on Starkville Area Habitat for Humanity, visit www.starkvillehabitat.com.
MSU is Mississippi's leading university, available online at www.msstate.edu.