Contact: Allison Matthews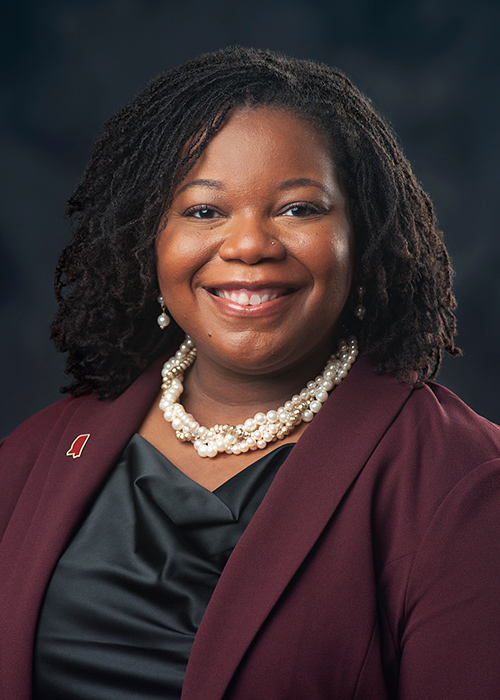 STARKVILLE, Miss.—A new executive director position in Mississippi State's Division of Access, Diversity and Inclusion will assist in increasing the access, retention and success of vulnerable student populations, such as first generation and limited income students.
Tekita R. Bankhead has been named executive director for support programs and began her new role in August. She is focusing on student engagement in academic initiatives and co-curricular activities that facilitate student success. She provides direct leadership and oversight to three programs—TriO, Promise and THRIVE—to ensure that students are empowered and prepared to reach their full social, academic and professional pursuits.
A 2012 graduate of the Mississippi University for Women with a Bachelor of Science in Nursing, she also is an MSU alumna with a 2014 Master of Science in Counselor Education and an emphasis in student affairs administration.
"I'm excited to serve in such a pivotal role at the very institution that birthed my career as a student affairs practitioner," Bankhead said. "I look forward to working with our dynamic team to infuse innovative, inclusive and student-centered approaches into our support programs and to ensure our division is fully embodying MSU's mission as a land-grant university. I'm committed to broadening our university's perspective of holistic student support while deepening our commitment to mental health, student engagement and academic success," she added.
Bankhead currently is pursuing a Doctor of Education, Education Policy, Organization and Leadership in Higher Education degree from the University of Illinois at Urbana-Champaign, where she most recently served as director of the Bruce D. Nesbitt African American Cultural Center. There she provided leadership and administrative oversight to all operations, assessment design, programmatic implementation and service delivery, among other responsibilities.
MSU Vice President for Access, Diversity and Inclusion Ra'Sheda Forbes said, "I am excited to have Tekita's wealth of experiences here at Mississippi State. She embodies the values of our institution, and her student-centered approach is critical as we enhance our work within the division."
MSU is Mississippi's leading university, available online at www.msstate.edu.