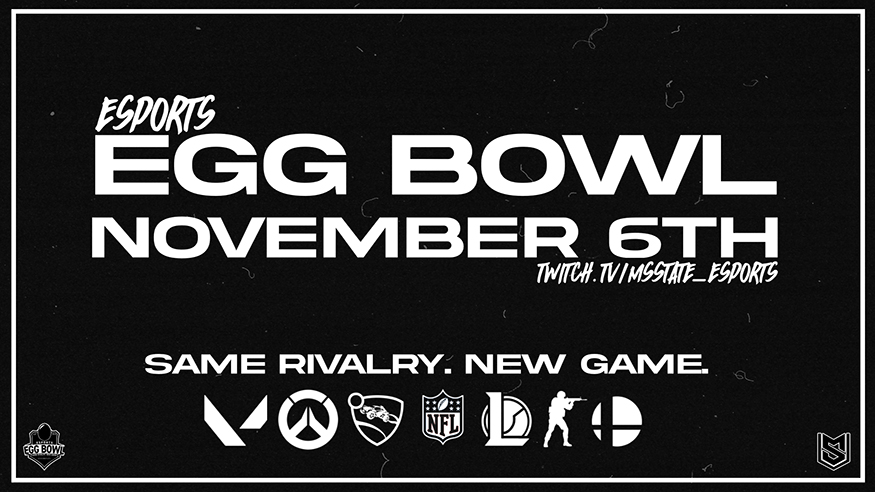 Contact: Sasha Steinberg
STARKVILLE, Miss.—Mississippi State's Esports Club is set to compete Nov. 6 against Ole Miss in the fourth annual Esports Egg Bowl, with the winner earning a year of bragging rights and a Golden Egg trophy.
Bulldog and Rebel gaming enthusiasts will face off at 11 a.m. on the MSU Esports Twitch channel, www.twitch.tv/msstate_esports.
MSU Esports President Austin Fortinberry, a kinesiology/neuromechanics major from Summit, said competing in the annual Esports Egg Bowl is a highlight of the MSU Esports Club experience, and this year's event is becoming even more fast-paced.
"Getting to transfer the famous Egg Bowl tradition in football over to the competitive Esports scene is exhilarating for our players and staff," he said. "We're playing seven different games, each with its own unique competitive format. Our MSU team has been practicing every week since tryouts to have the upper hand in this competition, and we can't be any more excited about what's to come on Nov. 6."
For more on MSU Esports, visit msstate.campuslabs.com/engage/organization/msu-esports or follow on Facebook, Twitter and Instagram.
To join, visit https://discordapp.com/invite/esportsmsu.
MSU is Mississippi's leading university, available online at www.msstate.edu.