Contact: Camille Carskadon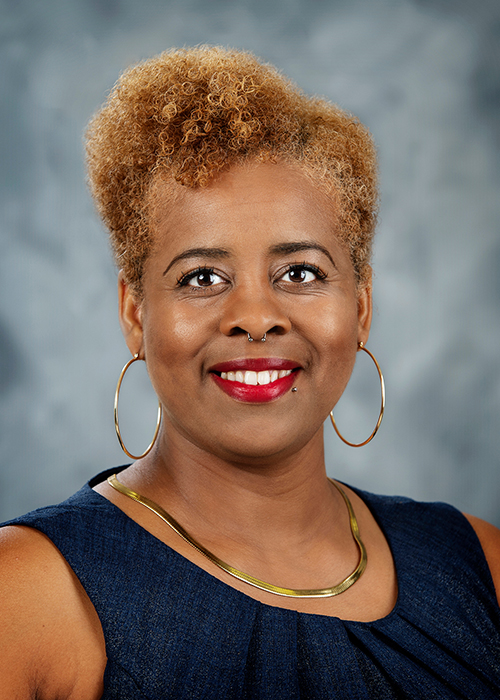 STARKVILLE, Miss.—Qiana Cutts, a Mississippi State assistant professor in the Department of Counseling, Educational Psychology and Foundations, is one of only 27 faculty and administrators nationwide named a fellow in the IAspire Leadership Academy.
The program works to help mid-career STEM faculty from underrepresented backgrounds ascend to college and university leadership roles and is part of the Aspire Alliance's Institutional Change Initiative, led by the Association of Public and Land-grant Universities and the University of Georgia. The participants were selected through a competitive, holistic review of their applications.
"Leadership development is an essential element of healthy institutions," said MSU Provost and Executive Vice President David Shaw. "Dr. Cutts is an excellent example of leaders who will be important for the future of Mississippi State University."
MSU Vice President for Access, Diversity and Inclusion Ra'Sheda Forbes said, "Dr. Cutts has demonstrated a longstanding commitment as a scholar and leader in academia and at Mississippi State University. Having the opportunity to advance more scholars of color into leadership positions is important for Mississippi State and higher education as a whole."
The academy is one pillar of diversity and inclusion work underway through the Aspire Alliance, formally known as the National Alliance for Inclusive and Diverse STEM Faculty. The National Science Foundation-backed group is working across post-secondary institutions to develop more inclusive institutional cultures and create a more inclusive and diverse STEM professoriate.
"I am honored to be named an IAspire Leadership Academy Fellow and look forward to engaging with esteemed scholars. I am confident I will emerge from the program a transformational leader with enhanced critical leadership competencies and a plan to effect structural change in education," Cutts said. "I am thankful for the support of the Department of Counseling, Educational Psychology, and Foundations; the College of Education; the Office of Institutional Diversity and Inclusion; and the entire Mississippi State University community."
Fellows will learn effective executive leadership skills for increasingly complex higher education environments, as well as strategies for influencing institutional transformation in their current and future leadership positions.
"It is an honor to provide this leadership development opportunity to so many current and rising leaders from across the country," said Rochelle Sapp, IAspire Leadership Academy director and Leadership Development specialist in UGA's Office of Learning and Organizational Development. "Advancing diverse and underrepresented groups of leaders in STEM higher education is critical to the success of higher education and society."
Learn more about the IAspire Leadership Academy at https://www.aspirealliance.org/institutional-change/iaspire-leadership-academy.
Established in 1903, MSU's College of Education is home to six academic departments, one research unit and numerous service units. For more about the college, visit www.educ.msstate.edu.
MSU is Mississippi's leading university, available online at www.msstate.edu.