Contact: Grace Jones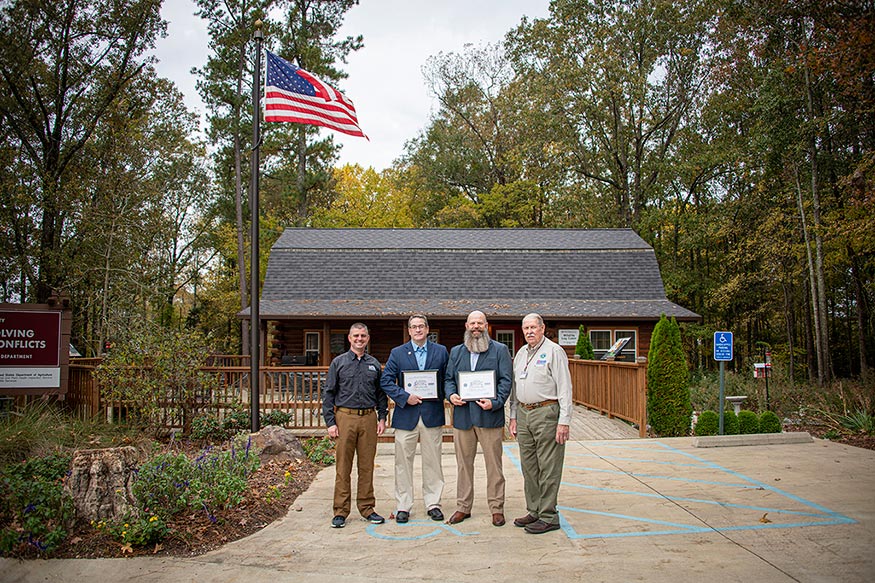 STARKVILLE, Miss.—Two Mississippi State University faculty are being honored for support of an MSU guardsman in ceremonies on Veteran's Day.
Andy Kouba, professor and head of the Department of Wildlife, Fisheries and Aquaculture, and Chad Dacus, Extension instructor and director of the Wildlife Services National Training Academy, both were recognized with the Patriot Award, a U.S. Department of Defense program that recognizes supervisors for their support of National Guardsmen. Scott Edwards, an Extension instructor who nominated both recipients, along with representatives from the DoD's Employer Support of the Guard and Reserve presented the awards.
Edwards thanked Kouba and Dacus for facilitating a professional environment where he can balance professional responsibility and commitment to the country.
 "Being in the National Guard is balancing two different careers, which can be hard to accommodate," Edwards said. "The Employer Support of the Guard and Reserve acknowledges and honors employers that set a notable example of supporting people in the Guard, like me, which is why I nominated Dr. Kouba and Chad."
During his time at MSU, Edwards has been deployed overseas and attended training camps every month. He noted that both supervisors have supported, encouraged and intentionally worked with him during times he has had to be away.
"Chad and Dr. Kouba have always been great at checking in with me. I have never had to worry about my training schedule, and they always ask how I am doing, and the support I feel from them is a blessing. MSU does a fantastic job of loving and protecting the Bulldog family, especially when it comes to our military faculty, staff and students," Edwards said.
Coming from a military family whose father served in the National Guard and Reserve, Kouba said he was impacted early in life by his father's military career, so he understands the importance of scheduling and balancing a life in the military.
"I have an incredible amount of respect for Scott and his military service," Kouba said. "It's not difficult for me to give him flexibility with scheduling or time off. His commitment to our country makes it easy for me to want to help him and his family with whatever he needs."
Kouba noted that his leadership approach stems from the Golden Rule, to treat and respect everyone as you would like to be treated yourself.
"I have a significant amount of respect and empathy for Scott and his family's commitment to the military life; the entire family makes sacrifices and needs flexibility when Scott is deployed overseas or undergoing training activities. This recognition is at the top of the list of awards for which I have been nominated, and I am humbled and honored to be recognized by Scott and the National Guard and Reserve for this award," Kouba said.
For more on the Patriot Award, visit https://www.esgr.mil/Employer-Awards/Patriot-Award. Visit MSU's College of Forest Resources at www.cfr.msstate.edu.
MSU is Mississippi's leading university, available online at www.msstate.edu.