Contact: Harriet Laird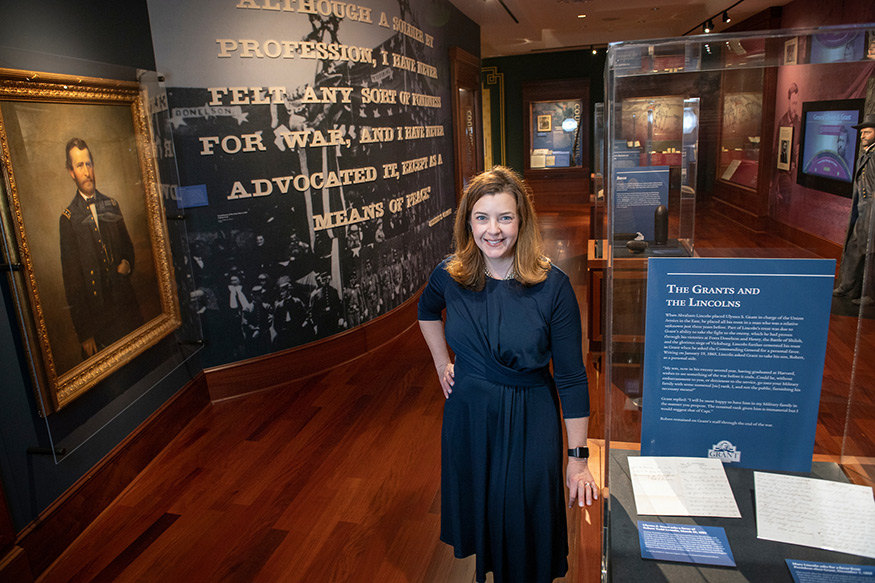 STARKVILLE, Miss.—A Mississippi State Civil War historian, researcher and author is the new leader of a national association and university presidential library.
Anne Marshall, associate professor in the MSU Department of History, has been named executive director of the Ulysses S. Grant Association and the U.S. Grant Presidential Library. Both are housed in the university's Mitchell Memorial Library and curate the 18th president's papers, while preserving a vast array of artifacts and memorabilia.
Marshall takes the helm of an organization that has published 32 volumes of Grant's writings; collected many original letters written by Grant, his associates and family; and has more than 200,000 photocopies of every known letter written by Grant and other documents. In 2017, the USGA and Presidential Library staff edited "The Personal Memoirs of Ulysses S. Grant: The Complete Annotated Edition" (Harvard University Press, 2017).
Employed by MSU in 2006 as an assistant history professor, Marshall follows the USGA leadership of John Marszalek, who has served as executive director and managing editor since 2006. Marszalek, an MSU William L. Giles Distinguished Professor Emeritus, continues with the association as contributing editor, working to complete the annotated memoirs of Civil War General William T. Sherman. He also remains on the group's board of directors.
"After 12 years of being in charge of the Grant Presidential Library as executive director, it is my time to turn it over to Dr. Anne Marshall's capable hands. What a thrill it has been to help bring Grant to Mississippi State University and to watch the small facility grow and become the magnificent presidential library," Marszalek said.
MSU President Mark E. Keenum also commented on the leadership change.
"Dr. John Marszalek's longtime involvement with and leadership of the USGA and the university's Grant Presidential Library have helped put Mississippi State on the map as a national center of excellence for the study of Civil War-era history. With Dr. Marshall's proven track record of research, teaching and outreach, I'm confident she will continue to build upon the USGA and Grant Library's strong momentum and expand their reach and impact," Keenum said.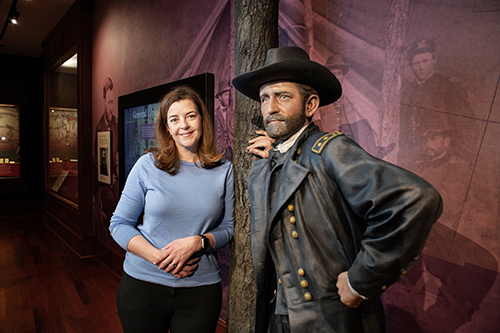 Marshall is currently working on an upcoming biography of anti-slavery activist Cassius Marcellus Clay, a founding member of the country's Republican Party and Abraham Lincoln's ambassador to Russia. In 2010, she penned "Creating a Confederate Kentucky: The Lost Cause and Civil War Memory in a Border State" (University of North Carolina Press, 2010), which received critical and popular acclaim. She also has published articles in several scholarly publications including the Journal of the Civil War Era, Slavery & Abolition, Agricultural History and Register of the Kentucky Historical Society.
She is a contributor to a number of books including "Reconstructing Appalachia: The Civil War's Aftermath (University Press of Kentucky, 2010), "Reconstruction: The Unfinished Business of the Civil War" (Fordham University Press, 2010), and "Master Narratives: Storytelling, History, and the Postmodern South" (Louisiana University Press, 2013).
MSU Libraries Dean Lis Pankl said, "I'm delighted to welcome Dr. Marshall to the Grant Presidential Library at Mississippi State. I look forward to collaborating with her to raise awareness of the significance of the Grant and Lincoln collections, as well as continuing to provide a rich and vibrant experience for scholars and visitors to this cultural and historical site of study and exploration."
A Phi Beta Kappa cum laude graduate of Kentucky's Centre College, Marshall holds both a master's degree and doctorate in history from the University of Georgia.
She will be a part of the USGA's celebration March 3-5 at MSU of the bicentennial of Grant's birth.
Outgoing USGA President and former Rhode Island Supreme Court Chief Justice Frank Williams, said of Marshall's appointment, "I am pleased with the growth and progress we have made with the Grant Association and the Grant Presidential Library over the years and excited to see their continued success. I'm thrilled Dr. Marshall will be leading the two going forward, and I know she will do outstanding work. After more than 30 years of service, it's time to hand off the role of president to a new generation to ensure the association's long-term future."
For more information about the U.S. Grant Association and Presidential Library visit https://usgrantlibrary.org.
MSU is Mississippi's leading university, available online at www.msstate.edu.