Contact: Sarah Nicholas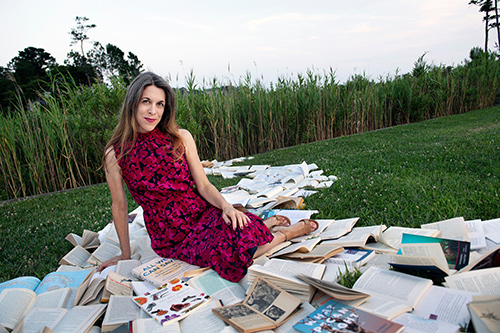 STARKVILLE, Miss.—Mississippi State English Professor Catherine Pierce—named Mississippi's Poet Laureate in 2021—now hosts a poetry podcast to help the genre come alive for Mississippi students.
"The Mississippi Poetry Podcast," a bi-weekly 15-minute production featuring poems and conversations with Mississippi poets, is housed on Mississippi Public Broadcasting's Mississippi Arts Hour webpage, http://msartshour.mpbonline.org/.
The audio series is in partnership with Mississippi Whole Schools, a Mississippi Arts Commission program and the first comprehensive, statewide arts education program.
Pierce, a two-time Pushcart Prize winner and co-director of MSU's creative writing program, said students have told her they used to think poetry was "something archaic or dull or not relevant to their own lives."
"One of the real joys of teaching poetry is helping people see that poetry is a living, breathing, vibrant contemporary art. I wanted to find a way to bring that same message to all Mississippians," Pierce said. "We're calling this 'a podcast where poetry comes alive for listeners,' and that's exactly what I hope it will be."
Pierce said the series also offers a resource for educators and community groups, with each episode paired with a one-page supplement of related links and a writing prompt based on an element of that episode's interview.
"My hope is that teachers or library groups or any interested folks might be able to use these to spark or fuel a passion for poetry," Pierce said. "I'm aiming for a lively, conversational tone with these, and I like the idea of listeners getting to learn something fun about each poet as a person.  
"We have so many incredible writers here in Mississippi, and my goal is for people across the state to see poetry as something that can come out of their own lives, their own towns. I hope this will be a place where everyone feels welcome, and where even folks who have previously been a little skeptical about poetry can feel excited about all the possibilities a poem can hold, and maybe even write some of their own," Pierce said.
"One of my main goals for my work as Poet Laureate is to increase access to poetry for people across the state," she added.
Pierce is the winner of the 2021 Mississippi Institute of Arts and Letters Poetry Award for her book "Danger Days," a collection of poems addressing the beauty of the world, as well as destruction created by climate change. She has authored four books of poetry.
Pierce has received a 2020 Mississippi Arts Commission Literary Artist Fellowship for her poetry, a 2020 Pushcart Prize for her poem "Entreaty," and one in 2018 for her poem "I Kept Getting Books about Birds." She also received a 2019 Creative Writing Fellowship from the National Endowment for the Arts.
Her poems have appeared in The Best American Poetry, American Poetry Review, The Nation, Boston Review and The Southern Review, among many other publications. For more, visit http://www.catherinepiercepoet.com/.
Part of MSU's College of Arts and Sciences, the Department of English is online at www.english.msstate.edu. For more details about the College of Arts and Sciences visit www.cas.msstate.edu.
MSU is Mississippi's leading university, available online at www.msstate.edu.