Contact: Harriet Laird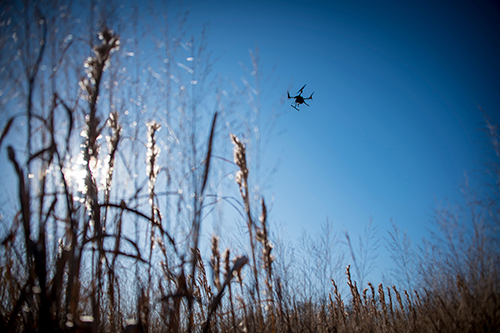 STARKVILLE, Miss.—The use of computing power and big data to bring transformational change in agriculture is the focus of a March inaugural conference co-organized by a Mississippi State faculty member.
Alex Thomasson, professor and head of the MSU Department of Agricultural and Biological Engineering, has been working with colleagues from the University of Florida and host site Auburn University to hold "Envisioning 2050 in the Southeast: AI-driven Innovations in Agriculture," March 9-11.
"The research discussed will be on the cutting edge of artificial intelligence in agriculture," Thomasson said. "We'll explore challenges that large and small producers face and the benefit of AI and big data for potential solutions. Along with problem solving, attendees will take away a broader and deeper knowledge of AI and a vision for AI's future in agriculture in the Southeast."
A joint effort of all land-grant universities in the Southeast, the University of Florida is the lead institution for the two-and-a-half-day event being held at The Hotel at Auburn University and Dixon Conference Center. To register, visit https://mell-base.uce.auburn.edu/wconnect/CourseStatus.awp?&course=C220309&Publish=ANYWAY.
Agriculture is an almost $9 billion industry in Mississippi and one of the largest in the Southeast, and this conference's presentations and sessions will bring together academics, business and stakeholders to share expertise and help develop a vision for the future through AI, which has been labeled the "ultimate hot topic."
Thomasson said organizers hope the event helps identify strategies, action plans and activities needed to support AI-related change in farm and ranch management and post-harvest systems, plus AI-related workforce education and training "needed across the value chain."
Along with MSU's Department of Agricultural and Biological Engineering, university units participating include the Division of Agriculture, Forestry and Veterinary Medicine and Department of Electrical and Computer Engineering, among others.
With expertise in agriculture and the technologies that are fueling the use of artificial intelligence in all stages of agricultural production, MSU researchers are advancing several lines of AI research that will benefit producers and consumers. In the agricultural and biological engineering department, faculty and students are using AI to detect and treat herbicide-resistant weeds, forecast groundwater levels in the Mississippi River Valley Alluvial Aquifer, detect and separate plastic contaminants from cotton, and predict cotton yield using early-season data from multiple sources, among other projects.
Funded by the USDA National Institute of Food and Agriculture, "Envisioning 2050 in the Southeast: AI-driven Innovations in Agriculture" came to fruition after the fall 2021 formation of an artificial intelligence and data science consortium for workforce development. The SEC Artificial Intelligence Consortium, created by the chief academic officers of the 14-member universities in the Southeastern Conference, is designed to grow opportunities in the fast-changing fields of AI and data science.
Believed to be the first athletics conference collaboration with this focus, the consortium enables SEC universities to share educational resources including curricular materials, certificate and degree program structures, and online seminar and course presentations; promote faculty, staff, and student workshops and academic conferences; and seek joint partnerships with industry.
More information on the SEC Artificial Intelligence Consortium can be found at https://bit.ly/3hg4qAU.
MSU is Mississippi's leading university, available online at www.msstate.edu.