Contact: Harriet Laird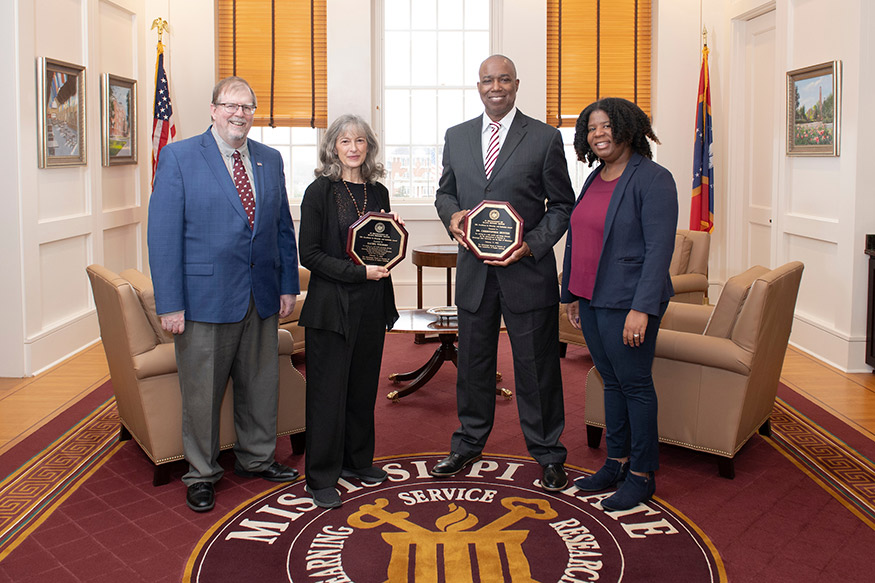 STARKVILLE—Two Mississippi State faculty members are the recipients of this year's Diversity and Inclusion Awards, given annually during Black History Month by the Mississippi Institutions of Higher Learning.
The IHL Board of Trustees is honoring 10 employees from the state's four-year public universities, including MSU faculty members Christopher Hunter, assistant professor in the School of Architecture, and Rachel Welborn, associate director of the Southern Rural Development Center, for advancing diversity, understanding and respect.
Hunter, who joined MSU in 2018, spent 30 years practicing architecture before intertwining his professional talent with his passion for teaching and mentoring as a university faculty member. He recently helped the College of Architecture, Art and Design establish an 18-hour, master's level Historic Preservation Certificate program, building on his interest in the socio-cultural influences on design and construction of early African American churches.
Supporting student success and diversity within the School of Architecture, Hunter is faculty advisor for the campus's National Organization of Minority Architecture Students and serves as a mentor for the Holmes Cultural Diversity Center's BRIDGES program. BRIDGES aids underrepresented students in reaching not only educational goals, but professional and personal success as well.
Hunter holds three degrees in architecture, a Ph.D. and master's degree, both from Texas A&M University, and a bachelor's from the University of Cincinnati.
Welborn has worked for the Southern Rural Development Center on the MSU Starkville campus since 2008, first as program manager and then moving into the associate director role in 2018. In her work, Welborn has helped identify pressing rural development concerns and facilitated responses in the state, region and nation on critical issues, including poverty, disasters, workforce development, racial reconciliation and internet availability.
Her work has led to her most recent project—Coming Together for Racial Understanding—a nationwide initiative with a mission to "form relationships and build trust that leads to informed, collective action for meaningful change." The program brings together universities, Extension services and other outreach and community engagement efforts from across the U.S. to adopt a curriculum that initiates dialogue on race. Last year, the Coming Together project won the National Diversity in Extension Award from the U.S. Department of Agriculture.
Welborn is an elementary education graduate of Freed-Hardeman University in Tennessee and received a master's degree in family studies from Abilene Christian University in Texas.
For more on IHL's Diversity and Inclusion Awards, visit http://www.mississippi.edu/pr/newsstory.asp?ID=1735.
MSU is Mississippi's leading university, available online at www.msstate.edu.