Contact: Vanessa Beeson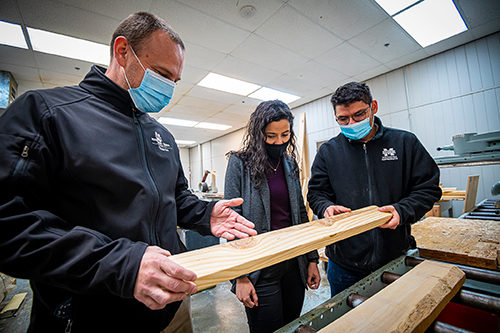 STARKKVILLE, Miss.—A $500,000 federal grant will help Mississippi State researchers use artificial intelligence to increase the accuracy of lumber evaluation.
The U.S. Department of Agriculture award funds an innovative research project in MSU's Department of Sustainable Bioproducts that aims to improve lumber grading systems with a machine-learning model. The research will identify characteristics that human graders and current auto-grading technologies might otherwise miss—especially characteristics which, relative to their nature and extent, impact the value of each piece of lumber.
Assistant Research Professor Dercilio Junior Lopes explained the goal is to create another tool to complement current grading practices and technologies.  
"Visual graders have high accuracy around 95 percent, but worker fatigue decreases that accuracy. Additionally, auto-grading equipment can struggle with certain wood species, especially hardwoods like black walnut, in which the wood's dark hue can make it hard to discern knots. This work offers checks and balances for the weary worker and these problematic wood species," Lopes explained. "We won't replace lumber grading experts or auto-grading equipment. We'll simply provide another tool for rapid decision making in the fast-paced production environment."
The MSU Forest and Wildlife Research Center team will create an image dataset of common wood strength reducing characteristics, curate and annotate these images, and then process them into deep learning-based image segmentation models. From there, they will integrate the machine-learned algorithm into user-friendly software in partnership with MSU's National Strategic Planning and Analysis Research Center, or NSPARC.
Lopes explained that the image-based machine learning model will be able to identify nuanced differences in lumber characteristics, such as knots and decay.
"Decay tends to be dark green, while knots are black. Current technologies might struggle to differentiate between the two in every scenario, especially in the case of hardwoods. Current technology is based on a global threshold," he said.
While humans see along the red, green and blue spectrum as one image, the model will see each hue separately, Lopes said.
"We will use a series of data augmentation techniques and manipulate the images to simulate defects so the machine model can measure the intensity of each pixel and understand the patterns of defects," he explained.
While Lopes will focus on building the model, Postdoctoral Associate Gabrielly Dos Santos Bobadilha will develop the images from which the model will learn.
"I'll be more involved in image acquisition and processing, and after the model is built, I'll help disseminate the results from the project," she said.
Bobadilha is excited about the applied nature of the work.
"While we've published several papers on artificial intelligence, much of that research has been foundational. I'm excited to really explore what this technology can do for the industry. Machine learning is well known and used in different industries from medicine to infrastructure and more, but it is rarely used in wood science. This work will result in a tool that will directly impact the forest products industry," she said.
In addition to NSPARC, collaborators include the Southern Pressure Treaters' Association and Arnold Forest Products Corporation.
With researchers studying potential uses of AI in a wide range of fields, MSU is part of the Southeastern Conference Artificial Intelligence Consortium. The consortium, created by the chief academic officers of the 14 SEC member universities, is designed to grow opportunities in the fast-changing fields of AI and data science.
For more on the Department of Sustainable Bioproducts, visit www.cfr.msstate.edu/bioproducts. Learn about the Forest and Wildlife Research Center by visiting www.fwrc.msstate.edu.
MSU is Mississippi's leading university, available online at www.msstate.edu.