Contact: Carl Smith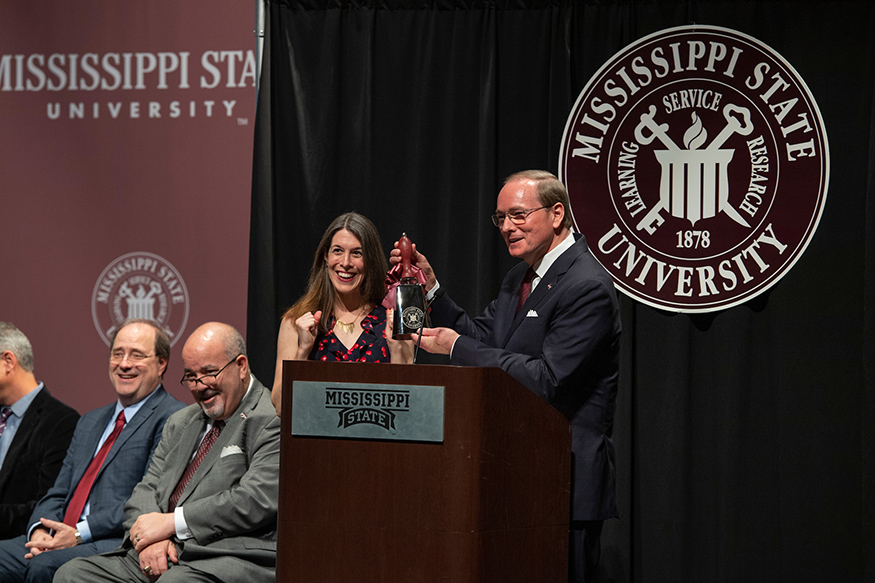 STARKVILLE, Miss.—Award-winning author and Mississippi State English Professor Catherine Pierce is dedicating her work as the state's current Poet Laureate to helping all Mississippians gain access to poetry in a meaningful way.
Pierce was honored Monday [April 11] as MSU's first Poet Laureate during a public presentation in Lee Hall's Bettersworth Auditorium, where she spoke about her deep belief that poetry is for everyone—a medium for all to both create and enjoy. The event was hosted by the College of Arts and Sciences and its Institute for the Humanities.
"You don't have to be an expert to do either one of those things," she said. "Poetry is such a versatile gift—poems can center us, comfort us, liberate us, spur us to action, help us to find and amplify our own voices, help us to listen to other people's voices and know that we're not alone. Poems can entertain us and can help us give shape to our joy, anger, grief or questioning.
"Poems give us permission to stop for a little while, tune out the constant hum of the world around us and give our attention fully to something," Pierce added. "I hope to help all Mississippians gain access to poetry in a way that's meaningful for them, and I'm honored to have the opportunity to be doing this work."
Created in 1963, Mississippi's Poet Laureate serves as the official state poet, creating and reading poetry at state occasions and agency activities, and representing the Magnolia State's rich cultural heritage. The Office of the Governor, in partnership with the Mississippi Arts Commission and Mississippi's other cultural agencies, appoints the position to a four-year term. Pierce's term expires in 2025.
"Gov. Reeves and the Mississippi Arts Commission made an outstanding decision to select Dr. Pierce as Mississippi's official state poet. Her selection speaks volumes about the exceptional quality of our faculty and the opportunities our students have to interact with talented, creative and accomplished educators in our classrooms," said MSU President Mark E. Keenum, who presented Pierce with a ceremonial chrome cowbell. "Dr. Pierce also perfectly represents this university's longstanding commitment to service and outreach that makes a difference."
Pierce thanked the university for "being a place where the arts are valued and championed."
"I am grateful for, though not surprised by, Mississippi State's unflagging commitment to this crucial part of our university and our lives," she said.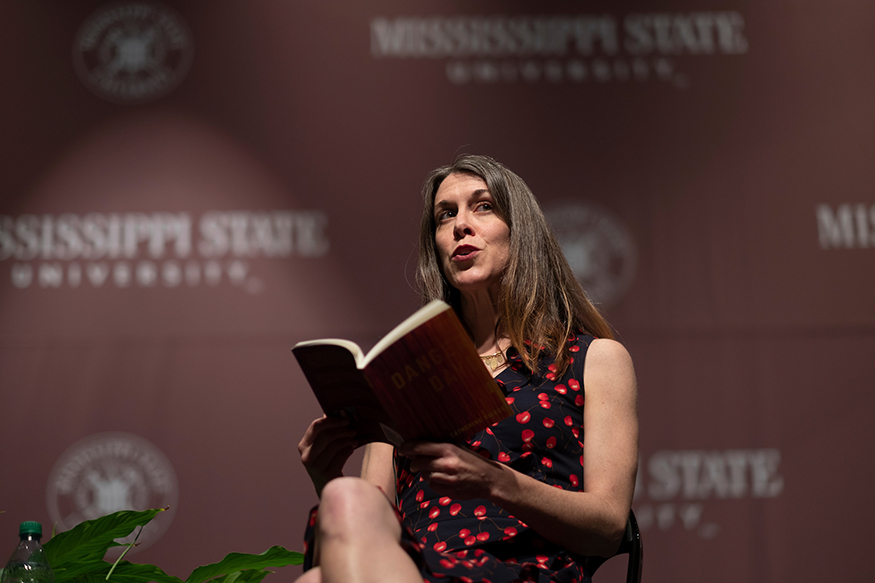 Pierce is the winner of the 2021 Mississippi Institute of Arts and Letters Poetry Award for her book "Danger Days," a collection of poems addressing the beauty of the world, as well as destruction created by climate change. She has authored four books of poetry.
Pierce received a 2020 Mississippi Arts Commission Literary Artist Fellowship for her poetry, a 2020 Pushcart Prize for her poem "Entreaty," and a 2018 Pushcart Prize for her poem "I Kept Getting Books about Birds." She also received a 2019 Creative Writing Fellowship from the National Endowment for the Arts.
Her poems have appeared in The Best American Poetry, American Poetry Review, The Nation, Boston Review and The Southern Review, among many other publications. For more, visit www.catherinepiercepoet.com/.
Part of MSU's College of Arts and Sciences, the Department of English is online at www.english.msstate.edu and the Institute for the Humanities is online at www.ih.msstate.edu.
For more details about the College of Arts and Sciences visit www.cas.msstate.edu.
MSU is Mississippi's leading university, available online at www.msstate.edu.