Contact: Vanessa Beeson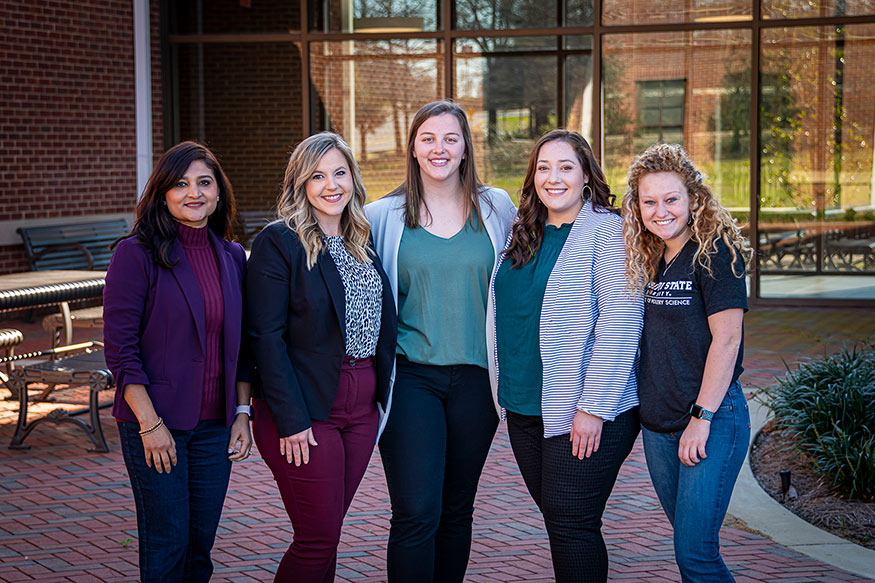 STARKVILLE, Miss.—Four Mississippi State students and a Department of Poultry Science faculty member have been honored for their cutting-edge research at the recent International Poultry Scientific Forum and International Production and Processing Expo in Atlanta, Georgia.
Receiving honors are Samantha Plocher, a poultry science sophomore from Salem, Ohio; Marissa Powell, a poultry science master's student from Guyton, Georgia; Peyton Taylor, a poultry science master's student from Irvington, Alabama; and Tannah Christensen, a December 2021 human sciences master's graduate from Ackerman.
Plocher is the winner of the Don R. Sloan Undergraduate Award for her poster presentation about sample size and data management of bone mineralization measurements in broilers fed varying levels of phosphorus. She is an undergraduate research assistant working with Associate Professor Kelley Wamsley.
Powell is the recipient of the Graduate Student Award of Excellence for her oral presentation on implementing and validating MSU's hatch-out program curriculum for K-2 students. She is under the direction of Assistant Clinical/Extension Professor Jessica Wells. Her research is one of three MSU projects focused on recruitment of poultry science students.
Taylor and Christensen also have had projects examining recruitment of poultry science students. Their work, along with Powell's, has garnered national media attention and has been featured in prominent poultry science trade publications. Taylor's project, also under the direction of Wells, focused on a hybrid hatch-out curriculum designed to aid in agricultural literacy in elementary schools, while Christensen's work, under the direction of Extension Professor Donna Peterson in the School of Human Sciences, focused on online curriculum.
Assistant Professor Pratima Adhikari is one of only five university researchers invited to give a TECH Talk at the expo about her Mississippi Agricultural and Forestry Experiment Station study on how protein and amino acid levels in diets with and without protease—an enzyme that breaks down protein—affect feed cost and egg quality in layer hens.
"As one of only six poultry science degree-granting departments in the U.S., MSU is an innovative place for poultry science education, research and outreach, and our involvement in the international forum and expo has been an ideal place to showcase this," said Wes Schilling, interim head of MSU's Department of Poultry Science.  
For more on the Department of Poultry Science in the College of Agriculture and Life Sciences, visit www.poultry.msstate.edu. For more on the Mississippi Agricultural and Forestry Experiment Station, visit www.mafes.msstate.edu.
MSU is Mississippi's leading university, available online at www.msstate.edu.