Contact: Carl Smith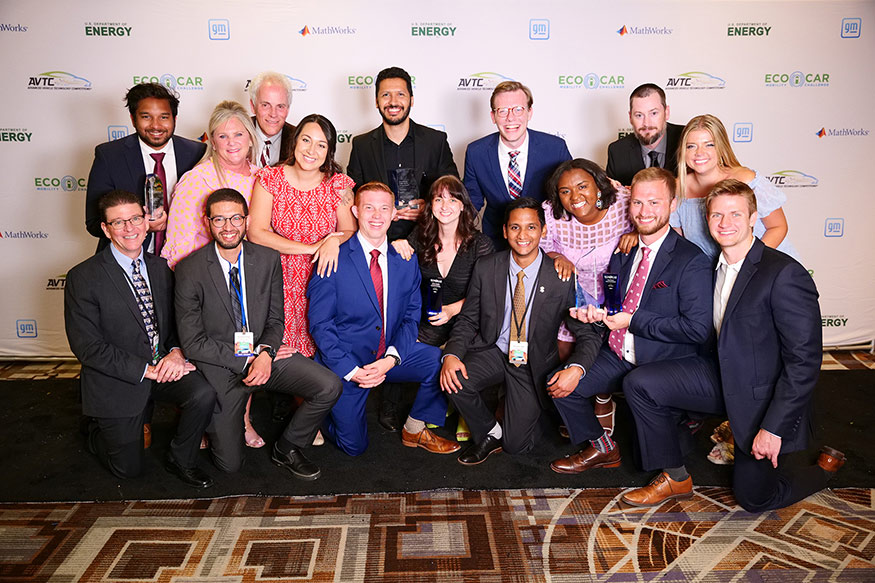 STARKVILLE, Miss.—Mississippi State's EcoCAR team recently returned to campus with numerous awards from this month's EcoCAR Mobility Challenge's Year 4 Competition, including top spots for overall project management, project status presentation and human-machine interface/user experience evaluation, and a MathWorks Model-Based Design Award.
The event was the culmination of a four-year challenge pitting 11 universities to improve a 2019 Chevrolet Blazer's energy efficiency, safety and consumer appeal through electrification, advanced propulsion systems and automated vehicle technology. Team vehicles went through a variety of tests and challenges, including technical inspections, dynamic testing events and ride-and-drive courses. Teams also were evaluated in six technical presentations that demonstrated the viability of their designs to government and industry judges.
The MSU EcoCAR team earned nine recognitions, including placing fifth in the overall competition, and Vance Hudson, a Collierville, Tennessee, native who recently graduated with a master's degree in mechanical engineering, was one of only two students in the competition who won the Excellence in Leadership Award.
MSU Bagley College of Engineering Dean Jason Keith praised the team for its performance and said the program fully prepares students to enter the workforce and make an immediate impact in whatever field they choose.
"Across the four years of the EcoCAR Mobility Challenge, I have seen the impact of our students' hard work on their career trajectories," he said. "Team members have obtained internships, full-time jobs and other research positions across Mississippi State University and in industry throughout the nation. Additionally, the leadership experience that EcoCAR students obtain allow them to start their positions with salaries higher than peers."
The complete list of awards earned by the MSU EcoCAR team includes:
—First place, Project Status Presentation
—First place, Overall Project Management
—First place, HMI/UX Evaluation
—First place, MathWorks Model-Based Design Award
—Second place, HMI/UX Presentation
—Second place, Communications Presentation
—Second place, CAV Capability Evaluation
—Third place, PCM Presentation
—Fourth place, Overall Communications
—Fifth place, Overall
—Excellence in Leadership Award, Vance Hudson
"This team has undergone some major challenges over the years, and at the start of this four-year competition, their specific goal was to re-establish a sustainable basis for having a highly competitive team year-in and year-out," said Randy Follett, the team's faculty advisor and an MSU associate professor of electrical and computer engineering.
"As a part of this, their focus was on having a vehicle that could complete every event in the Year 4 final competition. Not only did they accomplish this task, but they were also the first team to complete every dynamic event in the week-long series of competitive events in Yuma, Arizona. In doing this, they have re-established the MSU team as a solid competitor for the foreseeable future, with clear leadership development processes to continue the winning tradition in the EcoCAR EV Challenge, which begins this fall. I'm incredibly proud of the hard work that they have put in over the last four years, and the successes that this work has created for them—both in the competition and personally. It has truly been an honor to be associated with each and every one of them," Follett said.
Learn more about the MSU EcoCAR team and its projects by visiting www.cavs.msstate.edu/success_stories/experience_ecocar.php.
Visit www.bagley.msstate.edu for more information about MSU's Bagley College of Engineering.
MSU is Mississippi's leading university, available online at www.msstate.edu.