Contact: James Carskadon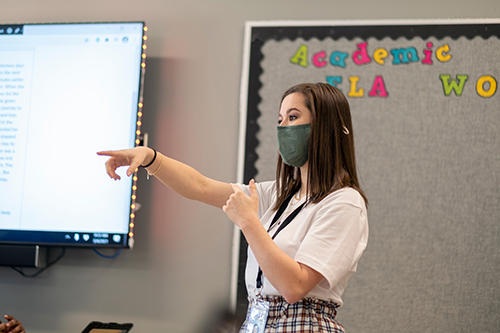 STARKVILLE, Miss.—Mississippi State University is leading a nationwide project with the goal of better preparing educators for teaching in rural settings.
With $2.4 million in support from the National Science Foundation, the project entitled "Investigating STEM Teacher Preparation and Rural Teacher Persistence and Retention" brings together 14 universities to address workforce challenges in school settings, particularly for STEM teachers in rural areas. The project examines how educator preparation programs impact future STEM teachers' intentions to teach in rural schools, as well as their retention rates at rural schools once they are in the workforce. Studies have shown that in addition to struggling to recruit teachers, rural schools have the highest rates of teacher attrition, with higher attrition rates occurring in the southern U.S. and in schools that serve low-income and minority students.
Devon Brenner, director of MSU's Social Science Research Center and professor in the College of Education, is the grant principal investigator, and the co-PI is Dana Franz, director of academic quality in the MSU Office of Institutional Research and Effectiveness and professor in the College of Education. Diana Outlaw, associate professor in the Department of Biological Sciences, is serving as the grant's project manager.
"Our project starts with the premise that rural communities are great places to live and to work, and that rural students deserve strong teachers who care about the places their students are from. However, rural teaching can have challenges such as geography, access to resources and the need to support multiple roles that make the work of being a rural teacher unique," Brenner said. "Over the four years of the grant we will investigate how teacher preparation programs explicitly address place in how they recruit future teachers, provide rural field experiences, or talk about the benefits and realities of teaching in rural places and whether these experiences are associated with the places where graduates go on to teach."
The first part of the project studies educator preparation programs and how they address rural education. The hypothesis is that universities that explicitly address rural education in their programming and internship placements will graduate teachers that are more likely to begin teaching in rural areas and stay longer once employed. After assessing the educator programs, researchers will track the intent of students to teach in rural places, their job placements after graduation and their retention rates in rural areas. Findings from the study, which will include qualitative and quantitative data, will be used to inform practice in educator preparation programs, ultimately resulting in STEM teachers that are better able to meet the needs of rural schools.
With MSU serving as the lead institution for the project, MSU, Texas A&M University and Stephen F. Austin State University make up the core research team. Also collaborating are partners Alabama A&M, Clarkson, Fort Hays State, Morehead State, North Dakota State University, Texas A&M-Commerce, Texas Tech, and Winthrop universities. Others are the universities of Alabama-Birmingham, Kentucky and Wisconsin-River Falls.
In addition to the NSF project, MSU supports rural education, particularly in Mississippi, by preparing future educators to serve in Mississippi schools, as well as leading research and outreach programs that serve rural schools. For more on MSU's academic programs in the College of Education, visit www.educ.msstate.edu.
MSU is Mississippi's leading university, available online at www.msstate.edu.