Contact: Allison Matthews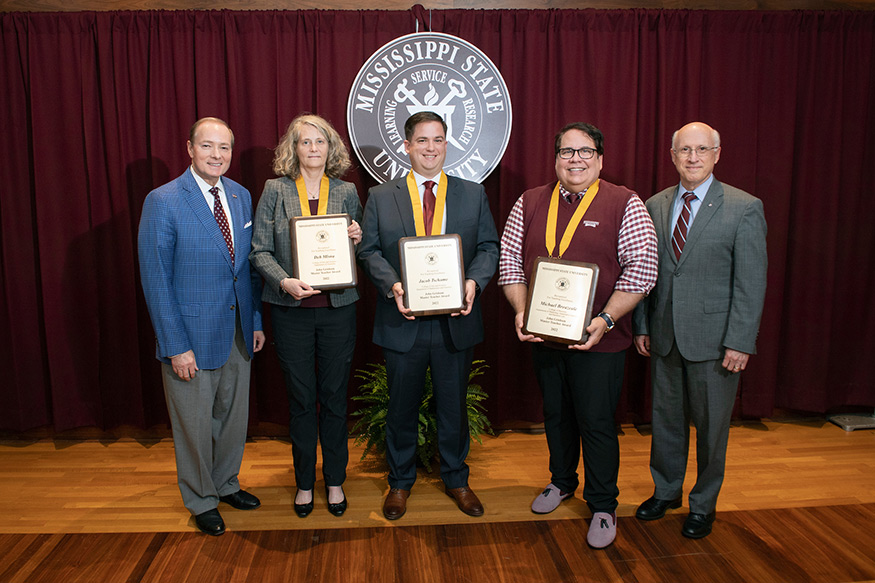 STARKVILLE, Miss.—Mississippi State is recognizing three distinguished faculty members with the university's highest academic teaching award.
Mike Breazeale, Deb Mlsna and Jacob Tschume are this year's John Grisham Master Teacher Award recipients, honored during a Thursday [May 5] campus program.
"You exemplify the very best of what it means to be a scholar, a teacher and a mentor," said MSU President Mark E. Keenum in remarks to the honorees. "Students want to be here because of the excellent teaching and research opportunities you and your colleagues provide."
First presented in 1993, the Grisham Master Teacher honor is a tribute to classroom and instruction excellence and is named for the MSU accounting alumnus and internationally recognized best-selling author who provided funds to endow the award.
MSU Provost and Executive Vice President David Shaw also congratulated the recipients.
"These faculty members represent the epitome of what this institution is about in terms of caring about their students and ensuring they are extremely well-prepared for life and for a career," Shaw said.
Breazeale is an associate professor in the College of Business's Department of Marketing, Quantitative Analysis and Business Law.
Mlsna is an associate professor in the Department of Chemistry in the College of Arts and Sciences.
Tschume is an instructor in the Department of Mathematics and Statistics in the College of Arts and Sciences.
MSU is Mississippi's leading university, available online at www.msstate.edu.