Contact: Kathleen Forman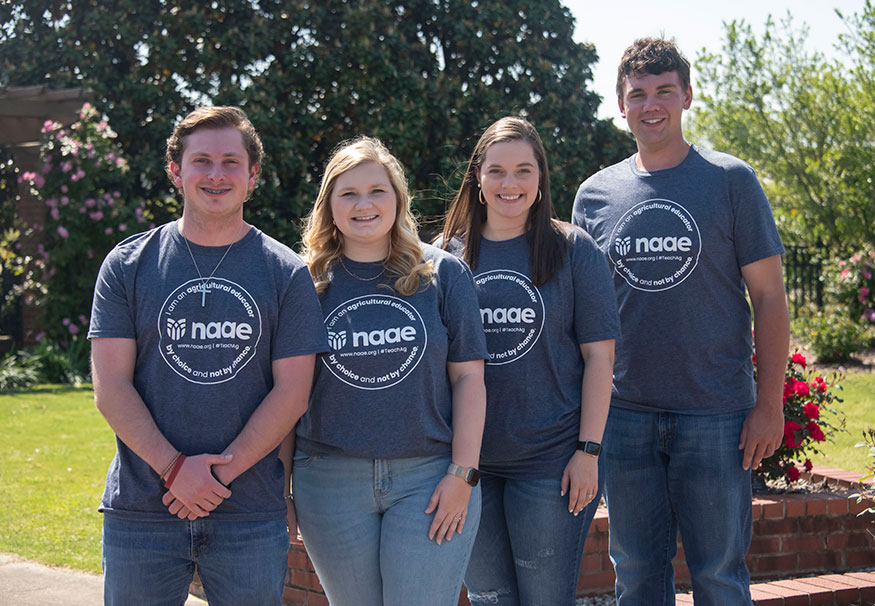 STARKVILLE, Miss.—Four Mississippi State students in the university's College of Agriculture and Life Sciences are among only 17 selected nationally for participation in a recent prestigious professional development symposium.
The senior agricultural education, leadership and communications majors in MSU's School of Human Sciences are Katherine Berryhill of Mobile, Alabama; Carson Littleton of Jemison, Alabama; Curt Todd of Meridian; and Kallie Wallace of State Line. They attended the Future Agriscience Teacher, or FAST, Symposium in Lexington, Kentucky.
The event educated participants on diversity, equity and inclusion in the agricultural education field. Presented by the National Association of Agricultural Educators, the FAST Symposium is an initiative of the National Teach Ag Campaign, which focuses on recruitment and retention of agricultural educators.
"This was a great opportunity to make connections in the field," Berryhill said. "During this symposium, I learned about resources I can adapt for international agriculture education. After graduation, I plan to find a program working with elementary-age children. Kids are where the foundation starts, and if we can teach them young, we can change generations to come."
Students attended seminars discussing topics such as building a positive classroom culture, teaching strategies for students with special needs, and professional development techniques.
"My favorite part was visiting the Kentucky School for the Deaf," Berryhill said. "This is the first public deaf school in the U.S. Seeing these kids participate in agricultural programs was amazing. I appreciated hearing their stories, but most of all seeing the teachers' inspiring connection with their students. They believe in those kids and encourage them to do whatever they set their minds to do."
Berryhill and her peers were encouraged to apply by MSU Assistant Professor OP McCubbins in the School of Human Sciences. McCubbins said he is hopeful this symposium has further developed the participants' ability to acknowledge and promote the importance of diversity, equity and inclusion.
"In Mississippi, we have an opportunity to address diversity disparity issues in agricultural education programs," he said. "I'm hopeful that this targeted professional development will give our participating students successful strategies to work on correcting this."
For more information on the School of Human Sciences in MSU's College of Agriculture and Life Sciences, visit www.humansci.msstate.edu.
MSU is Mississippi's leading university, available online at www.msstate.edu.