Contact: Grace Jones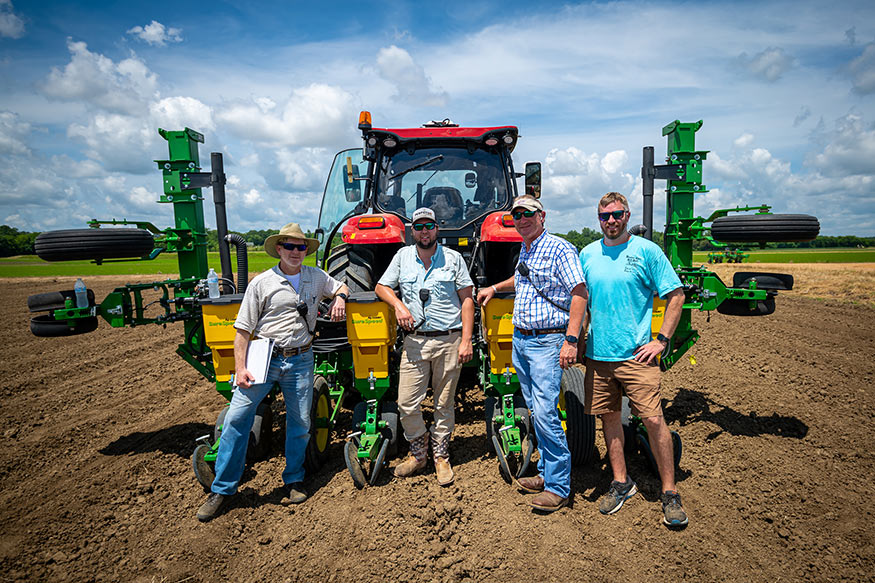 STARKVILLE, Miss.—Mississippi State is conducting research with global precision agriculture company Ag Leader to assess the functionality of planting technology for more defined crop growth.
Assistant Professor J. Wes Lowe in the university's Department of Agricultural and Biological Engineering, along with researchers in the Department of Plant and Soil Sciences, is conducting research on the performance of advanced planting technology at multiple sites with geographically different soil types.
While the technology is widely used and adapted to farming and soil types in the Midwest, Lowe and his team—all scientists in the university's Mississippi Agricultural and Forestry Experiment Station—aim to test the adaptability and the precision of the tools for the range of soil types in the South.
"Planting is one of the most important aspects of a crop; a mistake can drastically drop the crop's maximum potential. These advanced planting tools give us the ability to place our seed exactly where we want in the ground, which can create a sense of security in the planting process and pave a more optimum path for crops to grow and flourish. This research will provide feedback about this technology and how we can adapt it to fit best into each of our Mississippi agricultural production regions," Lowe said.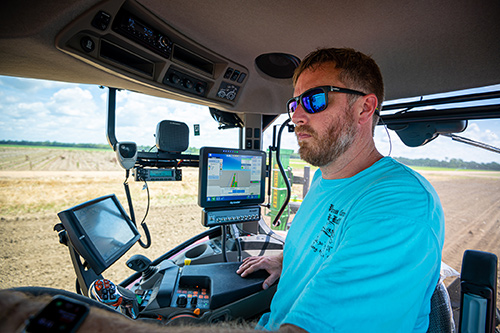 The assessments are taking place at the R.R. Foil Plant Science Research Center in Starkville, MAFES Black Belt Branch Experiment Station in Brooksville, Delta Research and Extension Center in Stoneville, Hiram D. Palmertree North Mississippi Research and the Extension Center in Verona, plus a handful of on-farm evaluations with producers across Mississippi's agricultural landscape. The team is assessing corn, soybean and cotton crops that were planted using SureForce hydraulic down force and the SureSpeed high accuracy metering and delivery system, precision technologies produced by Ag Leader. The soybean research is funded by the Mississippi Soybean Promotion Board.
"Our collaboration with Ag Leader started in September of 2021. We recently received the advanced planting technologies to outfit our planter and have started the research process," Lowe said. "Our first crop planted was corn. We are comparing crops planted with the new planter technology designed to plant with uniform seed spacing at precise depths, to crops planted with the conventional, ground-driven planter technology that is commonly used in the agriculture industry. This will help assess the accuracy and performance of these tools to better understand the advantages and disadvantages between the conventional and new planting tools."
The team's goal is to assess the technology's performance across singulation, spacing and depth for more accurate planting across Mississippi. Singulation is the measure of how well a planter is dropping one seed at a time to enable precise spacing. Lowe said that characterizing the performance of these tools in the largely diverse group of soil types can create a better picture of how these tools will perform in these settings and in this area.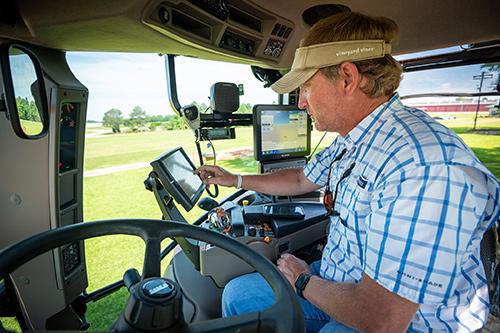 "It also provides us the information that we need to aid in answering producer-related questions and concerns about this technology," Lowe said.
Sean Ealy, Ag Leader director of North American Sales and Marketing, discussed the research.
"We've expanded testing methods with the scientists at Mississippi State to provide insights on precision ag technologies that will help growers be successful in their operations in the southern region," Ealy said. "The opportunity for Ag Leader to work with Mississippi State University on these trials will be beneficial, not only to us as a company, but also to the growers in the South. While the fundamentals of our product performance from Iowa to Mississippi stay the same, there are environmental and cultural farming practices that are unique to the South. We hope, through the trials at MSU, we can share insights that help growers be more productive and profitable on their acres."
The team intends to make this a multi-year project. This strategy provides the opportunity to collect a wealth of information to evaluate technology's success with multiple crops throughout different growing seasons and have the chance to collaborate with local producers as they evaluate the technology on their farms as well. 
 "This research is fundamental to finding ways to be more efficient, profitable and sustainable during planting, and providing these valuable answers to our growers is our primary mission for our research," Lowe said. "This opportunity to work with Ag Leader also provides us with scenarios to get students engaged with research and experience being in the field while in school, which is essential because they are our agricultural future."
For more on MSU's Department of Agricultural and Biological Engineering, visit https://www.abe.msstate.edu.
For more on the Mississippi Agricultural and Forestry Experiment Station, visit https://www.mafes.msstate.edu.
Mississippi State is Mississippi's leading university, available online at www.msstate.edu.