Contact: Sam Kealhofer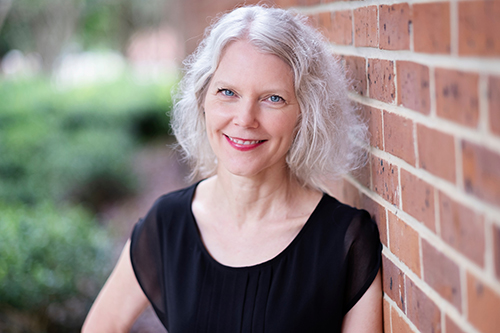 STARKVILLE, Miss.—Becky Hagenston, a professor in Mississippi State's Department of English, is receiving a literary artist fellowship for fiction from the Mississippi Arts Commission.
Established in 1968 by the Mississippi Legislature as the state's official grantmaking and service agency for the arts, the MAC provides financial and technical assistance to artists, arts organizations and educational institutions.
"Our arts community is incredible, and we are very pleased to provide even more grants to artists throughout the state, nearly twice as many as last year," said Sarah Story, MAC executive director. "Mississippi's artistic legacy was built through the talents of its exceptionally creative citizens. These funds help support the next generation of amazing artists and ensure that the story of artistic excellence in our state lives on."
Hagenston's $4,250 fellowship is a portion of the $1.65 million in grants MAC has awarded for fiscal year 2023, made possible by continued funding from the state legislature and the National Endowment for the Arts. For more information, visit www.arts.ms.gov.
"I'm so grateful to the MAC for this fellowship and for their support of the arts in Mississippi. I'll be using the funds to develop my fifth story collection, and I look forward to seeing where that will take me," said Hagenston.
An MSU faculty member since 2001, Hagenston is the author of four award-winning story collections: "The Age of Discovery and Other Stories," winner of The Journal's book prize from Ohio State University Press and the 2022 Mississippi Institute of Arts and Letters Award in fiction; "Scavengers," winner of the Permafrost Book Prize; "Strange Weather," winner of the Spokane Prize in Short Fiction; and "A Gram of Mars," winner of Sarabande Books' Mary McCarthy Prize.
Hagenston is the recipient of two O. Henry Awards for short fiction, a 2020 Pushcart Prize for her story "Hi Ho Cherry-O," the Great Lakes Colleges Association New Writers Award, the Reynolds Price Short Fiction Award, and Converse College's Julia Peterkin Award.
Her work is published in journals including the Oxford American, New England Review, Southern Review and Gettysburg Review.
A Maryland native, Hagenston earned a bachelor's degree from Elizabethtown College, Master of Fine Arts degree from the University of Arizona, and a master's degree from New Mexico State University.
The Department of English is part of MSU's College of Arts and Sciences. Complete details may be found at www.english.msstate.edu.
MSU is Mississippi's leading university, available online at www.msstate.edu.