Contact: Diane L. Godwin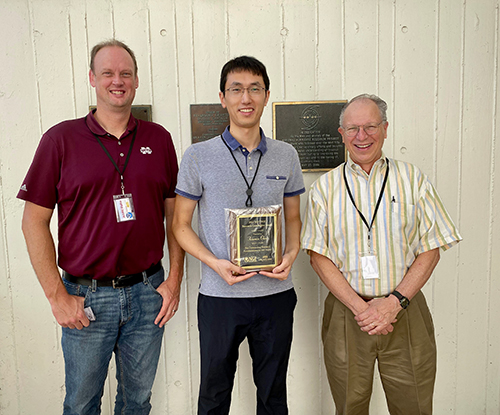 STARKVILLE, Miss.—Two Mississippi State researchers with the university's Northern Gulf Institute are being recognized for world-class research that can positively impact both marine life and mankind.
Xiaomin Chen and Ebenezer "Eben" Nyadjro each are 2022 recipients of the MSU Northern Gulf Institute Research Award, an honor instituted in 2020 to recognize outstanding research accomplishments by NGI staff. The award is presented every two years. 
NGI is a National Oceanic and Atmospheric Administration cooperative institute which conducts research on interconnections among Gulf of Mexico ecosystems and then provides decision makers with scientific findings.
Chen is an NGI research scientist at NOAA's Atlantic Oceanographic and Meteorological Laboratory Hurricane Research Division in Miami, Florida. The climate science expert's focus is tropical storm boundary-layer parameterizations and mechanisms of rapid intensification. His research combines novel models with in-situ observations to better understand and predict cyclonic activity to achieve better preparedness and resilience by coastal communities. His work has been instrumental in helping HRD develop more accurate weather forecasts for intensifying tropical cyclones.
"Accurately predicting tropical cyclone intensity and structure is challenging. Chen's work has contributed to the improvements in hurricane forecasting, and that plays a major role in helping public officials take proactive roles in getting community residents prepared and protected to reduce the chances of injury and hopefully prevent major property damage," said Just Cebrian, NGI coastal ecosystem science researcher and associate director.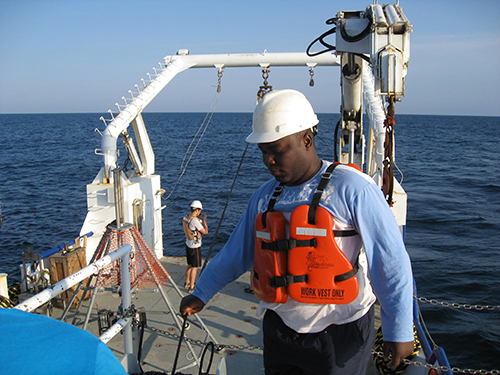 Nyadjro is an MSU associate research professor of oceanography through NGI and is based at MSU's Science and Technology Center located at the John C. Stennis Space Center in Hancock County. One of his goals is to reduce microplastics that are finding their way into streams, rivers and oceans. Atmospheric agents, such as waves, abrasion, ultraviolet radiation and photo-oxidation, in combination with bacteria, degrade plastic fragments into micro and nanosized particles, which pose an environmental and economic risk to marine ecosystems.
Nyadjro is developing innovative remote sensing technologies to locate and track how microplastics end up in the ocean and decipher the impact on marine life and the environment. He also is building a global marine microplastic database with NOAA's National Centers for Environmental Information to serve as a comprehensive archive for studies on microplastic sources, distribution and impacts.
"This data will prove to be invaluable to collaborate and work with scientists around the world studying how tiny plastic microbeads, fragments and fibers interact with the marine biological processes in the world's oceans," said Paul Mickle, NGI co-director and an MSU associate research professor. "Nyadjro's research plays an important role in better understanding how humankind is altering marine life and its ecosystem."
For more about NGI, visit www.ngi.msstate.edu.
MSU is Mississippi's leading university, available online at www.msstate.edu.