Contact: Carl Smith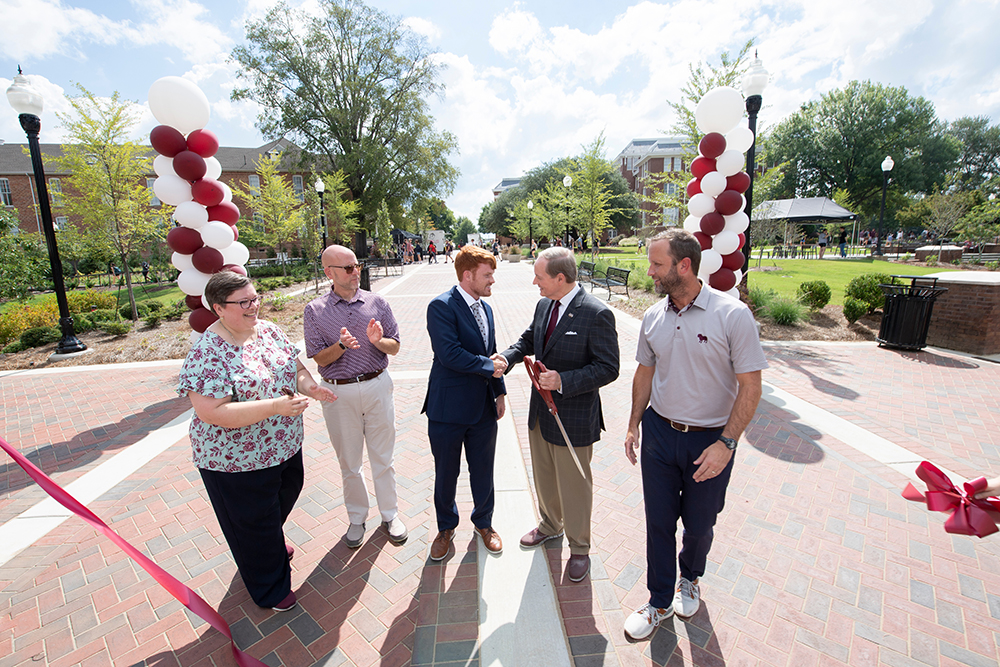 STARKVILLE, Miss.—The start of the new academic year brings with it many new campus improvements and opportunities to Mississippi State students, faculty and staff. 
From pedestrian improvements to expanded degree options, several initiatives are new to the Bulldog family this fall:
MSU ADJUSTS TRAFFIC PLAN IN FAVOR OF PEDESTRIAN SAFETY
A new traffic plan went into effect this month, creating a pedestrian-focused core along Hardy Road and President's Circle. Vehicular traffic in these two areas is open to faculty and staff with gated parking permits, vendors with parking permits and SMART transit buses only. The changes are in accordance with the University's Master Plan efforts to further develop and enhance a pedestrian and cyclist friendly campus core. Doing so eliminates the majority of vehicular traffic at some of the most traversed pedestrian crossings on campus.
YMCA PLAZA OPENS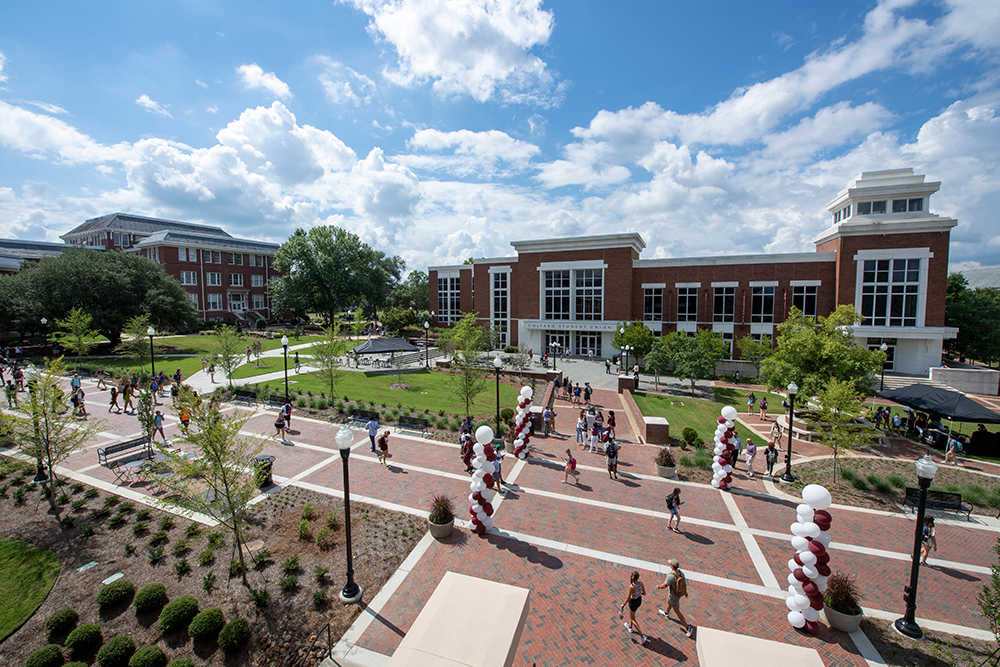 MSU continued expanding pedestrian-friendly environments this summer with the opening of a plaza space between the Colvard Student Union and the YMCA Building. Workers replaced a closed-to-traffic portion of Lee Boulevard's asphalt with brick pavers and updated the area's landscaping, drainage and connecting sidewalks. The project has created a plaza space like the Old Main Plaza area that runs alongside the Union, Perry Cafeteria and Montgomery Hall.
ROADWAY IMPROVEMENTS RESHAPE CAMPUS
A new corridor running north to south along the eastern portion of campus connecting East Lee Boulevard and Blackjack Road opened this summer. The new roadway allows motorists to navigate to and around campus while bypassing the Hardy Road pedestrian corridor.
The Lakeview Drive relocation project continues as workers relocate its Bailey Howell Drive intersection to align with the new, nearby parking facility. The project's first phase is expected to be completed by the end of August with other phases continuing through early 2023.
NORTH PARKING GARAGE OPENS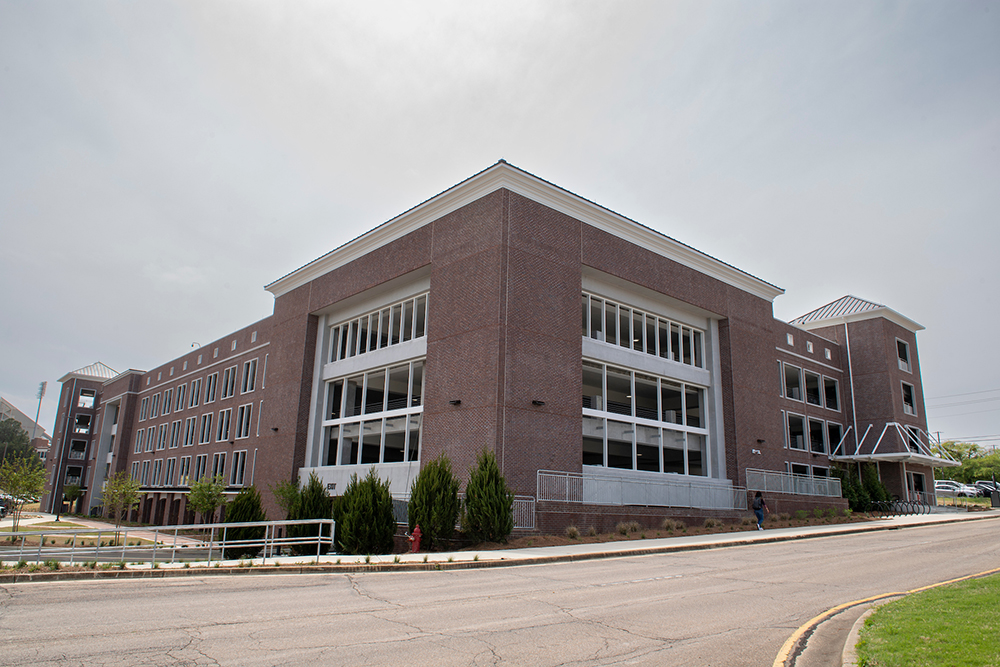 The university opened the new 500-space, $14 million North Parking Garage, located on Bailey Howell Drive, this summer to all parkers. The facility accepts debit and credit cards only, and its rate is $1.50 for the first hour and $2.50 for all additional hours, with a daily maximum charge of $25, commensurate with fees in the 148-space Old Main Academic Center Parking Garage.
DAVIS WADE UNVEILS THE BALCONIES, UPDATED VIDEO BOARDS
Workers are on track to finish two projects this month aimed at improving fan experiences at Davis Wade Stadium.
The Balconies, a premier seating option introducing 22 in-venue environments reminiscent of tailgates outside the stadium, are expected to be open in time for the season's September start.
Additionally, workers spent the summer replacing the panels of both end zone video boards and the ribbon boards on the stadium's east and west sides. These improvements, along with a new video control room, will further gameday visuals through expanded replays, updates and better game presentation.
HUMP UPDATES TAKING SHAPE
Renovations to Humphrey Coliseum continued this summer, as the university expands and updates the facility to provide better accommodations for fans and student-athletes alike. Specifically, workers are modernizing and enhancing entrances and concourses; adding amenities, including restrooms and concession stands, and new seating areas; and overhauling MSU's team spaces. The project is expected to conclude in late 2023.
NEW FACILITY HOUSES MUSIC DEPARTMENT, CHORAL PROGRAM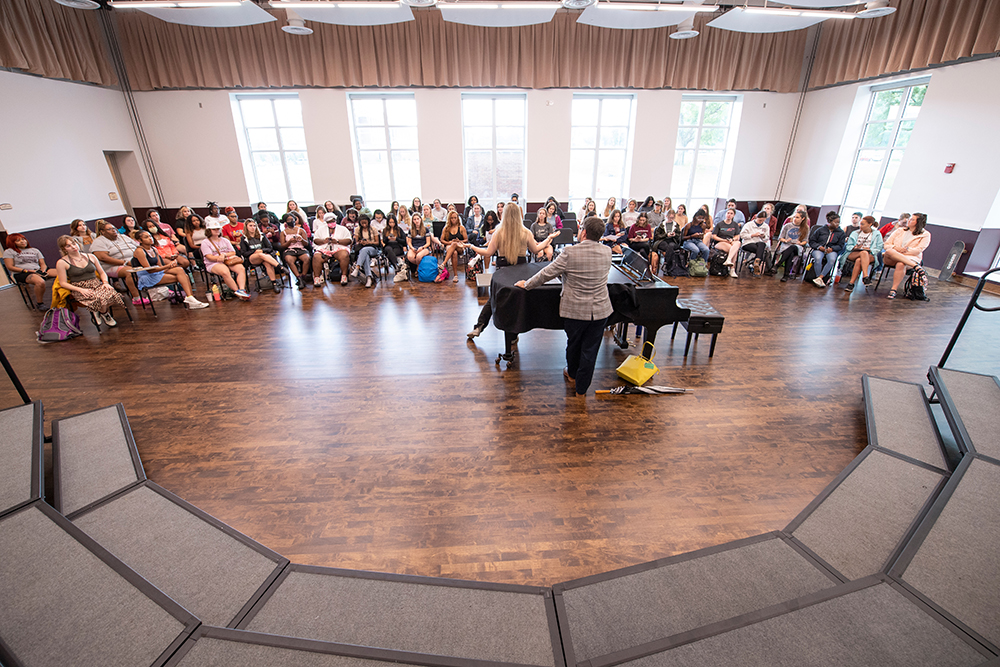 A new, 37,000-square-foot music building located off Hardy Road in the southeastern portion of campus completes a longstanding university goal of housing the MSU Department of Music and the choral music program in one facility. The space also features classrooms, a choral rehearsal hall, faculty offices, sound-proof practice rooms, recording studio, recital/lecture hall, student lounge and administrative suite.
Along with new, improved infrastructure, the university is ushering in additional program options and student perks:
BACHELOR OF DATA SCIENCE BECOMES DEGREE OPTION
MSU now offers a Bachelor of Science in Data Science degree that will prepare graduates for industries moving toward digital transformation—a blend of the physical world with digital aspects. The university became one of only two Southeastern Conference members to offer such a curriculum after the Mississippi Institutions of Higher Learning approved the new program at the beginning of summer.
ENGINEERING LEADERSHIP EXCELLENCE PROGRAM LAUNCHES
A new program allows undergraduates to earn a Bachelor of Science in Industrial Engineering and the Bachelor of Business Administration with only one additional semester of coursework.
The Engineering Leadership Excellence Program's curriculum includes a variety of business classes focusing on accounting, logistics, supply chain management and law, while engineering courses include LEAN work systems, mechanics, statistics, industrial ergonomics and systems simulations.
FULL TUITION COVERED FOR GRADUATE TEACHING, SERVICE ASSISTANTS
MSU now covers the full tuition costs for all graduate teaching and service assistants after receiving an additional appropriation by the Mississippi Legislature. Graduate teaching assistants support academic instruction through exam preparation, grading and record maintenance, while also leading lectures, discussion groups and laboratories, or by serving as instructor of record on courses. Graduate service assistants help faculty and staff members with administrative functions and duties required by their specific units.
MSU EARNS DISTINCTION FOR COMMITMENT TO FIRST-GENERATION STUDENTS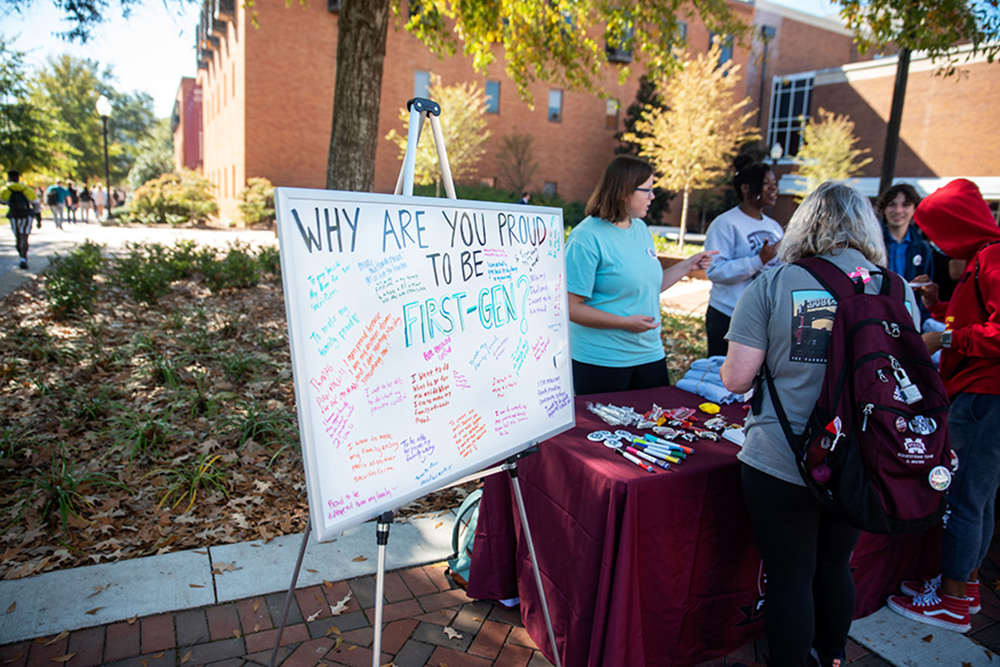 MSU was recently given the First-gen Forward designation from the national Center for First-Generation Student Success based on the university's commitment to improving experiences and outcomes for students who are the first in their family to complete a four-year bachelor's degree.
The distinction gives MSU students access to numerous resources provided by the center, including a community of higher education professionals and professional development opportunities. For details, visit https://www.firstgen.msstate.edu/.
MSU BECOMES STATE'S FIRST ADOBE CREATIVE CAMPUS
A new partnership between the university and Adobe is giving students and instructors greater access to creative software.
MSU is the Magnolia State's first university to become an Adobe Creative Campus, a collaboration providing a discounted rate to the industry standard of apps within the Adobe Creative Cloud. Complete information is available at https://www.adobe.msstate.edu/.
MSU is Mississippi's leading university, available online at www.msstate.edu.