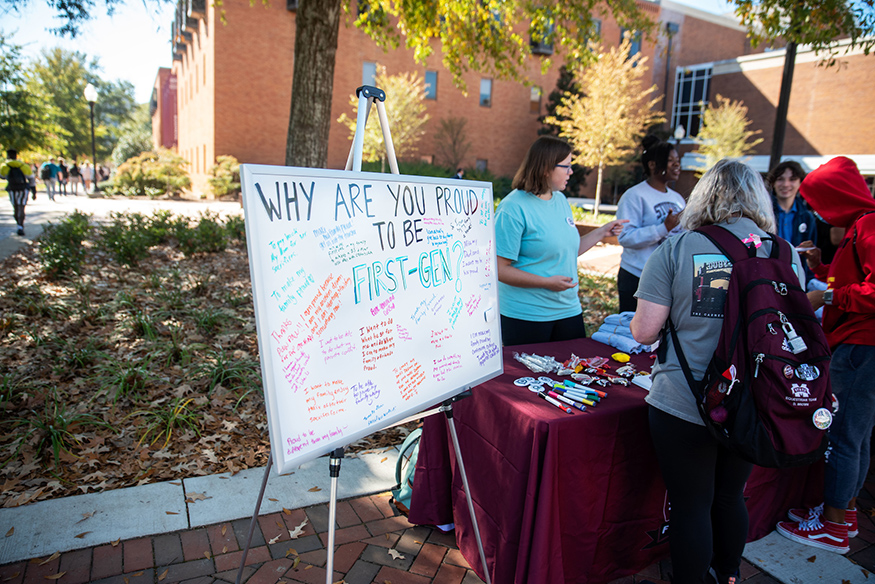 Contact: James Carskadon
STARKVILLE, Miss.—Mississippi State University is being recognized for its commitment to supporting the success of first-generation college students.
MSU recently received the First-gen Forward designation from the national Center for First-Generation Student Success, an initiative of NASPA—Student Affairs Administrators in Higher Education—and the Suder Foundation. The designation is based on MSU's commitment to improving the experiences and outcomes of first-generation students, or students who are the first in their family to complete a four-year bachelor's degree.
"The first-generation student experience has its own unique rewards and challenges, and at MSU we strive to create an environment where these students can excel," said Ra'Sheda Forbes, MSU vice president for access, diversity and inclusion. "I'm proud of the work we are doing to help these students succeed, and I know our efforts will be stronger as a result of getting involved in the First-gen Forward community."
These students at MSU are supported by TRiO Student Support Services, which offers students additional guidance for navigating higher education, in addition to student support resources that are available across campus. The Division of Access, Diversity and Inclusion sponsors programing for them that celebrates their achievements and helps them connect with their peers. Additional events help educate faculty and staff across campus on ways to be supportive.
As a First-gen Forward institution, MSU will gain access to a community of higher education professionals focused on first-generation student success, in addition to professional development opportunities provided through the Center for First-Generation Student Success. The center offers an outlet for sharing cutting-edge research and current media conversations, opportunities for engagement through online learning, conferences and events, and access to a bevy of programs and services intended to improve first-generation initiatives across higher education.
"The center is pleased to welcome Mississippi State University into the 2022-23 First-Gen Forward cohort. Through the application process, it was evident that MSU is not only taking steps to serve first-generation students but is prepared to make a long-term commitment and employ strategies that foster an environment of success for this important population," said Sarah E. Whitley, assistant vice president, Center for First-generation Student Success.
For more information on MSU's support for first-generation students, visit www.firstgen.msstate.edu.
MSU is Mississippi's leading university, available online at www.msstate.edu.