Contact: Meg Henderson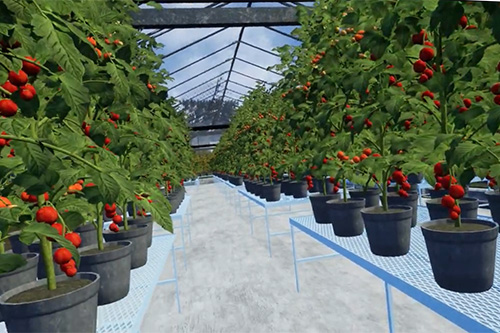 STARKVILLE, Miss.—Mississippi State's Future Growers Technology Initiative, an effort to develop a virtual greenhouse program, is in its final stages of development. Starting this fall, plant and soil sciences students will spend the academic year working with the software in Dorman Hall's virtual reality laboratory.
Amelia Fox, assistant clinical professor of plant and soil sciences, has spent the last three years leading a multi-disciplinary team to develop a VR program for training users to grow plants in a greenhouse without the time investment, risks and expenses of learning in a physical environment.
"Today's students love the freedom to make mistakes in the lab and then work to correct them. We're giving them an opportunity to learn problem-solving skills," Fox said. "We need the information the program provides, but equally important, students need the opportunity to fail in a safe environment."
Academic collaborators on the project include Christopher Hudson, research engineer for MSU's Center for Advanced Vehicular Systems, and Shuchisnigdha Deb of the University of Texas at Arlington, head of the human factors team. Industry partners include Pulseworks LLC, an Atlanta-based motion simulation technology leader; Wadsworth Control Systems, which develops greenhouse automation systems; and Chore-Time, a leading global designer, manufacturer and marketer of agricultural systems and solutions.
The greenhouse program allows users to alter environmental settings such as temperature, type and number of plants, feeding schedules and infection treatments, thus yielding a variety of results in plant growth and health. Fox noted that the growth models are based on recommendations found in peer-reviewed literature.
"Working in this virtual environment allows scientists to better understand how multiple interacting elements such as light, temperature, relative humidity and soil moisture affect plant growth. Where it is impossible to isolate these factors in a physical environment, the VR program makes it possible," Fox explained.
She also noted that users can quickly visualize the growth that would take weeks or months in the real world.
"Agricultural researchers have only four to five growing seasons per year in a greenhouse, but this program will allow us to see what happens in a greenhouse over days or weeks in just a matter of minutes," Fox said.
While the program is not yet available to researchers, it will be tried and tested by students over the next academic year.
Funded by the USDA National Institute of Food and Agriculture, the virtual reality laboratory has infinite potential for further testing and expanding. Fox hopes to replicate the virtual greenhouse scenarios in a physical greenhouse environment and compare the results. And looking ahead, she said the same ideas used in the greenhouse program could be applied to several ecosystem scenarios.
"You could model any ecosystem with growth to measure, such as field crops, chicken houses and aquatic environments. You could even create 'what-if' scenarios to model the impact of climate change and natural disasters," Fox said.
For more on the project, visit www.futuregrowers.cals.msstate.edu. For more on the Department of Plant and Soil Sciences, visit www.pss.msstate.edu. CAVS is online at www.cavs.msstate.edu.
MSU is Mississippi's leading university, available online at www.msstate.edu.