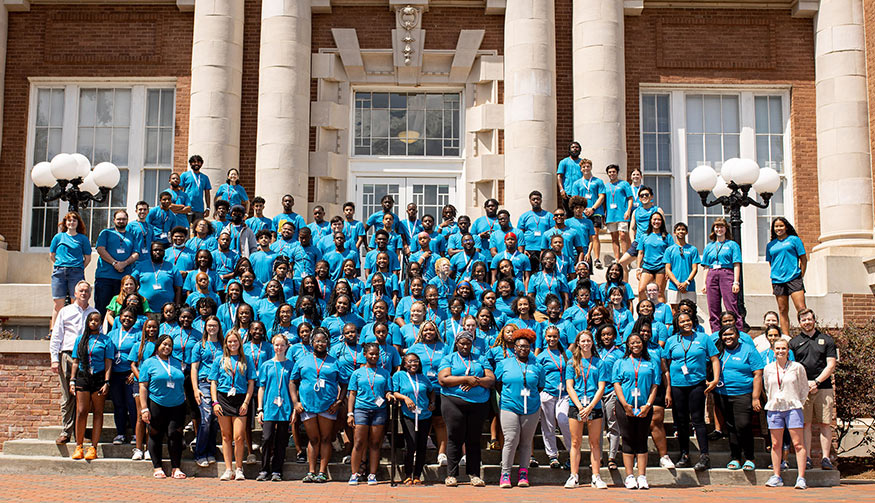 Contact: Global Teaching Project
Physics students from rural Mississippi high schools who attended the 2022 Advanced STEM Summer Preparatory Program at Mississippi State achieved "statistically significant" gains, according to independent assessments conducted by the Center for Research and Evaluation at the University of Mississippi. 
Students in the summer program, conducted each year by the Global Teaching Project, reside on the Mississippi State campus, where they receive immersive instruction to help them prepare to take various Advanced Placement (AP)® science courses offered through GTP in the following academic year.  Students preparing to take AP Physics 1 attended one of two eight-day sessions. Other sessions were held for prospective students in AP Biology and AP Computer Science Principles.        
Physics students were tested at the beginning and end of their sessions to assess their progress. The students' mean score more than doubled on the tests, which were adapted from the Force Concept Inventory, a widely used examination recognized by the American Association of Physics Teachers as a standard measure of knowledge among advanced high school or introductory college physics students. The FCI is used to "assess students' understanding of the most basic concepts in Newtonian Physics," with a focus on mechanics, forces, and kinematics.   
The 2022 Summer Program, the sixth since 2017, was the largest yet, with over 150 participants, including students from 22 rural Mississippi high schools. Instruction was led by Mississippi State graduates who are AP-certified teachers, assisted by current STEM majors at, and recent graduates of, universities across the country, including Mississippi State, Harvard, MIT, Notre Dame, Southern California, Virginia and Yale. 
In addition to instructional sessions, the summer program provided extensive recreational opportunities, speakers from the university and elsewhere, tours of research facilities and university libraries, and other activities. Also, each student attending the summer program worked with teaching assistants to create a college application account on commonapp.org, a free service which may be used to apply to over 1,000 colleges nationally. 
"The gains achieved by students in the 2022 summer program, along with a growing body of empirical data, emphatically affirm that there are students in all communities capable of high achievement if provided quality instruction and adequate supports," said Matt Dolan, CEO of the Global Teaching Project.  "We are grateful for our collaboration with Mississippi State, which many of our alumni have gone on to attend."
The Global Teaching Project provides promising high school students from rural communities access to advanced STEM courses they need to achieve their full potential, but which their schools otherwise could not offer. According to recent U.S. Census and College Board data, in the nation's 25 most impoverished school districts, the only schools in any state offering AP Physics, AP Computer Science, or AP Biology do so through GTP.