Contact: Carl Smith
STARKVILLE, Miss.—Mississippi State's annual Classical Week returns Sept. 19-23 featuring a lecture by a renowned classics expert and two outdoor performances of an early Roman comedy. The week is an exploration of this year's Orators Lecture Series' theme "Family Secrets and Societal Roles: Finding Meaning in Human Connectivity."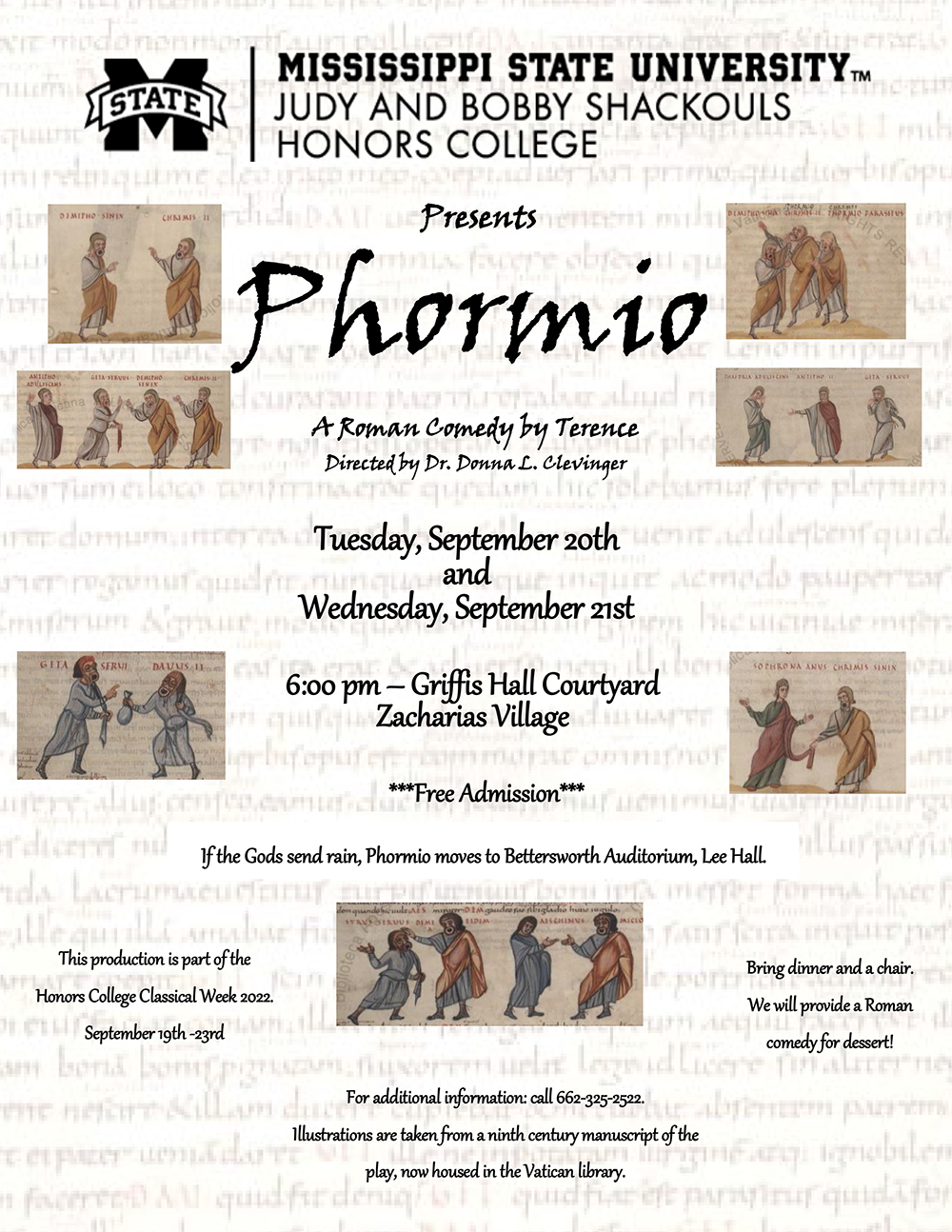 Anne H. Groton, professor and chair of the St. Olaf College Department of Classics and director of ancient studies and medieval studies programs, will present her lecture "Living on the Edge: How Outsiders Could, and Still Can, Find a Home in the Ancient Greek and Roman World," 4 p.m., Sept. 22 at Griffis Hall's Forum Room—Room 401. Now in its fifth year, the Shackouls Honors College-sponsored lecture series invites speakers from various disciplines to engage and enrich the campus and local community through public forums, panel discussions, seminars, course work, research and public lectures.
Additionally, the two performances of "Phormio" will serve as a backdrop for further understanding and illustration of the series theme and the ancient world. Directed by Donna Clevinger, an honors college senior faculty fellow and communication department theatre professor, the play was written by Roman African playwright Terence and was first performed in 161 B.C. It is based on an older lost work written by Apollodorus of Carystus.
Performances are scheduled for 6 p.m., Sept. 20 and 21 in the Griffis Hall courtyard. Admission to both shows is free, and attendees are welcomed to bring refreshments and are asked to bring a chair or blanket for seating. Lee Hall's historic Bettersworth Auditorium will serve as the rain location, and food is not allowed.
Clevinger worked with Groton, the play's dramaturg, to translate the script this spring and said the MSU student cast and crew are some of the best she has worked with for a Classical Week production.
"They are talented, fun to work with and represent a wide variety of majors across the campus. These students who were cast in the show or in backstage positions came together as strangers and now have become friends," Clevinger said. "I am very proud of them and what they have accomplished in such a short amount of time. I think audiences will enjoy their hard work and dedication to honors theatre, whether it is the first time these students have stepped on a stage to perform or an extension of their secondary school theatre programs."
The cast of the play includes:
BOONEVILLE—Reed P. Lindsey, sophomore English major
CHANTILLY, VIRGINIA—Alexander Ketzle, freshman aerospace engineering major
CLINTON—Isaac Martinolich, junior software engineering major
FAIRHOPE, ALABAMA—Jake Oldshue, freshman history major
JASPER, ALABAMA—Blake Pittman, senior veterinary medical technology major
LONG BEACH—Spencer Glass, freshman communication major
MYRTLE—Maximus Smithey, freshman biological sciences major
NEW ALBANY—Janiya Rutherford, freshman psychology major
PEARL—Zori Jackson, freshman chemistry major
RUSSELLVILLE, ALABAMA—Madelynn Green, freshman anthropology major
In addition to Clevinger and Groton, the play's production staff includes:
AIKEN, SOUTH CAROLINA—Stage Manager Avery Gray, freshman geoscience major
BOONEVILLE—Assistant Stage Manager Reed P. Lindsey, sophomore English major
DALEVILLE—Costume Liaison Jayla Henry, freshman computer science major
STARKVILLE—Assistant Director Aaron Twietmeyer, freshman electrical engineering major
Costumes are provided by Connie Willsey, owner of Costume Party in Starkville. They are funded through a grant from the Classical Association of the Middle West and South Committee for the Promotion of Latin and Greek Bridge Initiative Grant program.
For more information on Classical Week, contact Clevinger at dclevinger@honors.msstate.edu or (662) 325-2522.
Learn more about MSU's Judy and Bobby Shackouls Honors College at www.honors.msstate.edu.
MSU is Mississippi's leading university, available online at www.msstate.edu.