Contact Sarah Nicholas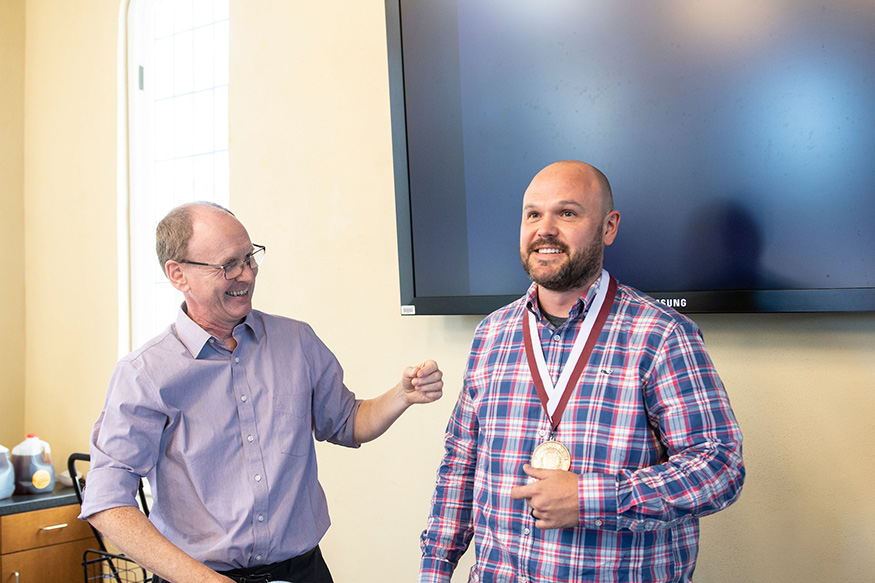 STARKVILLE, Miss.—Matthew W. Brown is the newest appointee to the prestigious Dr. Donald L. Hall Professorship of Biology at Mississippi State University, a position made possible with an endowment created by its namesake.
In addition to his three-year appointment, Brown is receiving a medallion of recognition and a stipend for research purposes.
The professorship established by Hall, a 1962 pre-medicine graduate, honors the former MSU professors who impacted him. A Vicksburg native and Air Force veteran, Hall was a board certified doctor of ophthalmology who retired from the Steen-Hall Eye Institute in Shreveport, Louisiana. In 2012, he was honored as the MSU College of Arts and Sciences Alumnus of the Year. Hall died this September.
Angus Dawe, professor and head of the Department of Biological Sciences and inaugural selection for the Dr. Donald L. Hall Professorship in 2016, said, "I have been incredibly grateful for the support this endowment has provided. It has helped me run a research program for the last few years and helped with research and travel costs, along with significantly contributing to the graduation of two Ph.D.'s and a master's student by next summer. It also supported visiting speakers to campus for the benefit of the department and helped provide for other department expenses related to research infrastructure."
Dawe passed the torch to Brown in a surprise ceremony at the end of September.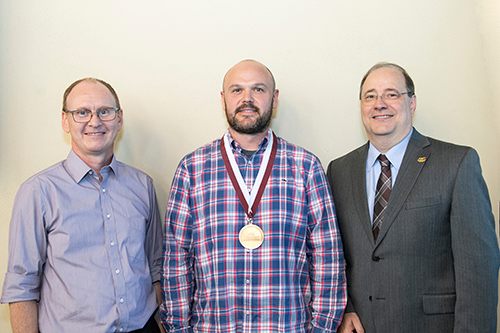 "In academia an endowed professorship is a pinnacle achievement in a professor's career," Brown said. "Having someone's name attached to your title is viewed as an honor to hold that appointment, but it also provides tribute to the legacy endowment's donor, Dr. Donald L. Hall. I am flabbergasted that the administration in my department and the College of Arts and Sciences view my academic achievements as worthy enough to hold such a special title. This endowment will be instrumental in the further advancement of my career at Mississippi State University. I am truly honored."
Brown has been an MSU faculty member since 2013. His research focus uses protistological techniques to understand the evolution and diversity of eukaryotes. Last year he received a National Science Foundation grant worth more than $1 million to expand scientists' knowledge of the environmental distribution of Amoebozoa—the major eukaryotic amoeboid lineage—providing a better understanding of the ecology and evolution of "the tree of life."
Brown, a native of northern Arkansas, completed his bachelor's degree in 2005 and Ph.D. in 2010, both in biology, at the University of Arkansas at Fayetteville.
Among other honors, Brown was named a 2018 College of Arts and Sciences Dean's Eminent Scholar, the top scholarship award given by the college, and is a Fellow of the Institute for Genomics, Biocomputing and Biotechnology at MSU. 
He was a 2015 College of Arts and Sciences Researcher of the Month and also received a 2015 College of Arts and Sciences Research Award for the Natural and Physical Sciences.
Founded in 1956, the College of Arts and Sciences is the largest of the academic colleges at MSU, with more than 5,000 students and 300 faculty members. More on the college is available at www.cas.msstate.edu.
For more about the Department Biological Sciences, visit www.biology.msstate.edu.
MSU is Mississippi's leading university, available online at www.msstate.edu.