Contact: Carl Smith
STARKVILLE, Miss.—Mississippi State wide receiver Austin Williams is among 15 finalists for the 2022 William V. Campbell Trophy, college football's premier scholar-athlete award that annually recognizes student-athletes as the best in the nation for their academic success, football performance and exemplary leadership.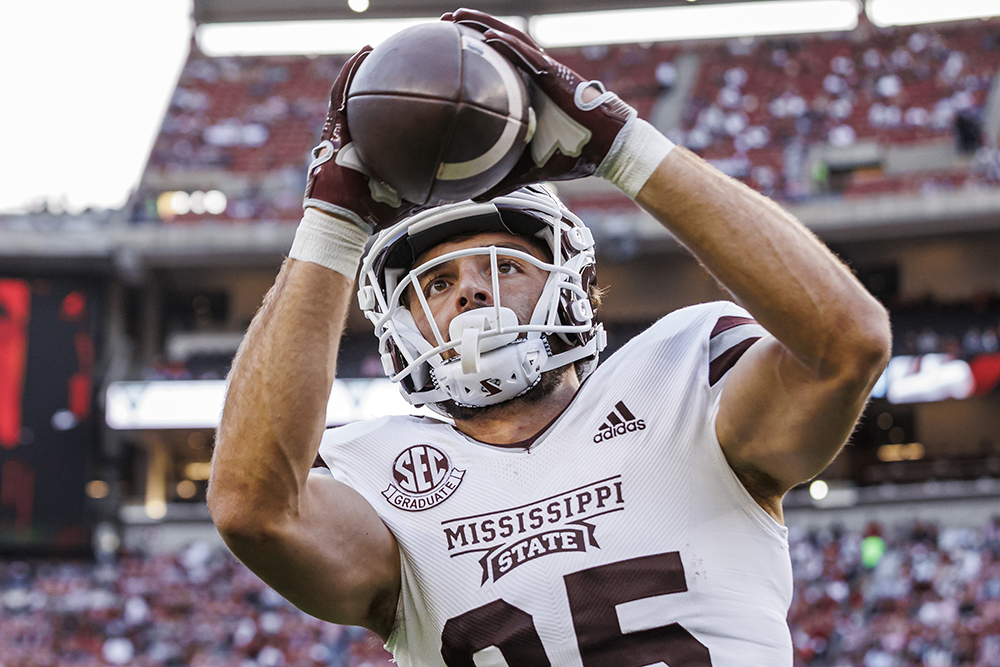 Finalists will each receive an $18,000 postgraduate scholarship as a member of the 2022 National Football Foundation National Scholar-Athlete Class presented by Fidelity Investments. They will travel to Las Vegas' Bellagio Resort and Casino for the 64th NFF Annual Awards Dinner, where the winner of the 33rd Campbell Trophy will be announced on Dec. 6. The trophy winner will have his postgraduate scholarship increased to $25,000.
Williams, a 4.0 student from Ocean Springs, is MSU's fifth NFF National Scholar-Athlete. After graduating summa cum laude with an undergraduate degree in business administration in three years, Williams earned a Master of Business Administration in 2021 and is on pace to earn a second master's degree in workforce leadership in December.
A two-time First Team Academic All-American and First Team Academic All-District selection, Williams was named the 2021-22 SEC McWhorter Scholar-Athlete of the Year across all sports. The 2019-20 MSU Student-Athlete of the Year is a Stephen D. Lee Scholar and a five-time member of the SEC Academic Honor Roll.
This season, Williams has 18 receptions for 187 yards while ranking second on the team with four touchdown receptions. The two-year captain has guided Mississippi State to a 5-3 record.
"We are extremely proud to announce the finalists for this year's Campbell Trophy," said NFF Chairman Archie Manning. "These young men have an unrelenting commitment to excellence in all aspects of their lives, and they represent all that is right in college football. As strong leaders in the vein of the trophy's namesake Bill Campbell, they all serve as living examples that the future for football is bright. We are excited to honor their hard work and outstanding leadership with postgraduate scholarships."
Submitted by their schools, which are limited to one nominee each, candidates for the Campbell Trophy must be a senior or graduate student in their final year of playing eligibility, have a GPA of at least 3.2 on a 4.0 scale, have outstanding football ability as a first team player or significant contributor and have demonstrated strong leadership and citizenship.
"The NFF Awards Committee did an excellent job in selecting this year's National Scholar-Athletes," said NFF President and CEO Steve Hatchell. "Chosen from an extremely impressive list of semifinalists, the finalists have undoubtedly distinguished themselves as some of the best student-athletes in the country. Each of these men is a leader on and off the field, and we know that they have only begun to reach their potential."
MSU is Mississippi's leading university, available online at www.msstate.edu.