Contact: Lydia Palmer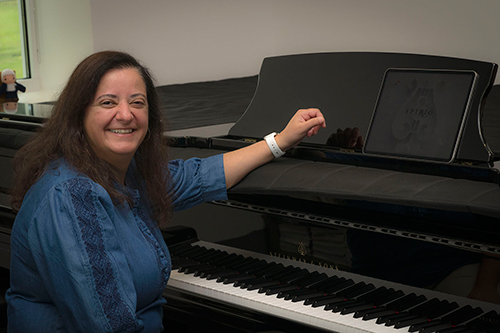 STARKVILLE, Miss.—A new high-performance piano in Mississippi State's Department of Music is enhancing the program with state-of-the-art features as part of the university's All-Steinway Initiative.
Professor of Music Rosângela Sebba, a Steinway Artist and keyboard coordinator in the MSU College of Education, said she is "delighted" about the addition of the Steinway SPIRIO|r.
Sebba said Mississippi State currently is the only school in the Southeastern Conference in possession of this type of piano. She shared her excitement for MSU students to be taking advantage of this technology and preparing to compete at higher levels, while the department strengthens core skills for both artists and educators.
The university has an All-Steinway School campaign underway in an effort to become one of only a handful of music departments in the world to earn such an acclaimed distinction.
According to Steinway, the SPIRIO|r is the best high resolution player piano with live performance recording and playback capabilities. Users will find new tools to express their art and access past performances—even from the world's greatest pianists in history.
Bob and Kathy Olsen, major MSU Steinway Initiative donors, recently accompanied Sebba to the New York Steinway piano factory to select a Steinway concert D grand piano for the Lecture-Recital Hall in the university's new Music Building. During the selection, the Steinway representative demonstrated the SPIRIO|r, sparking Bob Olsen's curiosity. According to Sebba, he immediately saw the possibilities and benefits that the instrument could bring to MSU's music department.
Sebba expressed her "immense gratitude" for the Olsens' generosity and continuous support. She also is aware of the impact the current Steinways in the department have brought to her students and the infinite possibilities they have to make music with musicians around the world.
"I can sit down with students and record their pieces," Sebba said. "Once I save the recording, we can listen to their performance and edit their mistakes, showing them what went wrong. My students can see their errors being repaired in real time. They can also listen and watch performers and composers through the videos and list of recordings available through the iPad."
For more information on MSU's Department of Music, visit www.music.msstate.edu.
MSU is Mississippi's leading university, available online at www.msstate.edu.