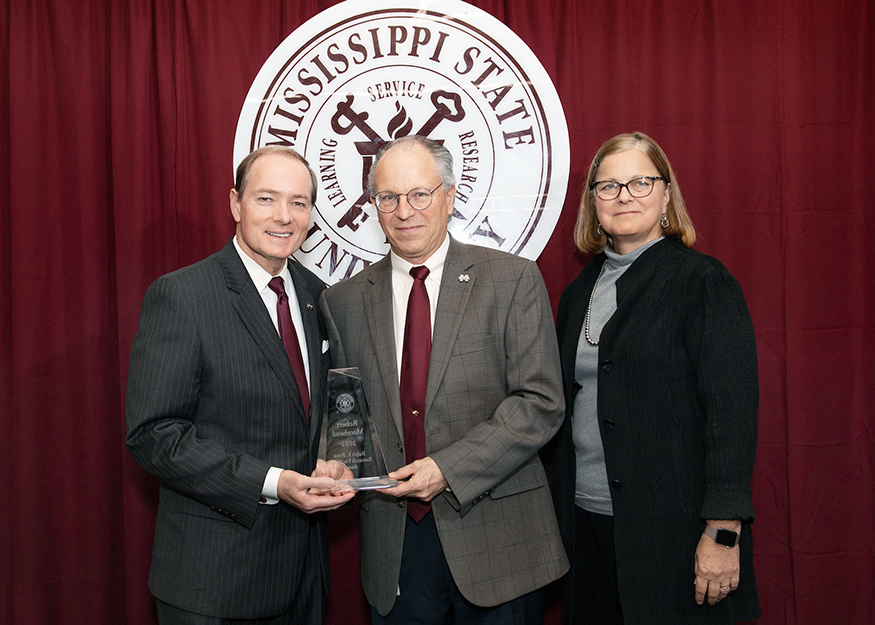 Contact: James Carskadon
STARKVILLE, Miss.—Mississippi State University celebrated its 2022 research achievements and honored distinguished faculty and staff at its annual research awards celebration Monday [Nov. 28].
2022 saw MSU announce an all-time high in research and development expenditures at $280 million, as reported to the National Science Foundation. That figure places MSU among the nation's top 90 research universities and represents more than half of all R&D expenditures reported by Mississippi universities. MSU President Mark E. Keenum, along with Vice President for Research and Economic Development Julie Jordan, and Vice President for the Division of Agriculture, Forestry and Veterinary Medicine Keith Coble, applauded the impactful work carried out every day by the university's researchers and support staff.
Keenum noted the exceptional quality of MSU's faculty, as evidenced by eight faculty members receiving the prestigious NSF CAREER Award in 2022, which makes 21 current faculty members receiving this award. On a per capita basis, MSU faculty are among the most productive in the Southeastern Conference, Keenum said.
"I want to say thank you to all the faculty and staff, all the researchers and scientists, for your willingness to work with graduate and undergraduate students," Keenum said. "What an exceptional learning opportunity students have here to get more knowledge than just what they get in the classroom, but to get in the laboratory and work alongside world-class scientists. What a great experience that is. It means a lot to the students' future and to our collective future that we take the time to do that."
The awards are co-sponsored by the offices of the MSU vice presidents for Research and Economic Development and the Division of Agriculture, Forestry and Veterinary Medicine.
Robert Moorhead, Billie J. Ball Professor in MSU's Department of Electrical and Computer Engineering and director of MSU's Geosystems Research Institute and Northern Gulf Institute, was presented the program's top honor, the 2022 Ralph E. Powe Research Excellence Award. The Powe Award is a memorial to the MSU alumnus and longtime research vice president who died in 1996. It is selected at the university level from nominations received from the MSU community.
During his time at MSU, Moorhead has secured more than $316 million in grant funding from multiple state and federal agencies. His sustained accomplishments in research and scholarship have led to more than 269 publications, a patent, a book, six book chapters, nine edited proceedings and numerous technical reports. His work on the Joint Pictures Expert Group (JPEG) standardization committee helped pave the way for all present-day data compressions techniques, images and video standards, visualization, image processing and video processing.
Chosen from a competitive pool of nominations, the other 2022 research award winners include:
            —Michael Nadorff, associate professor of psychology, Mid-Career Research Scholar Award;
            —Bo Tang, assistant professor of electrical and computer engineering, Emerging Research Scholar Award;
            —Reuben Burch, associate professor of industrial and systems engineering, Innovation and Entrepreneurship Award;
            —Ozan Ozdemir, research associate in the Department of Comparative Biomedical Sciences, Research Professional Award; and
            —Laura Andrews, program manager in the Department of Wildlife, Fisheries and Aquaculture, recipient of the Research Support Award.
MSU also recognized researchers who developed new intellectual property and patented/licensed new technology. The Office of Technology Management recognized the following individuals for patents and published creative works from 2021 and 2022:
            2022 Patents
            —Todd Byars, Gary Chesser, John Lowe and David Wise – "Systems for Delivery of Biologics"
            —Mark Schilling – "Compositions of Food Grade Coatings to Control Pest Infestations and Methods of Applications"
            —Dongmao Zhang – "Accessories for Raman and Luminescence Spectral Acquisitions"
            —Haitham El Kadiri and Wilburn Whittington – "System to Control and Actuator"
            —Hossan Abdelhamed, Attila Karsi and Mark Lawrence – "Live Attenuated Edwardsiella ictaluri Vaccine and Method of Delivery" and "Recombinant Fimbrial Protein of Aeromonas Hydrophila as Vaccine in Catfish"
            2021 Patents
            —Thedford Hollis and Charles Webster – "Symmetrical CCC-NHC Pincer Metal Complexes and Symmetrical Bimetallic Complexes: Bio-activity, and Applications to Organic Transformations and Energy related Catalytic Methods" and "Unsymmetrical CCC-NHC Pincer Metal Complexes and Applications"
            —Greg Burgreen – "Extracorporeal Ambulator Assist Lung"
            Creative Works
            —James Barnes – "5 Social Media Mistakes Your Business Should Avoid: A Step-By-Step Guide to Help You Grow Your Business"
            —Gary Bachman – "Southern Gardening All Year Long"
            —James DelPrince, Christine Coker, Patricia Knight and Ronald Stephenson – "The Promise of Good Things – Floral Design for the Fall and Winter Holiday Season"
            —Steve DeMarais and Bronson Strickland – "MSU Deer Lab YouTube Content."
Learn more about the Office of Research and Economic Development at www.research.msstate.edu or the Division of Agriculture, Forestry and Veterinary Medicine at www.dafvm.msstate.edu.
MSU is Mississippi's leading university, available online at www.msstate.edu.