Contact: Addie Mayfield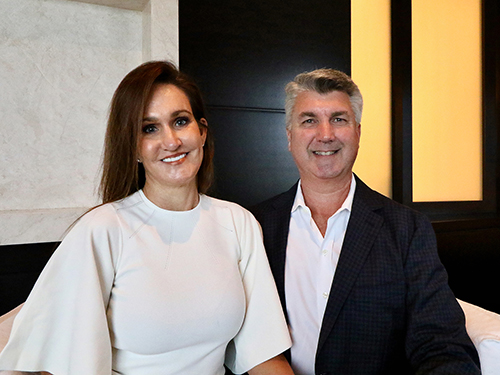 STARKVILLE, Miss.—A transformational investment of $16.5 million from Michael and Valarie Hall is advancing both the academic and athletic environments at Mississippi State University.
Providing significant support for two specific areas on campus, the commitment will benefit the James Worth Bagley College of Engineering and Bulldog athletics.
More specifically, the largest portion of the gift directs $15 million toward the Bagley College to elevate the Department of Mechanical Engineering with multiple endowments.
The Hall Excellence Endowed Fund will support activities that will enhance the national image and reputation of the mechanical engineering department through expanded backing for academic and support staff salaries, professional development opportunities and lab equipment and supplies. This goal is further advanced through the creation of the Hall Endowed Energy Systems Chair, which will help to attract and retain high-caliber faculty who will lead research and development and better position the Bagley College as a leading institution in the application and integration of energy producing and consuming technologies.
Similarly, the Hall Graduate Fellows Endowment will expand the number of both Ph.D. fellowships and graduates, enabling the department to grow teaching and research opportunities.
The Hall Research and Corporate Engagement Endowment will provide support for educational and research programs that boost the department's reputation as a leader in energy, manufacturing, design and related industries. The fund's primary purpose is to facilitate valuable partnerships between student teams and industries, which will seek to solve relevant problems impacting society in a commercially effective manner.
Lastly, the Hall Endowed Scholarship will enable more ambitious and deserving undergraduate students to earn a degree in mechanical engineering at MSU.
According to the Halls, the foremost purpose of their investments in the Bagley College are to help ensure quality, on-campus instruction for students who will become the high-quality engineers and future difference-makers for the state of Mississippi and beyond.
"Michael and Valarie Hall expressed a desire to help raise the quality of our mechanical engineering degree program," said Jason Keith, Earnest W. and Mary Ann Deavenport Jr. Chair and dean of the Bagley College. "In addition to providing discretionary funds, this transformative gift will specifically support departmental-level undergraduate scholarships, graduate fellowships, faculty and departmental facilities. On behalf of the Bagley College of Engineering, we are deeply appreciative of the Hall's vision for our largest engineering department."
The additional $1.5 million portion of the gift supporting MSU athletics also will impact several programs and initiatives across athletics, including the renovation project to enhance gameday experiences at Davis Wade Stadium and two fellowship positions for student-athletes.
The Robert Bell Athletic Administration Fellowship and the Frank Dowsing Jr. Football Fellowship were created in memory of their namesakes, who were the first African-American student-athletes at MSU, and continue to uphold their strong legacies of success. The Halls commitment will substantially grow the fellowships, each of which are awarded to a Mississippi State African-American student-athlete who has exhausted his or her eligibility and aspires to jumpstart a career in athletic administration and football, respectively.
The gift also benefits the Goal Club in support of the MSU Women's Soccer program, the Side Out Club in support of the MSU Women's Volleyball program and the Overtime Club in support of the MSU Women's Basketball program. The funds will be used to provide enhancements to the programs to drive off-the-court activities for team chemistry, team bonding, career growth and professional development.
Finally, the Hall's giving has established the Women Athletics EmpowHERment Endowment to provide financial support for one-on-one professional mentoring, leadership programming and professional development opportunities. The funds also will be used for guest speakers, career tours, and other resources to propel female student-athletes with confidence, brand awareness and mental health.
"We are incredibly grateful for Michael and Valarie Hall's game-changing generosity to Mississippi State Athletics and their investment in our student-athletes," Director of Athletics Zac Selmon said. "This transformative commitment will be felt across our department for years to come. It will not only enhance the overall experience of both our student-athletes and devoted fanbase, but it will have an instrumental impact in continuing to prepare our student-athletes for life after college athletics."
Michael Hall is a 1995 MSU mechanical engineering graduate and a 2022 Distinguished Fellow for the Bagley College. He is the former managing principal of MAS Energy LLC and founder of Shady Grove Road Investments LLC, the Hall family investment office. His wife, Valarie, is a graduate of the University of Central Florida and an ardent Mississippi State supporter.
The couple's most recent commitment expands their previous giving and marks a new collective total of $18.9 million invested by the Halls at MSU. Earlier commitments included support for the MSU Extension's Equine Assisted Therapy Program, the IDEE Lab (Innovation, Design and Engineering Education Laboratory) in the Bagley College and student scholarships.
Last year, the Halls also contributed to the Student-Athlete Development Fund to help MSU's student athletes become better prepared for life beyond their collegiate careers through personal, professional and leadership development opportunities. The Halls reside in Nashville, Tennessee, and Dubai, United Arab Emirates.
For more information on creating endowment-level support to benefit the Bagley College or Bulldog athletics, contact Jordan Smith, assistant director of development for the Bagley College, at 662-325-0461 or jsmith@foundation.msstate.edu, or Alvin Franklin, associate athletic director for development, at 662-325-1244 or afranklin@foundation.msstate.edu.