Contact: Sam Kealhofer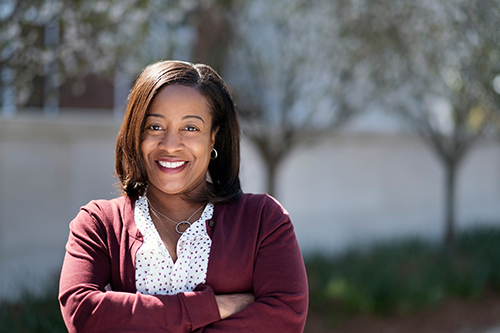 STARKVILLE, Miss.—Mississippi State Associate Professor Melody Fisher fills a void in social science literature about public relations history with her 2022 book highlighting the practices and scholarship contributions to the field by members of ethnically and racially underrepresented groups.
Fisher's Business Expert Press publication "The Untold Power: Underrepresented Groups in Public Relations" offers snapshots of individual and group challenges and triumphs in academia, the workplace and society with the hope that readers will be inspired, reflective and proactive.
"As a public relations educator, it was important for me to research the influence underrepresented groups have on the discipline and profession," said Fisher, a faculty member in MSU's Department of Communication since 2014. "This book provides insight into tactics and scholarship that are not widely publicized, but vital to the evolution of public relations."
Though the advancement of public relations has been recorded and taught as an integral part of the communications curriculum, this book examines the stories of trailblazers who have been overlooked, Fisher said.
Throughout her career in higher education, Fisher has made several presentations at national conferences and published journal articles and book chapters on public relations in religious communities, crisis communication, image repair and media portrayals of minority groups.
She received her bachelor's degree from Tougaloo College and both a master's degree and doctoral degree in public relations and mass communication, respectively, from the University of Southern Mississippi. Before joining MSU, she was an assistant professor and chair of Tougaloo's Department of Mass Communication. At USM, she was a charter member of the Black Graduate Student Organization and graduate assistant and advisor for the Department of Minority Affairs.
Part of MSU's College of Arts and Sciences, the Department of Communication is online at www.comm.msstate.edu.
MSU's College of Arts and Sciences includes nearly 5,000 students, 323 full-time faculty members, nine doctoral programs, 14 master's programs, and 27 undergraduate academic majors offered in 14 departments. It also is home to the most diverse units for research and scholarly activities, including natural and physical sciences, social and behavioral sciences, and the humanities. For more details about the College of Arts and Sciences, visit www.cas.msstate.edu.
MSU is Mississippi's leading university, available online at www.msstate.edu.