Contact: Lily Grado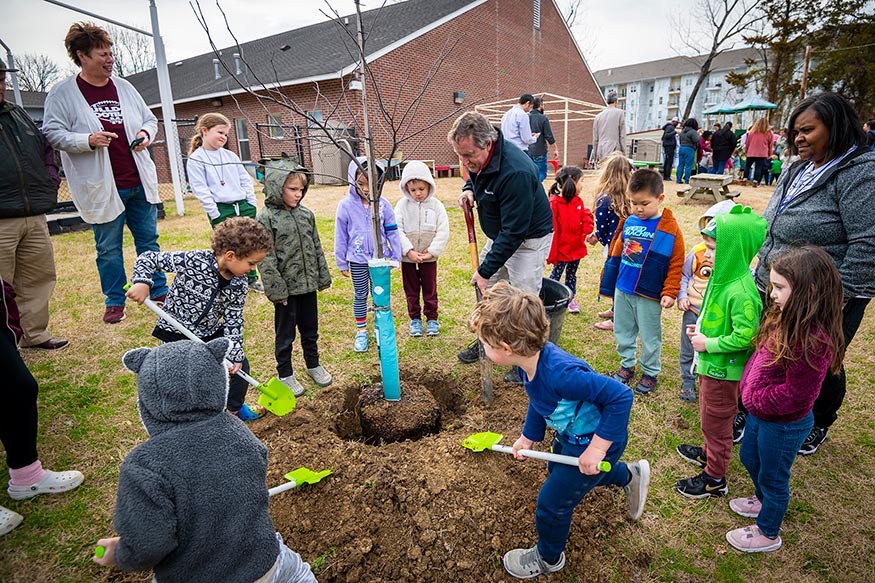 STARKVILLE, Miss.—Preschool children got their hands dirty planting trees and learning about the environment and conservation at Mississippi State's Arbor Day celebration today [Feb. 10] at the MSU Child Development and Family Studies Center.
Led by MSU faculty, staff and students, the Arbor Day celebration emphasizes the importance of trees to improve soil, air and water quality; provide habitat for wildlife; and absorb carbon dioxide.
Mississippi's forestland covers approximately 65 percent of the state, or nearly 20 million acres, serving as an economic and environmental driver. According to Joshua Granger, assistant professor in MSU's Department of Forestry, teaching young children about the importance of trees helps ensure a sustainable future. The chair of MSU's Tree Campus Higher Education Advisory Committee has been celebrating Arbor Day since he was a child in Nebraska. 
"Arbor Day originated in Nebraska, so I've just always loved planting trees. The idea of establishing something new for the future is something everybody can enjoy and look back on," he said.
In total, 20 conifers for a privacy screen and three flowering shade trees planted at the event will benefit of the campus childcare facility.
"This is a natural way to bring shade in," said Samantha Jones, the center's director. "The trees will help make the appearance of the playground and building look better than if we just had a fence."
Alongside the planting of new trees, other activities included the removal of older landscaping materials as well as the installation of several raised garden beds.
"I'm hoping that the children can get more hands-on learning experience," said Jones. "I want them to have a great outdoor learning environment as well as an indoor learning environment."
The event was sponsored by the MSU Department of Forestry, Honor Society of Phi Kappa Phi, Tree Campus Higher Education Advisory Committee, Waldorf Foundation, MSU Child Development and Family Studies Center and MSU Campus Landscape Services. Participants were able to raise over $1,000 for raised garden bed materials and landscape trees.
"It's an educational experience for people," said Granger. "There are many undergraduate and graduate students, who may even be in our forest resources college, who have never had the opportunity to plant a tree. This is a good chance to learn and participate in something that will benefit future generations."
Nationally, Arbor Day is celebrated on April 28. However, due to the climate of the Southern U.S. states, trees are planted earlier to ensure their survival, with Mississippi's Arbor Day held the second Friday in February each year. MSU is committed to celebrating Arbor Day annually as a Tree Campus USA, an Arbor Day Foundation distinction.
For more information on MSU's College of Forest Resources, visit www.cfr.msstate.edu.
MSU is Mississippi's leading university, available online at www.msstate.edu.